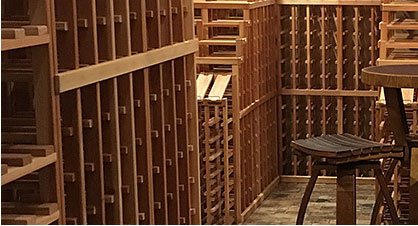 Fast Racks are the #1, Do It Yourself wine rack kit in the United States. All Fast Racks are proudly handcrafted in America, by dedicated wood-working professionals. They mix and match with other wine rack solutions we offer in the Fast Racks Series. Height options from 6.5' – 9'.
The Fast Rack Series is also available with an Oak, Cherry, Walnut, Black or Burgundy stain, and you can add a beautiful satin finish to any of the stain selections. The Fast Rack Series heights and capacity can be increased from 6.5 ft. to 9 ft. by adding our Extender Series. Our Extenders are easy to assemble and integrate seamlessly with other Fast Rack wine racks.
Available in 1-10 Column widths, the 750ml single bottle storage rack openings include 3 ½" x 3 ½" inside dimensions. The 1-10 column wide options are available with or without our High Reveal Display Row.
Also available, 4 Column Curved Corners, Magnum and Split Bottle options, Bulk Storage Bins, Wood Case Bins and a selection of Tasting Tables and Display components to round out the Fast Rack Series by Coastal.