Another wine cellar conversion project has been completed!  Coastal Custom Wine Cellars renovated a small closet under the stairs, and turned it into a beautiful custom wine cellar in a residence in Coto de Caza, Orange County.  The combination of different wine racking styles, wine barrel flooring and a wine cellar art painting is really stunning.  Continue reading to check out the innovative wine cellar design specifications.
The installation of a climate controlled wine cellar in a home offers both practical and aesthetic benefits.  A carefully designed and constructed residential wine cellar in Orange County, California provides wine collectors with the proper storage environment, in which to grow their liquid collection.  A wine cellar enhances the appearance and increases the value of a private abode, as well.
A residential wine cellar can be installed in any available space of a home.  Regardless of its size, putting together the right style and configuration of custom wine racks will not only maximize the storage capacity of a wine room, but create efficient and effective wine storage and display solutions, as well.
The Wine Cellar Design and Specifications
Residential Wine Cellar Under Stairway Closet California Installation

.

This recently completed residential wine cellar is an under the stairway closet wine cellar conversion project located in Coto de Caza Orange County, California.  The enclosure has an L-shaped configuration.

In this particular wine cellar project, a total storage capacity of 404 wine bottles was achieved.  Considering the small space available, coming up with a wine storage facility that could house that many wine bottles was indeed brilliant.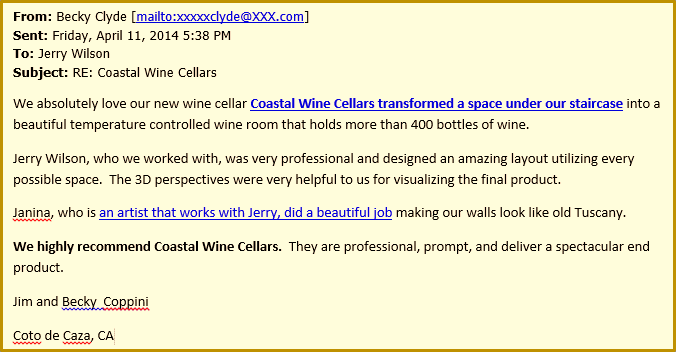 Although the entry door is tall enough for people to walk into and maneuver, the ceiling rapidly descends to a height of 64 inches, as it follows the contours of the stairway.
The wine cellar design team at Coastal Custom Wine Cellars installed custom-built wine racking solutions to fit the unique architectural structure, as well as maximize the limited space of the enclosure.
The Unique Wine Racking Systems
The wine racking systems begin with a horizontal display that has a depth of six inches.  Horizontal racks display wine bottles in a label forward orientation that provides full visibility of wine labels, for ease of product recognition and identification.
Since it is placed right under the stairs, the top part of this racking solution has a step stair design to allow for the change in height of the ceiling.
The back wall of this wine cellar conversion California project in Coto de Caza features a series of diamond X-bins down below for storing multiple bottle sizes in bulk.  Right above the diamond bin component is single bottle storage racking with a high reveal display row.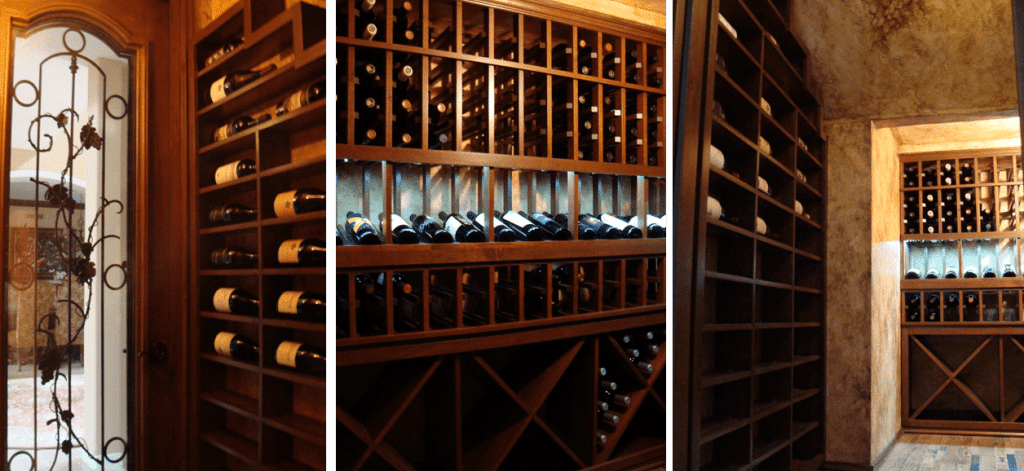 Individual bottle slots for single bottle storage have an opening of 3 3/4″ x 3 3/4″ that can fit most 750 ml wine bottles.
The high reveal display row is a stunning feature in this residential wine cellar in Orange County.  It pitches wine bottles to a 15 degree angle, that not only allows consistent cork and wine contact, but also displays wine labels in full view for ease of selection and retrieval.
This wine rack is an excellent tool for organizing a large collection, since like wines can be stored above and below the display row.
The end wall, which is nestled back deep in this residential wine cellar, provides more individual bottle storage.  It also features open bin components, for additional bulk storage and case lots.
The wine racks that are situated at the end wall are shorter than the other racks, because the space above them was utilized for the refrigeration equipment.

All wine racking systems in this wine cellar conversion California project are constructed from Philippine mahogany, with a Chappo stain and lacquer finish, to give the furniture a gorgeous luster.
LED lighting was installed along the display row to create a dramatic effect, while showcasing the client's finest wine bottles.  A dimmer switch controls the lighting system, as well as sets the mood in the wine cellar.
The Wine Cellar Cooling System, Wine Barrel Flooring and Wine Cellar Door

To maintain a consistent temperature level, the Coastal team installed a WhisperKOOL Platinum Mini Split Wine Cellar Cooling System, which is specially designed for small wine rooms that come with several constraints and challenges.
The evaporator unit is mounted in the wine cellar, while the compressor is placed in a remote location.  This set up helps minimize noise and heat exhaust.
Another striking addition to this Coto de Caza wine cellar conversion project is the cooperage series oak barrel flooring.  The tongue and groove style boards were constructed from reclaimed cooperage components.
The cooperage is the top portion of the wine barrel that features winery markings and stampings.  Using this wood product not only promotes environmental sustainability, but also provides the Coto de Caza residential wine room a distinct appearance.

For this custom wine cellar conversion California project, the wine cellar entry door was custom-designed to match the front door of the home.
The Coastal team installed an elegant Seville-style custom wine cellar door, with operable wrought iron gate over dual pane.  The wrought iron gate has a latch that can be opened and closed for cleaning purposes.
This wine cellar door, like all the other types of wine cellar doors from Coastal, is built to last.  The door is built with mortise and tenon, laminated veneer lumber (or LVL), and an automatic door bottom, for durability and functionality.
The Beautiful Wine Cellar Painting
The interior walls of the Coto de Caza wine cellar conversion feature beautiful faux grapevine wine cellar art paintings by artist Janina Pazdan.  Janina, who was born and raised in Poland, is an impressionist artist.
Aside from painting landscapes, gardens and seascapes, she also loves to create abstract images inspired by poetry and music.  She cites Edward Monet, Vincent Van Gogh and Henre Toulouse-Latrec as some of her major artistic influences.
Wine cellar art pieces, like paintings, add character to a residential wine cellar.  Our client wanted his wine cellar to be as special and unique as possible.  The addition of such artwork by a favorite artist definitely creates the magic.
There are other types of wine cellar art pieces to choose from.  You may add wine barrel head carvings, wall murals, or wine barrel centerpieces.  Coastal Custom Wine Cellars offers these decorative wine cellar art items to clients.
For wine cellar projects in Southern California, specifically Los Angeles and Orange County, Coastal Custom Wine Cellars can make Janina's services available to clients.  They can show how her paintings can transform an ordinary wine storage space to an extraordinary custom wine cellar.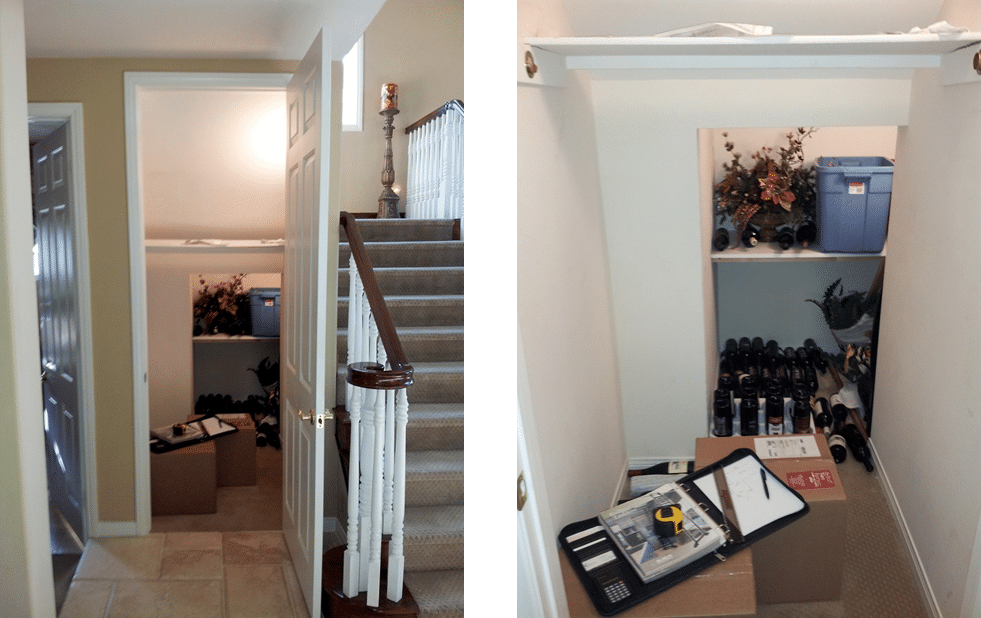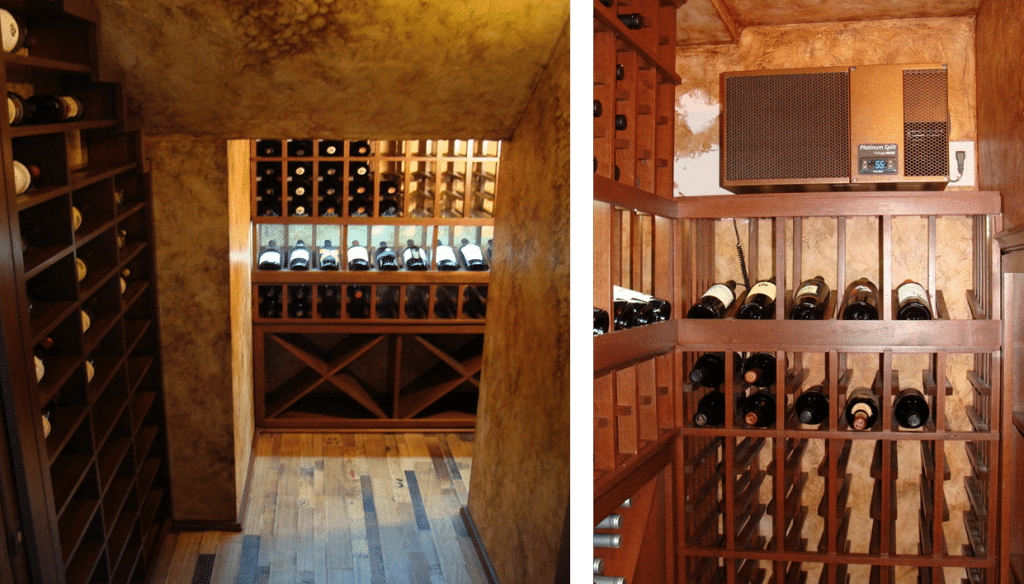 The 3D Wine Cellar Design