New Custom Wine Cellar Baltimore, Maryland
Do you have an empty space under your stairs? Do you want make use of that space? If you have a great passion for collecting wines, don't waste that space.
Instead, build a custom wine cellar in it!
Our customers in Baltimore Maryland wanted to transform their small space underneath the stairwell into a wine cellar. They came to Coastal Custom Wine Cellars Maryland to have a one-of-a-kind wine storage made under their staircase.
We used different styles of wine racks such as curved-corner and single bottle storage wine racks with high reveal display. We also designed custom wine racks that included a cigar humidor.
With a little ingenuity, the unused empty space under the stairway was transformed into beautiful wine storage room in the Baltimore Maryland project.
Coastal Custom Wine Cellars has provided professional advice and exceptional products from the start of my wine cellar design and installation business. Every time I install the final product, the customer is amazed at the attention to detail, workmanship and performance of the racking system. I have used the competitor's racking and the difference is night and day. If you are shopping for quality, craftsmanship and reasonable prices, I recommend Coastal Custom Wine Cellars..and the comparison is night and day. If you are shopping for the best wine storage money can buy, then choose Coastal Custom Wine Cellars.
Lou Hogan owner of Vintage Cellars of Maryland
Custom Wine Rack With Cigar Humidor
One of the important things you need to do when building a wine cellar is select the right wine racks to store your bottles. Ahmad's under-the-stair space was only 46.5 inches wide and 79.5 inches deep.
Coastal designers were able to use every inch of space and create storage for 410 bottles. In order to make the most of the space and to keep cost down for our Maryland wine cellar customer, we used custom and semi custom wine racks.
On the right side of the room Coastal designed a custom wine rack with a high reveal display rack that is pitched at a 15 degree angle and and gives the client and their guests easy access to wines. The main custom component in the small cabinet was the cigar humidor.
It was installed with a frame lined with Spanish Cedar. It is a very aromatic wood which enhances the flavor of cigars and is a natural regulator of humidity inside a humidor. The humidor has a lock and two shelves. The upper shelf is for storing cigars individually while the lower shelf is for cigar boxes.
Another custom piece was the horizontal display on the left side of the room.
Due to the small width of the room, we had to get creative and designed a unique horizontal display rack that was only 6 inches wide. This rack allowed the Baltimore Maryland wine cellar to store 45 more bottles of wine while keeping the room open and easy to walk through.
Semi-Custom Wine Racks – Curved Corner Rack and Single Bottle Rack
While custom wine racks are built from scratch to meet customers' unique needs, semi-custom racks are already designed. There are a wide variety of semi-custom wine racks available depending upon the size and shape of your cellar and your personal style. These racks are very cost efficient and can be adjusted slightly. To make the transition from the right side wall to the back wall, we used a curved corner wine rack with a true radius curve on the Ahmad project. Our true radius curved corner units are unique because most wine rack creators will use an angled rack. The curved rack adds modern decorative touch to the wine cellar, has better structural stability than an angled unit and has a smooth fluid appearance.
In the back wall, we used a single bottle storage rack which is 6 feet in height. Special cut was required for the top of the wine rack. We cut vertical ladders to appropriate height to adjust to the slope of the room. The single bottle storage rack, the curved corner wine rack and many others can be found in our semi custom wine racks collection. Each semi-custom wine rack kit is available in 6ft, 7ft and 8ft heights.
Right Wood Choice For Your Custom Wine Racks
How long your wine cellar lasts depends on the stability of wood species used to build your wine racks. The Ahmads chose Malaysian mahogany wine racks built for their wine cellar in Baltimore Maryland. Mahogany is one of the best woods to use for wine racks and Malaysian mahogany in particular stands out because of its diverse characteristics. It has a distinct, even wood grain, and a lustrous finish. Mahogany is a very high-density, durable wood with non-aromatic qualities making it the best choice for the Ahmads' custom wine cellar.
Our clients choose to stain the Malaysian mahogany for a semi-glossy effect or lustre. The stain used was that of Sherwin Williams. It is cost-effective because it achieves deep and brilliant colors on various woods, eliminating the need for multiple coats.

Completed wine cellar in Baltimore, Maryland. These semi custom wine racks were built with Malaysian mahogany.
Self-Contained Cooling Unit – WhisperKool
WhisperKool self-contained system which has the evaporator and condenser all in one unit is ideal for a small space under your stairs. It is easy to setup and no technician or extra money is required during installation. These are the reasons why the Ahmads trusted this type of wine cooling unit in preserving their finest wines.
Another advantage of WhisperKool system is that it uses a Liquid-Measuring Thermostat which measures the liquid temperature in a wine bottle rather than the air temperature of the cellar. In this way the owner will be able to maintain the wine at a precise, measured temperature.
A custom wine cellar under your stairs can be a great addition to your home. Choose wine rack designs (custom, semi-custom or both) that will best fit your space and personal style. If you have specific interests or wants, like a humidor, Coastal can create a unique custom wine rack to fit your style. If you're looking to save money, you may choose from our semi-custom series racks (in 6ft., 7ft. and 8ft. heights), curved corner racks and single bottle storage with high reveal display. Whether you're creating a wine cellar in wine cellar in Baltimore, Maryland or custom wine racks in Short Hills, New Jersey, Coastal Custom Wine Cellars will make sure your custom wine cellar gives you much enjoyment and satisfaction.
Custom Wine Cellar Baltimore Maryland
Custom Wine Cellars Baltimore Maryland Video Transcription
This design is a great example of a custom wine cellar built in a very small area. This area is actually situated below-grade underneath a stairwell. As you can see, it's only 46 ½ inches wide. It's actually a bit wider because of this little dog leg here. The depth of the room is 79 ½ inches (here's the entry down below) and yet we managed to facilitate 410 bottles in this wine room. Client originally just wanted to use some kits from our semi-custom wine rack series, which we offer at 6, 7 and 8 foot heights. But he also had some features that he wanted to include in the wine room to enhance it, if you will. You'll see what I mean here in just a moment. Elevation A, B, C and D, we'll take at look at individually.
Elevation A is the right side wall as you walk in and this is indeed a custom component that was created because he wanted a cigar humidor. This small cabinet has a lock. The bottom shelf is pitched at an angle much like the 15 degree pitch here for the wine bottles called a high reveal display row. So this little pitch, it kind of shows off cigar boxes. And this top shelf is a tray for individual cigars, they kind of cradle there and are stored. This humidor is lined with Spanish Cedar and the door frame has a little bit of a weather stripping around it to keep it or to maintain a little bit higher temperature inside the humidor.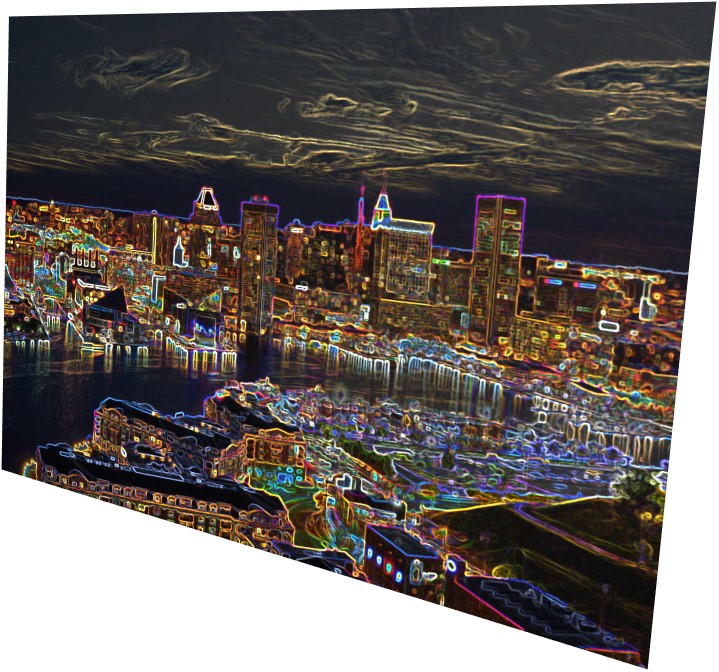 As you remember Elevation A is a custom wine rack and we have included 2 semi-custom components as well. Elevation B is the curved corner that makes the transition from the right side wall to the back wall. Notice this is a true radius curved corner. We don't offer any angled, or segmented effects whether it may be a semi-custom series or from our full custom. They're all true radius including the moldings, the base molding, the crown molding at the top and all of the horizontal spacer bars.
Elevation C is the back wall across from the entry. Single bottle wine storage and again this is from the 6 foot semi-custom series.
The left sidewall was a little bit of a challenge because of the width of the wine room being as it was. I created a 6 inch deep (as you can see from the side elevation here) horizontal displays to give us the ability to store additional bottles. In this case, 45 more bottles which were laying on their sides with full display.
This is an overhead view of the wine room. On the left is the 6 inch deep horizontal display we just spoke of. The single bottle storage rack here and the curved corner are from the kit series and this right side wall is the custom piece with the humidor on it.
The installer did a great job modifying these racks on site. It's fairly common and fairly easy for an installer to modify racks. And as you can see from this first picture, the wonderful job of cutting the vertical ladders or vertical dividers, if you will, to the appropriate height to allow for the slope.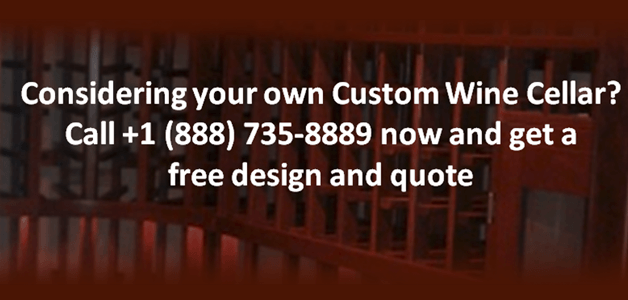 Custom Wine Cellar Maryland – Completed Build
This as I mention, this job was created in an unfinished Malaysian Mahogany. We applied a Sherwin-Williams rustic stain to the mahogany wine rack and then applied a clear coat or a top coat lacquer finish on it to give it a bit more of a luster or a semi-glossy effect.
On the left side wall is the horizontal displays that we discussed and this subsequent picture shows the humidor. So that when you're standing outside the wine room here looking in, here is the Spanish Cedar lined humidor. The installer also modified the curved corner. As you can see up here in the right is a self contained WhisperKOOL system to keep the room at 55 to 60 degrees. So all in all, a great job, a great install in creating over 400 bottles for such a small area, and a great custom wine cellar baltimore maryland