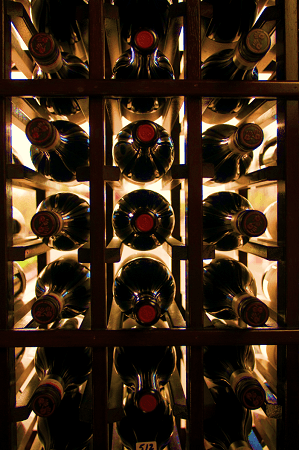 Wine Cellars by Coastal, as master wine cellar builders, specialize in designing and constructing custom wine cellar rooms that are built to last, run efficiently and provide the best possible environment for storing your wine collection.
There are four main things to think about when designing the optimum wine cellar cooling system for your wine cellar. These are:
1. Wine Cellar Cooling Systems, Do You Need One?
2. The Different Types of Wine Cellar Cooling System
3. The Make or Brand of the Wine Cellar Cooling System
4. The Supporting Infrastructure for Your Wine Cellar Cooling System
Wine Cellar Cooling Systems, Do You Need One?
Aging and storing wine over long periods is the core purpose of most wine cellars and why wine cellar cooling units are installed. It's not about, for example, storing the wine at 'whatever' temperature then simply chilling it before you drink it. This can be especially important when we are dealing with either expensive or large quantities of fine wines. Over long periods of many months or even years, wine can be negatively affected or even ruined by being stored in an environment that is too hot, too cold or worse, one that regularly fluctuates.
Most homes and commercial premises vary much more in temperature than most people realize. This is true even in a custom wine cellar constructed in most basements. We've talked to many clients who told us, "My basement is cool all the time." However, when we checked, the temperature over time often varied dramatically and regularly.
Day night cycles can vary 10 or even 20 degrees in the average home. In commercial premises these swings can be even more dramatic. Add to that seasonal variations due to heating in the winter and air conditioning in the summer and the temperatures can vary wildly dependent on the time of the year.
The humidity can also be a significant variable, successive changes in humidity as the temperature changes can play havoc with wine corks when they are subjected to these variations over an extended period.
It is often therefore suggested that wine cellar cooling systems are the heart of a serious wine collector's wine cellar. Originally, wine was stored in underground caves for a reason, it was discovered that wine aged significantly better when it was stored in the very stable environment found underground.
Generally speaking the temperature found deep underground stays at a constant 50 – 55 degrees, regardless of location and the temperature at the surface. When we create a custom wine cellar we are effectively attempting to artificially recreate that environment. Other factors include no UV from the sun and no vibration from outside sources. This is an ancient and time tested wine storage practice for successfully aging wines.
An effective wine cellar climate control system will reliably cool and stabilize the wine cellar temperature and humidity with minimum intervention and power consumption. The standard for optimal wine storage and aging agreed by wine experts is 57 degrees Fahrenheit and humidity levels that vary no more than between 50% – 60%.
A wine cellar climate control system is therefore a combination of factors such as a wine cellar cooling unit, the mechanical component of the system and the insulation and vapor barrier in the surrounding walls and ceiling. Also often overlooked is the wine cellar door. If the wine cellar door does not completely seal the room, it can be a cause of excessive running of the cooling units as well as fluctuations in temperature. Lastly, lighting can be a factor, if the wine cellar lighting is of the wrong type, it can throw out heat, especially if inadvertently left on.
Your wine cellar cooling unit / climate control system therefore, really is an integrated system. Get any one of these factors wrong and it can lead to; mold, excessive running costs, excessive noise or failure of the mechanical components in the wine cellar refrigeration units themselves. Worst of all it can lead to a priceless collection of wine, collected over years, to be a disappointment or even completely spoiled. Over the last ten years we have seen all these problems arise, all due to poorly built wine cellars.

The Different Types of Wine Cellar Cooling Systems
There are three main types of wine cellar cooling units to choose from, Self-Contained, Ductless-Split and Ducted-Split Systems. This should be the first thing to consider when designing your wine cellar. Each has its own advantages and disadvantages and the physical location of the wine cellar is often one of the primary factors in making this decision.
The Make or Brand of the Wine Cellar Cooling System
While there are a number of brands to choose from when selecting a wine cellar cooling system, CellarPro, WhisperKool and US Cellar Systems are our favorites. We recommend products from these manufacturers as in our experience their cooling units are very reliable, competitively priced and efficient. Below you will see that we feature some specific products from each brand. These are based upon our experience of their being the 'best in class' for each type of unit.

Wine Guardian Cellar Cooling Units
With multiple types of through-the-wall, ducted and ducted-split systems, Wine Guardian offers a great range of models, options, capacities and in wine-cellar refrigeration units compared to most manufacturers. For great environmental control, see why in our wine cellar designs, we often specify Wine Guardian based solutions.

Learn more about Wine Guardian Refrigeration Solutions
CellarPro Wine Cellar Cooling Units
CellarPro have a range of wine cooling systems ideal for small, purpose built, custom wine cabinets around 200 cubic feet, and larger wine cellar rooms up to 2,500 cubic feet. CellarPro also manufacture some of the quietest wine cooling units in the industry and are often selected by wine cabinet manufacturers for that reason. CellarPro has a range of storage refrigeration systems, including self-contained and split system units. They also offer solutions that include humidity control.
WhisperKool Wine Cellar Cooling Units
WhisperKool also have a full range of cooling units and are known for their power or cooling rate. These are ideal for environments where temperatures regularly go into the high extremes either in commercial situations or locations such as Memphis Tennessee and Tucson Arizona. WhisperKool also have humidity management systems which senses liquid temperature and then cools the air based upon that input.
US Cellars Wine Cellar Refrigeration Units
US Cellars have an extremely versatile, innovative range of cooling units. They offer a particularly customizable range of systems ideal for unusual environments that other units cannot adapt to so well. Commercial wine cellars and wine displays in restaurants often have particularly challenging design constraints. We have often selected products from US Cellars range of wine cooling systems for these tricky projects. In instances where we need to fit a wine cooling unit into an odd space, such as a ceiling soffit, or pump cooling power into a wine display cabinet, US Cellar's refrigeration equipment is hard to beat.
The Supporting Infrastructure for Your Wine Cellar Cooling System
If a wine cellar cooling system is installed but the supporting infrastructure has not been set up and constructed just right, many problems can arise. The tragedy of this is that the problems can be significant and typically they do not become apparent at first, taking time to fully manifest by which time they can be difficult and costly to remedy.