You don't need to spend much to get one of the highest quality and stylish wine cabinets in the market. If you are a homeowner, who is looking for a wine storage solution with great features at a great value, a Le Cache BILD Series wine cabinet is highly recommended. Checkout the benefits and different styles of these cabinets offered by Coastal Custom Wine Cellars. 
Le Cache BILD Wine Cabinets – Built with Quality and Value
Some wine collectors don't have the financial capacity to build a full wine cellar in their home.  Others have the right budget, but don't have an extra room for the cellar. Choosing a BILD wine cabinet from Le Cache can solve this dilemma.
Advantages of BILD Wine Cabinets from Le Cache
Wine cabinets in many parts of the world, including California have been a favorite of novice and expert wine collectors who need a high quality place to store their wine.
The benefits, features, and affordability of the BILD wine cabinets from Le Cache make them an ideal choice for both classic and contemporary style home wine cellars.
Coastal Custom Wine Cellars offers the Le Cache BILD wine cabinets to satisfy their clients' hunger for style without having to spend more.
Because of their passion in finding the right kind of storage system for a wine enthusiast like you, they always ensure that each wine storage cabinet gives you the opportunity to enjoy your favorite vintages and display them with sophistication.
Known for being a top-notch manufacturer of climate-controlled wine cabinets, Le Cache has been manufacturing premium wine cabinets for more than 20 years.
Quality Design
In choosing a storage place for your magnificent collection, the design must be given utmost importance. It can make or break the existing theme of your home. It is recommended that you choose a refrigerated cabinet that blends easily with any interior. This way, you can find a place for it easily in your house.
With several wine cabinet designs available in the market, it is best to seek the help of a professional. Coastal Custom Wine Cellars can help you choose the right design that will meet your aesthetic requirements.
BILD wine cabinets can be placed in the living area, entertainment room, or kitchen, but their simple design makes them ideal for garages.The clean modern appearance of these cabinets will still look very good in your garage and improve the overall look of your home.
Racking Features
The BILD wine cabinets from Le Cache are simple options for storing wine, but they are constructed with desirable racking features.
The BILD Series wine cabinets are built with universal metal wine racks that can accommodate standard 750ml bottles.
Some slots are sized to accommodate large format bottles such as Champagnes and Magnums. Additionally, there's a space intended for bulk storage at the bottom portion of the cabinet.
The Le Cache BILD wine cabinets are finished with melamine laminates on all exterior surfaces. Melamine laminate is a protective covering known to give furniture surfaces the ability to resist heat and scratches. This material is also resistant to fire, moisture, and chemicals.
Climate-Controlled Environment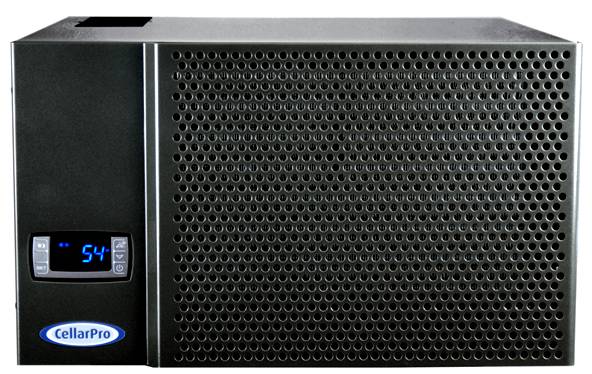 The key to achieving the ideal storage conditions needed by wine to age properly is a stable environment. An efficient climate-control system is required in order to keep wine at its best.
All Le Cache wine cabinets are equipped with a USA-made wine cooling unit from CellarPro. One of the leading manufacturers of wine cellar refrigeration systems, CellarPro offers top-of-the line cooling solutions.
The cooling unit installed in the Le Cache BILD wine cabinet has electronic thermostat and digital display and adjustable humidity control. It also has audible and visual alarms.
Other Features of the BILD Wine Cabinets
Quick-Chill Modes
Energy-Saver
SB/0 Technology – Flush Against the Wall
High Performance Air Filtration System
Low-Heat Interior Light
Optional Bottle Probe
Le Cache BILD Wine Room
Like the Le Cache BILD wine storage cabinets, the BILD wine room offers superior quality at a great value. This storage option is ideal for those who are planning to store about 800 bottles.
With exterior surfaces finished with durable black melamine laminates, the BILD walk-in wine room can enhance the beauty of your home. It is properly insulated and is equipped with a CellarPro wine refrigeration unit.
The racking is made of stained hardwood. Both sides of the top of the wine racks are intended for bulk storage.
Purchase a Le Cache BILD Wine Cabinet from Coastal Custom Wine Cellars
Store your wines beautifully at a great value. Purchase a Le Cache BILD wine cabinet from Coastal Custom Wine Cellars.
Call us today at+1 (888) 735-8889! If you live in Los Angeles, California, Baltimore, Maryland, or New York/New Jersey areas, one of our design specialists can visit your home to assess your space requirements.
Gallery of Images