Faux Painting – Why Not for Wine Cellars?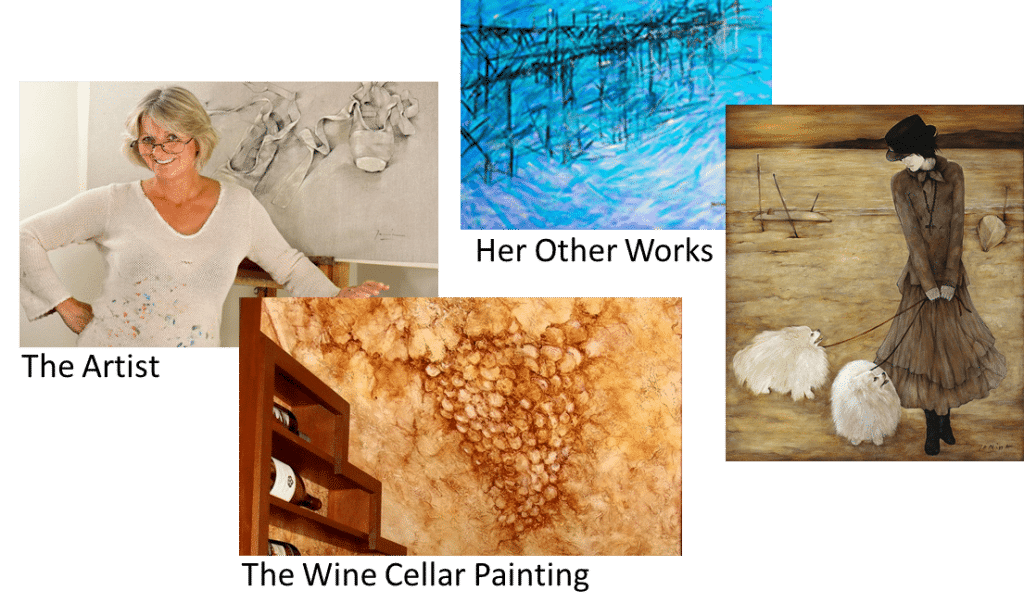 Have you ever thought of adding a faux painting in your wine cellar or in your home?  Well, there is a home wine cellar in California, where an impressionist's grapevine faux painting can be seen all over the walls and on the ceiling.
The creative hand and mind behind this stunning work of art is Janina Pazdan's. Continue reading to get to know her, view the other amazing masterpieces she created, and learn more about the wine cellar project.
Wine Cellar Installers on Unique Custom Wine Cellar Design
The concept behind custom wine cellar design is to build a storage room that is ideal for storing wines over a prolonged period of time, and to create a living space that showcases the wine drinking lifestyle and reflects the personal taste of the wine collector.
To achieve a custom wine cellar design that is specifically tailored to the unique personality of a passionate oenophile, wine cellar installers and designers integrate wine cellar ideas that not only provide a distinct appearance to home wine cellars, but also speak volumes about the wine collectors themselves.
Putting together unique construction materials and decorative components in a custom wine cellar design will provide both commercial and home wine cellars a look that is rare, elegant and stylish.  
Wine Cellar Decorative Elements and Unique Wine Cellar Ideas
Wine cellar ideas that add functionality and bring a one of a kind appearance to a wine cellar space are flooring materials, countertops, wine storage and display racks, wine barrel carvings, and tasting tables with matching chairs.
Using distinctive construction materials, such as antique nautical lumber and authentic reclaimed oak wine barrels, is also considered one of the most interesting wine cellar ideas.  It spells creativity and uniqueness, and even promotes sustainable green building.
Another decorative element that would make a stunning addition to a commercial or residential wine room is custom made oil paintings.
Professional wine cellar installers and designers, such as Coastal Custom Wine Cellars, provide paintings and artwork services to clients who are not only connoisseurs of wine, but of art as well.
A Home Wine Cellar with Fascinating Wine Cellar Art
Let's take a look at this recently completed home wine cellars project in Coto de Caza, California.  The Coto de Caza project was an under the stairway closet wine room conversion project, designed and constructed by our experienced team at Coastal Custom Wine Cellars.
With the custom designed Mahogany wine racking, cooperage barrel flooring, and Seville-style wine cellar door, the completed residential wine cellar was a picture of beauty and elegance on its own.
However, the addition of wine cellar art, such as the grapevine paint theme and colors created by master impressionist Janina Pazdan, further enhanced the aesthetic quality of the Coto de Caza custom wine cellar design.
The Coastal team made use of Janina Pazdan's services in this particular project, wherein she did a wonderful faux painting on the interior walls.
What is Faux Painting?
Faux is a French term, and means 'false.'  Faux paintings, or, faux finishes, are terms used to denote a decorative painting that mimics the look of different surfaces or materials, like stone, wood, marble, metal, etc.
In ancient times, faux finishing was already evident in the form of cave paintings.  Traditional forms of faux painting are faux marble, faux wood, and faux murals.
This type of art has gained popularity throughout the decades; today, it is widely used in public places, for commercial purposes.
What is Impressionism?
Impressionism is a form of painting that came to life in the 19th century, and originated from Paris based artists.  It is characterized by short and thin, but visible brush strokes of bright colors, that play with the effects of light on surfaces.
Impressionism focuses mainly on modernity, fast paced life, and development in the way of life.  Movement, unusual visible angles, and ordinary subjects define an impressionist painting.
Impressionists who can make use of these techniques to trick their audience into believing that their work is a genuine thing are given great recognition.
Impressionist Artist Janina Pazdan and Her Amazing Works

A design idea involving abstract images is the popular wine cellar art concept, developed among wine collectors.  For the Coto de Caza wine cellar project, impressionist artist Janina Pazdan created grapevine themed artwork, in subtle colors and graceful lines.
It blended well with the chappo-stained wine racking, cooperage barrel flooring, and wine cellar entry door with a grapevine design.
Janina Pazdan is a native of Poland.  She spent a decade learning different forms of art, including oil painting, ceramics, drawing, and sculpture.
She graduated in 1983 from The Academy of Fine Arts in Wroclaw, Poland.  She considers the works of Edgar Degaz, Edward Monet, Henre Toulouse-Lautrec, Vincent Van Gogh, and Diego Velazquez to be major influences on her impressionistic style.
By painting copies of the masterpieces of many great impressionist painters, Pazdan developed extensive knowledge and insight for creating great artwork of her own, depicting a wide variety of subjects, such as landscapes, oceanscapes, flowers and gardens.
She cites music and poetry as her inspirations for creating abstract images.  Painting portraits of people and animals is a major challenge to her.
One of her first commissions was for a family in San Juan Capistrano, California.  She was asked by the family to recreate several masterpieces, with which to decorate the interiors of the various rooms within their 18,000 square foot mansion.
She spent over two years painting the walls and ceiling of the home, from the entry room down to the ballroom and the chapel.  Although adamant at first, she took time to study and learn, and eventually completed the project, much to the delight of the family.
Pazdan recently discovered a passion for dancing, a feeling she expressed so vividly in her latest series of impressionist art, capturing the entrancing feel and emotion of the ballet world.
Her paintings never cease to encapsulate the moment with gentle and elegant strokes.  This recent endeavor showcases her love for abstract images and her incredible impressionistic style.
The enthralling works of Janina Pazdan have earned her an audience not only in the art world, but also in the field of interior design.  She has lent her talent in several interior design projects, such as the Coto de Caza wine cellar art faux painting project.
Would you like to add a faux painting in your wine cellar, in your home, or in your office? Do this:
For wine cellar projects in Southern California, particularly in the areas of Los Angeles and Orange County, expert wine cellar installers and designers from Coastal Custom Wine Cellars can schedule a consultation with master impressionist Janina Pazdan, to see how an ordinary looking custom wine room interior can be converted into a visually appealing and tastefully designed wine cellar space.