Contact Coastal Custom Wine Cellars New Jersey
Jerry Wilson, the senior design consultant at Coastal Custom Wine Cellars has been in the wine cellar design and construction industry since 2000. Coastal first started offering its services in California and has built wine cellars all over the country. We are excited to now have an installation office in New Jersey to add convenience to this growing wine market. 
New Jersey – The Wine Growing Industry
The wine-growing industry in the New Jersey has significantly grown in recent years, with 50 licensed wineries currently operating and several more waiting for approval.  The ideal grape-growing environment of the state is attracting more wineries to set up shop, which will further increase wine production and bring in more revenue.
The spike in production of wines in recent years is also brought about by the high demand for wines by New Jersey-ans.  Wines are not only a source of income for New Jersey wine makers, but also a way of life for its residents.
Whether you are a passionate wine lover or a shrewd wine retailer, providing the best possible wine storage environment is essential to maintaining the quality of wines for a prolonged period of time.  Storing wines in a climate-controlled environment will not only protect your investment, but also enhance their flavors, adding to the enjoyment of your tasting experience.
New Jersey Installation Office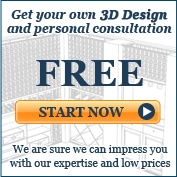 Coastal Custom Wine Cellars has over ten years of experience in wine cellar design and construction of residential wine rooms and commercial wine displays.  We have design professionals that are more than willing to discuss your wine storage needs and design preferences for your custom wine cellar.  After consultation with our wine cellar experts, our design team will prepare a 3D design package.
The 3D design package includes multiple pages featuring detailed illustrations of the proposed wine cellar design, including the plan view and different elevations.  3D drawings give you a preview of what your custom wine cellar will look like, and allow you to review and modify the designs prior to the installation process.
If you live anywhere near New Jersey, contact or email one of our wine cellar design consultants to help turn your wine cellar dreams into a reality.
Examples of Custom Wine Cellars New Jersey Projects
Coastal Custom Wine Cellars has worked on several custom wine cellar projects in New Jersey. These projects speak volumes about our dedication to providing a wine storage space that is not only functional for our clients, but also reflective of their personal taste.  We do complete wine cellar build-outs or wine room conversions.
Short Hills, New Jersey – Kapur Wine Cellar
This charming residential wine room in New Jersey shows that having limited space should not deter passionate wine lovers from realizing their dream project.  Putting together the right mix of custom wine cellar racks maximized available space and created optimum bottle capacity.
Coastal Custom Wine Cellars offer a variety of wood options for your wine display solutions.  The wine cellar racks are made from unfinished premium redwood, which complemented the existing pale pink brick panels of the wine cellar.
Freehold, New Jersey – Scalli Wine Cellar
A wine room not only functions as a wine storage space where your favorite wines can age accordingly, but also as an entertainment area where you can host tasting parties.  This is what's reflected in our residential wine room New Jersey project in Freehold.
Some wine collectors love to show off their collection to friends, and what better way to do that than to create a tasteful display area that also doubles as an entertainment hub.  The custom-made wine cellar racks in waterfall display and peninsular horizontal wine display provide a unique look to this wine room, and at the same time create a visually appealing wine display solution.
If you are planning to build your own wine cellar, call +1 (949) 355-4376 .