A Device That Will Protect Your Wines 24/7 – Now Possible!
Collecting the rarest and finest bottles of vintages is an alluring hobby that not only enhances the drinking pleasure of the passionate oenophile, but also provides investment opportunities down the line.  Hence, it is important to create a wine storage environment that is conducive to and safe for storing and aging your treasured liquor collection.
Securing your valuable wine collection against outside factors (whether a given factor is Mother Nature, a teen drinking craze, or an intruder) is a crucial component of proper and efficient wine storage.
Equipping your wine storage space with a smart wine protection system safeguards your custom wine cellar from environmental harm and theft, as well as allows you to keep an eye on your liquid collectibles at all times.
Now, there is a wine protection system that will safeguard your wines 24 hours a day, and it's convenient and accessible!  It's the Elertus Wine Protection System.
What is Elertus Wine Protection System?
The Elertus Wine Protection System is a smart sensor that allows you to monitor all activity in your wine storage space.  If you have this in your wine cellar, this means security is taken cared of.
The wine protection system is a small, wireless sensor that comes chock full of comprehensive, yet easy to use technology.  The system provides consistent monitoring of the four primary elements of wine cellar protection: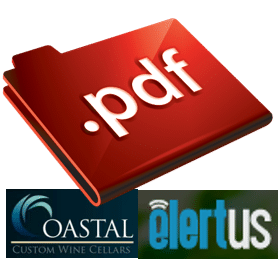 temperature
humidity
light
theft
Effective Wine Cellar Temperature and Humidity Control
Temperature
Environmental climate condition is naturally unstable; temperature swings can happen anytime without warning.  This is a no-no inside the wine cellar since wines are highly sensitive to temperature changes.
Temperature control and maintenance is essential in wine storage. Remember that wines mature to their full potential when stored under stable climate conditions.
Exposing them to fluctuating temperature levels can cause irreversible damage to the wine's smell, taste, and color.
Maintaining a consistently cool atmosphere will allow wines to age properly, and greatly enhance their taste and value.
With the Elertus Wine Protection System, you will immediately be notified of any significant change in temperature range, or of wine cellar cooling system failure.
Humidity
The smart wine protection system from Elertus is also designed to continually check the humidity inside your wine cellar.  Consistent humidity levels will help prevent cork shrinkage and consequently, wine oxidation, caused by low humidity.  Mold growth and label damage due to high humidity are also prevented.
The wine protection sensor keeps a close watch on humidity conditions, to ensure that the quality of your liquid assets is well-preserved.  Customization of the level of humidity is possible with the Elertus wine cellar protection system.
Elertus' Light and Movement Detection Ability for Optimum Wine Aging and Security
Proper and efficient wine storage not only calls for consistent climate conditions, but also for a moderately lighted environment.  Wines are sensitive to direct light, and so constant exposure can negatively alter their chemistry.
An Elertus Smart Sensor wine protection system has the ability to detect when a light has been switched on.  It then alerts the owner by sending a text message or an email.
The system also allows you to check whether a light was left on inside your wine storage space.
It is imperative that your wine collection is secured properly, to prevent theft and underage drinking.
The Elertus Wine Protection System features two types of external door sensors, that immediately notify you whenever the wine cellar door is opened.
The addition of a wine protection sensor provides a sense of security and peace of mind, even when you are away from home.
How does Elertus wine protection system operate?
The smart wine protection system from Elertus operates on two AA batteries, which can get the device running for more than a year.  It connects to a Wi-Fi network in a home or business, to allow wine collectors to continuously monitor the status of their wine storage room.
Due to its compact nature, the smart wine protection sensor can be installed anywhere, and detect virtually anything.  This makes installation really easy.
Staying Connected with the Elertus Smart Sensor App
Stay connected while you are on the go by downloading the Elertus Smart Sensor app to your iPhone, iPad, iPod Touch, or Android device.
The Elertus app allows you to receive instant alerts through smartphone notifications, text messages, and/or emails.
With the smart sensor app from Elertus, you are provided with free monitoring of the current condition of your wine cellar, and will be alerted of any significant change.
Elertus' Customizable Features
The Elertus Smart Sensor comes with customizable features that allow you to choose the type of alerts you want to receive, and how you should be notified (e.g. SMS, email, etc.).
The system can send instant notifications to up to five people (who can customize their own alerts as well), to keep your liquor collection even more safe and secure.
The Elertus Wine Protection System includes the following features: Elertus Smart Sensor, one (1) micro door sensor, one (1) conventional door sensor, one (1) screw packet, one (1) adhesive Velcro strip, two (2) AA batteries, a quick start guide, and an external door sensor installation guide.
The Elertus Protection System is an essential component of proper and efficient wine storage.  This smart device is invaluable in helping maintain optimal conditions in your wine storage space.
It helps prevent the risk of spoilage, or the premature aging of your liquid assets, by monitoring the performance of your wine cellar cooling system.  The Elertus Smart Sensor also safeguards your wine storage space against break in.
Coastal Custom Wine Cellars – An Elertus Reseller
Coastal Custom Wine Cellars is a major wine cellar designer and builder in California, Connecticut, Maryland, New Jersey, and New York.  It builds custom wine cellars for residential and commercial wine cellars; Coastal also provides and installs wine cellar cooling systems, wine cellar doors, and wine racks.
Coastal Custom Wine Cellars now offers the Elertus Wine Protection System that will complete your wine cellar and wine storage needs.  For 24/7 monitoring and surveillance of temperature, humidity, light, and movement in your custom wine cellar, invest in a smart wireless technology that provides you with the optimum wine protection system: the Elertus Smart Sensor.
Coastal has the best and most complete wine cellar services.
Contact Coastal Custom Wine Cellars now for inquiries and free design consultation.