Traditional wine cellars are enclosed in wooden doors. Nowadays, most owners of homes and commercial establishments prefer to store and display their wines in a room where everyone can see it without going inside. At Coastal Custom Wine Cellars, we recommend glass wine cellar doors for easy viewing of your wine display. Learn more about the advantages of this type of door and the available design options.
Create a Chic Entrance to Your Wine Cellar
Your prized wine collection deserves a gorgeous display room. The entryway is the first thing that guests see before your wine collection.
The wrong choice of door can make or break the overall design of your wine cellar. Thus, choosing the best door option is of utmost importance. You must work with a builder who has creativity and expertise in wine cellar design and construction.
At Coastal Custom Wine Cellars, we want every wine room door we manufacture to stand out from the rest. We offer various types and designs of doors that will suit the specific budget and aesthetic requirements of each customer.
We manufacture doors made from solid wood, seamless glass, glass with wooden frame, and glass with iron frame. Among these choices, the glass doors are a favorite both in residential and commercial applications.
Why Choose Glass Wine Cellar Doors
One way to add visual appeal to your wine cellar is to install a door made from glass. Wine cellar glass doors allow you and your guests to enjoy viewing your prized wine collection without going inside the room.
If you are an owner of a restaurant, hotel, bar, or retail wine store, glass wine cellar doors can help enhance your business' sales revenue. Your guests will be enticed to take a look at the different types and varietals of wines you offer. This increases the chance of purchase.
Additionally, when customers dine in your establishment, they can enjoy your elegant wine display area while eating and sipping their favorite glass of wine.
Enhancing the experience of guests will create a buzz about your modern wine cellar. This will build your business' reputation and gain the trust of potential customers.
For your home wine cellar, installing glass doors will add a contemporary appeal to your space and impress your friends. It can also be beneficial when you sell your home in the future because it increases the value of your property.
Styles and Designs
Coastal Custom Wine Cellars has ready-made doors. You can choose from plain, etched, painted, or frosted glass.
We have glass wine cellar doors with wooden frame, iron frame, and wrought iron design. The seamless or frameless glass is highly recommended for those who want a full view of their wine collection from the exterior of the room.
You also have a variety of customization options for your wine cellar entrance. This will allow you to personalize your door by incorporating your own unique design. You can select every detail of your wine room door.
Some of the most favorite door designs are grapevine, vineyards, wine barrels, initials, and even logo of your business. These designs add unique and timeless beauty to your wine cellar.
Glass Doors for Residential and Commercial Wine Rooms
Glass-enclosed wine cellars are a trend in a hospitality setting. They add a "wow" factor to restaurants, hotels, and bars, especially if installed in the middle of the room. Imagine several bottles of wine displayed in an aquarium-like wine cellar.
Homeowners may also opt for a glass-enclosed wine room in their living room or entertainment area to impress guests and enhance their home's resale value. A unique feature in your home can be a deciding factor for homebuyers.
How Glass Wine Cellar Doors Must be Constructed
Keep in mind that a wine cellar equipped with a climate-control system must have the correct amount of insulation to help achieve stable storage conditions. The walls, ceiling, flooring, and doors must be insulated.
A wine cellar with poor or no insulation will result in unstable humidity levels. This will trigger mold growth on the cork, affecting the wine's quality. When this happens, wine will have an unpleasant aroma and taste. Mold will also damage the wine labels, racking, walls, and ceiling.
Sealing the Entrance Door to Preserve Wine's Quality and the Wine Cellar's Integrity
The ideal humidity levels required in wine cellars is 60 to 70 percent. To prevent storage issues, Coastal Custom Wine Cellars constructs glass doors using dual paned tempered glass for maximum insulation. We use glass panels with 1/2" thickness, attach the two glass panes together, and seal all the edges.
We leave a thin space in between. This process eliminates the formation of condensation on the glass or around the door. We have another method to keep the humidity within the normal range: we add a polycarbonate vinyl seal.
Insulated glass wine cellar doors emit low heat. They reduce heat transfer through glass panes and protect the wine from UV exposure. Additionally, insulating the glass panels will lower energy consumption.
Glass doors with no insulation will force the wine cellar cooling unit to work hard because they increase the cooling power required for achieving the ideal wine cellar environment.
Impressive Wine Cellar Designs with Glass Doors
Coastal Custom Wine Cellars has used glass wine cellar doors for several of our projects in California, New Jersey, and Maryland. The modern entryway of each wine room was designed to complement the existing décor of homeowners and help business owners improve their wine sales.
Check out some of our glass wine cellar door installation projects:
Wine Cellar with Cigar Humidor and Tasting Room in Anaheim Hills, California
The space was used to be a playroom for the owner's children. We transformed it into a 2,055-bottle wine cellar using wood and metal wine racks. For the door and walls, we used frameless tempered glass.
Transitional Custom Wine Cellar in Aliso Viejo, Southern California
On this project, we removed a part of the wall to open up the entryway to the wine cellar. Our client requested a frameless glass door for a modern appeal.
Custom Home Wine Cellar in Newport Coast Beach, California
We installed this wine room adjacent to the dining area.  We came up with a design for 1,692 bottles. The frameless glass door complemented the contemporary style of the home and provides a clear view of the bottles on display.
Commercial Wine Cellar in Coto de Caza, Orange County, California
In this commercial wine room installation in Coto de Caza Golf & Racquet Club, we used metal wine racks to promote easy browsing and retrieval of wines. We used ½" thick tempered glass for the walls and door.
Capital Seafood Restaurant Wine Cellar in Irvine, California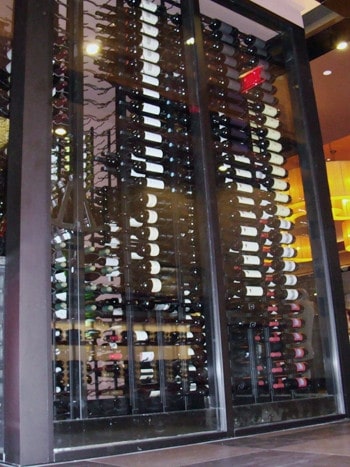 On this project for a high-end restaurant, we combined standard and custom wine racks to maximize storage capacity. We constructed the door from dual paned glass and added a security feature.
Experience the Benefits of Glass Wine Cellar Doors
With so many types and designs of entryways for wine rooms, glass doors will give you the modern, clean feel while proudly displaying your wine collection to guests.. At Coastal Custom Wine Cellars, we manufacture glass wine cellar doors for a modern appeal and easy viewing of wine displays.
Need help in your next wine cellar project? Contact Coastal Custom Wine Cellars today at +1 (949) 355-4376.