Le Cache Credenza Wine Cabinets—Luxury Storage Space at Home
With many types of wine cabinets available in the market today, choosing a reliable manufacturer can be challenging. Coastal Custom Wine Cellars now offers Le Cache Credenza wine cabinets for homeowners who are looking for a stylish and efficient way to store their wines. These storage units are built with great features that will add luxury appeal to any room. They are also equipped with the right components to provide wine a safe resting place. 
The Essence of Credenza Style Furniture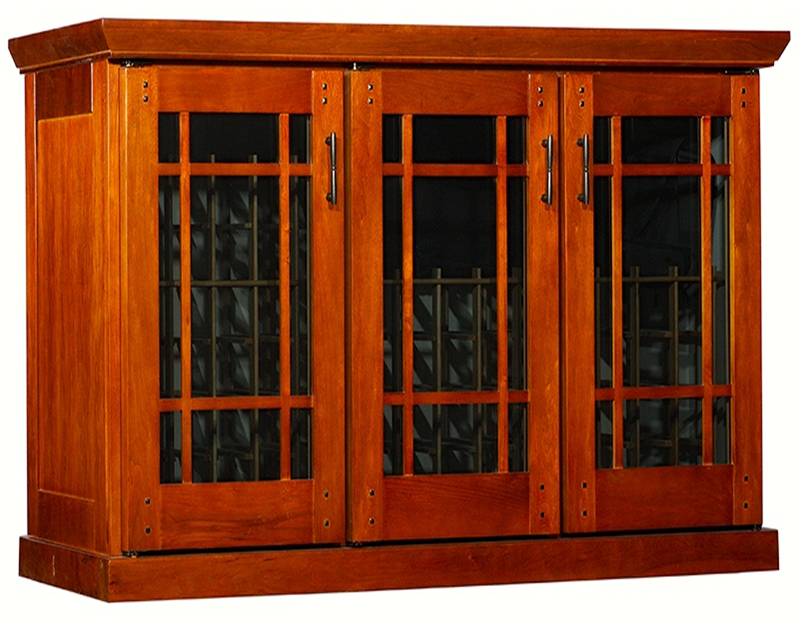 There is an increasing demand for stylish interior decoration in many parts of the world, making Credenza style furniture an ideal investment for homeowners. Credenzas are characterized by a long flat top, with cabinets or drawers for storage. They are typically built with no legs or feet, and are about waist-level height.
In medieval times, the word "credenza" refers to a side-board where the foods are placed to be tasted before serving. Nowadays, credenza style furniture is widely used for storage purposes, while adding luxury and style in private homes.
Le Cache, a leading manufacturer of wine storage units, has designed Credenza wine cabinets for collectors who love the touch of elegance in their residential wine storage space. Coastal Custom Wine Cellars now offers these wooden storage units to help their clients experience the aesthetic and functional benefits of the Credenza style cabinet.
Le Cache Credenza Wine Cabinets – a Great Addition to Your Home
Designed to match traditional and modern homes, all our Credenza wine cabinets are built with excellent craftsmanship.
These stylish and functional wine cabinets are ideally designed to fit apartments and homes with tight spaces. They can be placed in your living room, kitchen, or dining room, blending well with any existing décor. They have an all-wood interlock racking that fits Burgundy, Champagne, Pinot Noir and other large format bottles.
There are three types of this line of wine cabinets from Le Cache—the Euro Credenza, Mission Credenza, and Contemporary Credenza. All these units are manufactured with great features, which make them widely used by many residential wine cellar designers.
Le Cache Euro Credenza Wine Cabinets
Martin de Blois, an acclaimed Pinnacle Award-winning designer, designed the Euro Credenza wine cabinets with luxury in mind.
With three hardwood French doors, each cabinet can accommodate up to 174 bottles in double-deep storage. It also comes with hand-turned pewter pulls and security locks.
Take note that the wine cabinet must be placed 3-4 inches away from the wall. This is to allow for proper air ventilation.
If you want to show-off your finest collection with timeless elegance, choose a European-inspired wine cabinet. Available in Provincial Cherry, Chocolate Cherry, and Classic Cherry finishes.
View other types of Le Cache European Series wine cabinets that we offer.
Le Cache Mission Credenza Wine Cabinets
There are homeowners who love to see the beautiful wood grains and straight lines on their wine cabinet. If you do too, the Mission Credenza storage cabinet will fit your aesthetic requirements.
There are hand-carved details and decorative moldings on the hardwood doors and windows. These features allow the Le Cache Mission Credenza wine cabinets to blend well with any home décor.
Berkeley Mills, a top-notch Bay-area designer of quality artisan furniture, designed this line of Le Cache wine cabinets to fit small spaces.
With total capacity of 174 bottles, this cabinet style has universal racking that fits standard and large format wine bottles in double-deep storage. It comes with ebony accents and pewter pulls.
The Mission Credenza wine cabinets are built using SB/0™ Technology, which means that clearance from the wall is unnecessary. Since the unit can be flushed against the wall, no additional floor space will be used.  You may opt for a Provincial Cherry or Classic Cherry finish.
Learn more about Le Cache Mission wine cabinets.
Le Cache Contemporary Wine Storage Cabinets
Our Le Cache Contemporary wine cabinets offer a luxurious appeal to any living space. Available in single-deep bottle storage, each unit can store up to 115 standard and oversized bottles.
The gently arched glass windows add elegance to these modern furniture pieces. The bar pulls and security locks are made of stainless material.
To allow for proper air ventilation, a 3-4 inches set back from the rear wall is required. Available finish options are Classic Cherry and Provincial Cherry.
We also offer Le Cache Contemporary Credenza Island wine cabinets. These units are finished on all sides with vents hidden for a clean look. These features allow this type of cabinet to be placed at the center of a room.
View our complete line of Le Cache Contemporary wine cabinets.
Storing Your Collection in a Credenza Storage Cabinet Ensures Safety of Your Wine
In addition to their impressive aesthetic features, your wine storage unit must be able to provide a stable environment to preserve wine's quality.
To safeguard your precious vintages from damaging factors, each Le Cache Credenza wine cabinet is equipped with a USA-made cooling unit from CellarPro.
The cooling equipment comes with an electronic thermostat and digital LED display, which allows for precise control of the temperature inside the cabinet. Another feature of the wine cooling system is the adjustable humidity control.
We trust CellarPro wine refrigeration systems in providing climate-controlled, ultra-quiet, and vibration-free residential wine storage solutions to our clients.
The glass used for the doors and windows is double-paned and tinted to offer protection against UV rays that can harm wine.
More Features of the Credenza Wine Cabinets
Premium cherry wood veneer
Hardwood doors
Hand-carved wood trim
Crown and base moldings
Engineered wood mullions
Foil-backed polyisocyanurate insulation
Energy-saver and quick-chill modes
Audible and visual alarms
Looking for a Stylish and Efficient Way to Store Wine at Home? Get a Le Cache Credenza Wine Cabinet.
Add a luxurious touch to your home and store your collection safely with Le Cache Credenza wine cabinets. Designed and built with great features and elegance, these storage units will bring enjoyment to avid wine collectors. To make a purchase, call us today at +1 (888) 735-8889 (toll-free).
If you live in Los Angeles, California, New York/New Jersey areas, or Baltimore, Maryland, we can set up an appointment with one of our design specialists to assess your space requirements.

Gallery of Images