Le Cache Loft and Vault Wine Cabinets – Add a Modern Twist to Your Home
For many wine enthusiasts, it is not just the quality of the wine cabinet that should be considered. Your cabinet's overall design should complement your existing home décor or your personal style. If you're looking for wine storage cabinets designed and crafted with excellence, Le Cache Loft and Vault wine cabinets are a perfect choice. Offered by Coastal Custom Wine Cellars, these cabinets are packed with great features, making them suitable for serious wine collectors who love modern aesthetics.
Wine Cabinets Designed by Le Cache for a Modern Home
Simple, yet sophisticated wine cabinets are in demand across the globe. They are a perfect wine storage solution for those who seek modern and stylish residential wine storage space. Loft style wine cabinets create a feeling of cosmopolitan lifestyle in your home.
Le Cache, a leading manufacturer of refrigerated wine cabinets, has designed and built the Loft Series to meet the needs of wine aficionados who adore contemporary lifestyle. The functionality, materials, and physical attributes of their wine storage cabinets make wine collecting a fun and fulfilling hobby.
Each cabinet can be a distinctive piece of furniture in your home. The frame, door, and racking of each wine cabinet are crafted with functionality and aesthetics in mind.
Displaying your collection in one of Le Cache's Loft wine cabinets is something that you can be proud of for years to come. The desirable features of the Loft Series make them a favorite of many residential wine cellar designers to spend most of their time building custom wine cellars, but occasionally have clients looking for wine cabinets, like Le Cache.
Sophistication Combined with Form and Function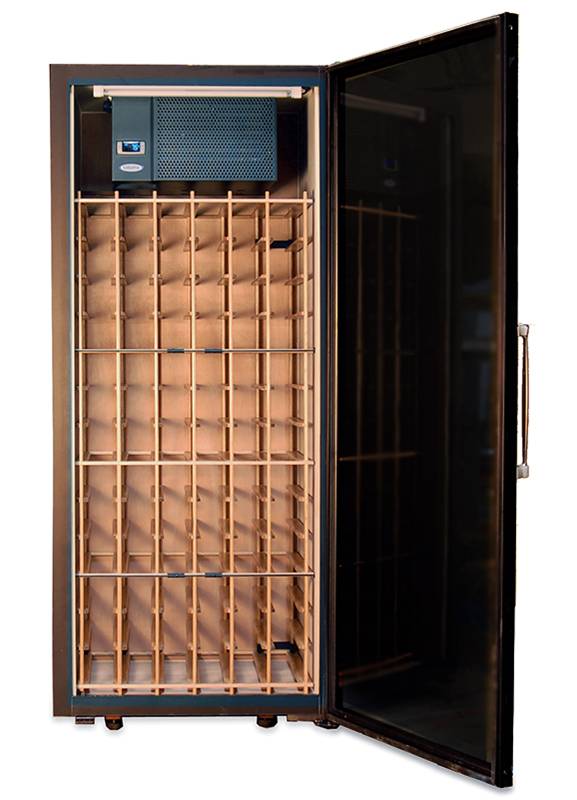 Built with elegance, combined with form and function, the Le Cache Loft Series wine cabinets will add a modern twist to classic aesthetics.
The glass doors are tinted, double-paned, and framed, allowing full visibility of your entire collection. These features allow easy viewing of your finest wines while you're drinking your favorite vintage with your friends.
Available in brushed aluminum or black matte finishes, the door and the handle can be hinged on either side. The universal racking is made of wood, and can house standard and large-format wine bottles. A total of 172-286 bottles can be accommodated by the Le Cache Loft wine cabinets.
Suitable for modern homes and apartments, this style of wine cabinets will impress your visitors, and safeguard your collection.
Designed to Provide Wine the Ideal Environment
In addition to being an elegant piece of storage furniture in your space, the Loft Style wine cabinets are also insulated. Proper insulation helps stabilize the two most important factors in wine storage—temperature and humidity. The cabinets also feature sealed seams, which help protect wine from heat, and harmful UV.
Without premium insulation, cool air will escape from the wine cabinet, resulting in temperature fluctuations. When this happens, wine will lose its desirable characteristics, and may become undrinkable.
In addition to insulation, all Le Cache cabinets are installed with a USA-made CellarPro wine cooling unit. Offering top-of-the-line cooling solutions, CellarPro is one of the trusted brands of refrigeration systems.
An efficient wine cooling system is necessary to achieve the ideal storage conditions needed for aging wine. The CellarPro refrigeration system comes with an electronic thermostat and digital display, and a front-vent hood and grill.
Zero Clearance from the Wall Required
The unique SB/O™ Technology used by Le Cache, allows you to place upright wine cabinets, together with the top-vent cooling system, right against the wall. With this zero set back feature, storage space is maximized.
Keep in mind that an 18-inch clearance is required above the cabinet to allow the hot air generated by the cooling unit to dissipate.
Other Features of Le Cache Loft Style Wine Cabinets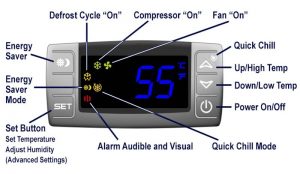 Adjustable humidity control
Low-heat interior light
High-performance air filtration system
Audible and visual alarms
Optional bottle probe
Two-year warranty on entire cabinet
Five-year warranty on the cooling system
Le Cache Vault Wine Cabinet for Tough Spaces
Like the Loft Series, the Vault wine cabinet provides exceptional performance. This Le Cache wine cabinet is suitable for tough storage spaces such as basements or garages. Built with insulated wood doors, extra-thick insulation, and an efficient cooling unit from CellarPro, the Le Cache Vault wine cabinet can preserve and age your wine properly for many years.
Get a Le Cache Wine Cabinet from Coastal Custom Wine Cellars
Have fun wine collecting while adding a modern twist to your home. Purchase a Le Cache Loft-style wine cabinet from Coastal Custom Wine Cellars. Call us today at+1 (888) 735-8889! If you live in Baltimore, Maryland, Los Angeles, California, or New York/New Jersey areas, our design specialist can visit your home to assess your space requirements.
Gallery of Images