Wine Barrel Flooring – The Ultimate in Wine Cellar Flooring
Does your wine cellar floor make a statement?
Would you like your wine cellar flooring to be exceptional? Have it make the ultimate statement like no other flooring can offer. What better statement can you make than to have your custom wine cellar flooring made from real original Napa Valley Oak Barrels?
How Wine Barrels are turned into beautiful wine cellar flooring that makes a statement.
Watch the video below to see how they are made, I guarantee you will be impressed!
Wine Barrel Cooper Stamped Flooring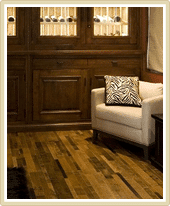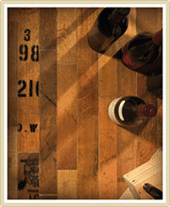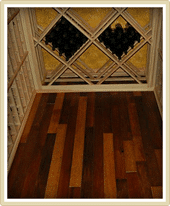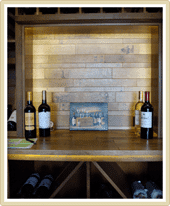 Each wine barrel used in the production of wine is stamped (see glossary below) with the insignia and vineyard label of the corresponding winery. This gives each barrel a very distinctive look, and to make it even better during the wine production process each barrel is rubbed on the outside with the grape skins of the wine inside. This means the oak soaks up that wonderful red glow or has golden brown tones from the combination of the wonderful oak wood and the grape skins.
Your floor can be made from a combination of the inside and the outside of the barrel which give you endless possibilities, all plain red, golden brown, a mixture of red and brown and when the stamps from the vineyards are mixed in the result is astounding.
Your wine cellar will be extraordinary; there are no two floors that are made with wine barrels alike in the world, so your wine cellar floor will stand far and away above the norm. You can even take it a step further and have your countertops made to match.
Want to go green?
Our wine cellar flooring and countertops come from the only provider of reclaimed wine barrels in the world. Once a wine barrel has served its purpose, and the effective life-span of a wine barrel is three years on average, rather than being sold as planters or firewood or put into landfill, we are able, through a unique process, to turn this wonderful wood into something that will be your pride and joy for years to come.
We use both the inside and the outside of the barrel to ensure nothing goes to waste, each of the staves is split apart so essentially you are left with a stave from the inside and a stave from the outside. This is why we can offer such diversity in the coloring of your wine cellar floor, along with markings the barrel rings make and the normal wear and tear found in a used wood product will really give your custom cellar added sparkle.
Glossary of terms
Cooperage: Incorporates stamps and markings from the top and bottom of the barrels. The wineries use the markings to identify the contents of the barrels.
Stave: The Stave is the vertical wood that makes up the sides of the barrel. The hoops (metal bands) are removed leaving distinctive markings behind.
Infusion: Wood from the inside of the barrel that is naturally stained by the wines. No artificial dyes are used to enhance the coloring.
Technical Specifications:
Tongue and groove installation
Random widths and lengths
Micro Beveled
5/8″ thickness
Pre-finished "Bona Traffic" sealant
Designed specifically for wine cellars
Installed like any wood flooring material
Countertops – 1 1/8″ standard thickness – edge banded – drop in installation
Reclaimed Wine Barrel Flooring – Distinctive Wine Cellar Flooring Video transcription – Part One
We were really excited about this flooring. It is made from actual reclaimed oak wine barrels and the floor that we selected is the outside part of the barrel so it shows the cooper stamp throughout the floor.
Wine Barrel Flooring – The Ultimate in Wine Cellar Flooring Part I wine cellar flooring Los Gatos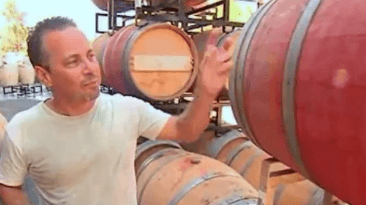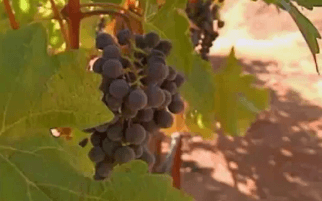 When I was visiting a friend in Napa at his winery, we were sitting in the barrel room and I asked him, "What would you do with the barrels?" He said "When we are done with them we cut them in half and make planners out of them." I told him we could make something better and a bet ensued and the bet was that we can make a commercially viable product, something useful out of the barrels. And so I had a couple of bottles of wine left from winning the bet!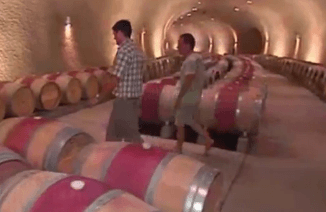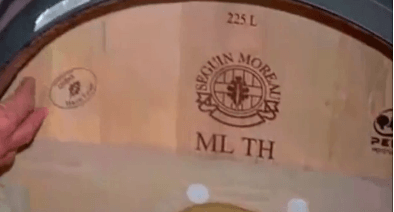 It's a very competitive business. There are a lot of types of products that barrels are used for and they are also reused in Portugal for port. They use them for all types of different things. So once we make a contact with somebody we really want to be respectful of the relationship.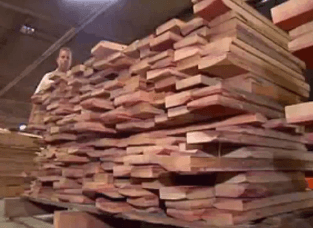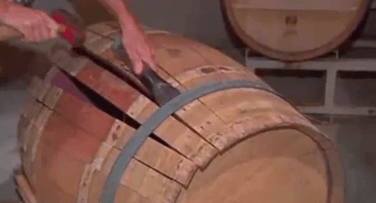 They take the skins and they rub them on to the sides to get the red effect, these are desirable because the red is isn't beneath the hoop which is kind'a nice. So we'll probably get this in a couple of years.
"Do you have a lot of barrels pulled out of service now?"
"Not so many. Most of the barrels we have are still in service. We're getting rid of most 5 barrels right now. We're only filling those 7 or newer at this point"
"Hey Rick, how's it going? Good to see you. Got some barrels for me?"
"Absolutely! Some fine French Oak"
"Where are they?"
"In the cave. So just emptied all these barrels and they're all looking pretty good. So I'd say we have eight racks, maybe a hundred and twenty barrels and all are in primo shape."
"That's perfect! Some of these have some great stamps on, this one's got your stamp on it here."
"Yeah. A mix of the two wineries we have here."
When you start breaking these barrels apart, it's kind of exciting. You get inside, you can smell the wine, you got this really vibrant red color. It's kind of an exciting place to be. I know I'm the first person inside here.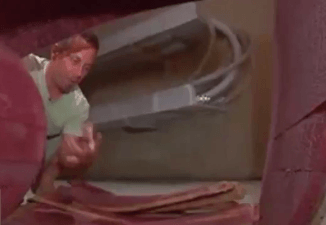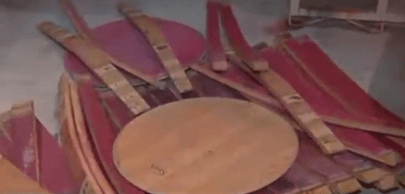 I would expect to get about 80% of this lumber and use it for the parts that we intend to use them for and then the rest of it will go for cooking chips.