About Coastal Custom Wine Cellars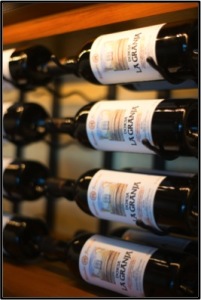 At Coastal Custom Wine Cellars we are passionate about designing wine cellars. With over 10 years of design experience building residential and commercial wine rooms in California and throughout the country, our focus is to create a wine cellar that meets your needs. A combination of balance and subtle elegance paired with your helpful ideas, creates a wine cellar design that meets your display and management requirements.
Job #1: Protecting Your Wine Collection
When building a wine cellar the first and obvious priority is protecting your wine collection. It means protecting your wine from the twin enemies of wine–temperature fluctuation, and humidity. This may be a simple proposition. But the actual process that we use to make this happen in your home or business wine cellar is a lot more complicated than it may seem at first seem. You cannot simply use a run-of-the-mill construction company if you want this highly specialized type of project to be done correctly.
Best Refrigeration Systems in the Industry
A wine cellar builder like us uses the very best refrigeration systems in the industry, from company's who build systems specifically for wine storage. We work with WhisperKOOL, CellarPro, and Wine Guardian, to name a few.
Insulating Your Space is a Sign of Quality
We also insulate your space according the highest standards for wine cellar construction, creating a vapor barrier that will protect your wine and allow that refrigeration system to function correctly and efficiently.
Planning Your Rack System
Expert wine cellar designers also take the time to project what your wine collection is going to be in the future and how that's going to affect your racks. They also plan a rack system that fits your style, budget, and all practical concerns for your specific wine cellar.
Other Important Details to Consider
We know how to install a door system for wine cellars. And we use the right materials for flooring and walls.
Doing it Right!
As you can see, it's not so simple. But it is important that it be done right. Which is the way we do it here at Coastal Custom Wine Cellars!
No Job is Too Small or Too Large
We regularly handle jobs of varying size. Some are large and highly complex commercial projects. Others are small closet conversions. We even help our clients manage the inexpensive but beautiful pre-manufactured wine cabinet installations like our Le Cache line.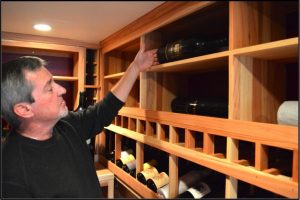 In an ideal world we would all have room and budget for a large custom wine cellar. But we recognize that this isn't always feasible. Is it still worth working with a design specialist at Coastal Custom Wine Cellars if you're considering installing a wine cabinet for example?
At Coastal we consider ourselves wine storage experts, regardless of the size and type of project. Consult with us and we'll help you find the most suitable system for your needs. Often consulting with an expert will save you money. We know the tricks to save on budget, while getting you the most bang for your buck. For example, many of our clients opt for a custom built cellar with modular racking to save on expense. We'll help you find those solutions.
Where We Are Located
Coastal Custom Wine Cellars was launched in Southern California where people love to to collect and store wine. It was the perfect place to begin to grow our business. Since that time, our reputation has grown nationwide. We've completed projected all over country, including in Hawaii.
We have since expanded, opening installation offices in Baltimore, Maryland, and in the New Jersey/New York area. The truth is that we build all over the country. Call us today to see if we can help you with your project.
A Note From the Owner of Coastal Custom Wine Cellars
Hello! Thank you for visiting Coastal Custom Wine Cellars.  I'm Jerry Wilson; I'm the founder and Senior Design Consultant here at Coastal.  I'd like to take a few minutes to take you on a short tour.
Why Are You Here?
I'm assuming that you have a need to store and display your wine collection in your home or business. Possibly you own a fine wine store or a restaurant and you need some way to display your wine collection. If so you're in the right place. We love wine collecting too and are here to help you do this right.
Passion for Wine
At Wine Cellars By Coastal we believe that a person's wine collection is a statement of who they are! Wine displays are a way of showing off to your friends and guests who you are. Our goal with every project is to help you express this in the best way possible.
Full Service Wine Cellar Builder, Supplier, Installer & Designer
We are a full service company meaning we can take you from the design stage to having a completed wine cellar with racking and furniture. We install the doors, climate control refrigeration system, and we can even install Elertus monitoring system to allow you keep track of the conditions of your system by smart phone.
Custom Wine Cellar Gallery
Our wine cellar gallery will give you an opportunity to take a look at a range of jobs we have completed. It's something that we've been doing for years. We've been in the industry for 13 years now and have added these images and project details to the site. Our completed projects include residential wine cellars as well as commercial wine storage displays for wine tasting rooms. We hope you will enjoy perusing our gallery which may give you ideas for your own project. Let us know what inspiration it sparks for you and we'll incorporate those elements into your project.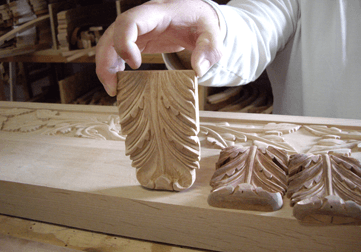 Technical Wine Cellars Design and Detail
Custom Wine Cellar Client Projects
If you're interested in learning more about the specific details about our projects here at Coastal, you'll want to check out the section in the left hand column of our site titled, "Custom Wine Cellar Client Projects." Here we give case studies on various completed projects throughout the country. You'll see the planning, attention to detail, and craftsmanship that goes into the wide variety of commercial and residential projects, both big and small, that we work on. You'll see why so many clients trust us to come into their businesses and homes to build these great wine cellars, rooms, and wine cabinets.
In this video we will take you on a tour showing you how to find our completed projects. We'll also show you how to discover details, such as how the bottles fit in the racks, how the size of the shelves in our rack can accommodate a range of bottle sizes, and much more.
Wine Cellars By Coastal Intro to our Custom Wine Cellars WebSite
Kit Wine Racks
We offer a full line of wine racks. We offer:
These wine racks are a semi-custom format. They can be purchased online. If you need any assistance with design, or if you have any questions, I'm happy to help you.
Wine Cellar Cooling Units
One of the most important decisions made when building a wine cellar is choosing the right type of cooling unit. There are 3 primary ways to cool a wine room–the self-contained cooling units that are mounted through the wall, ductless air conditioning systems, or ductless split systems as they're called. We also offer ducted air handlers so there is no visible equipment in the wine room. We will walk you through this decision and make sure that you end up with a refrigeration system that is perfect for your wine cellar.

Custom Wine Cellar Cooling by Coastal
Custom Wine Cellar Doors
A full line of Custom Wine Cellar Doors is available. We offer Alder and Mahogany primarily, and we have five different stains to select from.  A wine cellar door gallery is included for you, and some great pictures so you can see some of the detail available.  We have a short video there where you'll learn about different particulars that are involved in the door. Not only do we ship the door but we include a door jamb, casement moldings, weather stripping, double-paned glass (if desired), automatic door bottom, and a proper door swing. We ship our doors pre-fit so there's no add-ons or hidden costs.

Custom Wine Cellar Doors – Choice, Style and Efficient
Unique Wine Cellar Flooring Options
We are also very happy to offer a wonderful variety of flooring products. We offer Reclaimed Napa Valley Oak Barrels as well as nautical timbers. We can use these create stunning and distinctive flooring for your wine cellar. In fact, we can also create back splashes, counter tops, and stunning wine tasting tables. Go to our Wine Room Flooring page and watch the video to get a more in-depth knowledge of how it all goes together, cradle to the grave. You'll learn about the actual rough construction–how it's brought to life with the insulation, the vapor seals, the moisture-proof barriers, and even the smallest details such as how we construct actual opening for your bottles.

Stylish Custom Wine Cellar Flooring
Returns & Warranties
Visit our returns & warranties page where we discuss our polices for kit wine racks, custom wine cellar racks shipping & wood colors.
What to Do Next
So if you are interested in building your own custom wine cellar that's uniquely designed to fit your home, your style, and your character, we are happy to help. Whether you are in California, New York, or anywhere in between, if you are considering your own home wine room or commercial wine storage display, we can give you all of the information that you will need to make an informed decision. Click here for a FREE 3D custom wine cellar design or call +1 (949) 355-4376 and ask for Jerry Wilson. Thanks for stopping by. Cheers!
Discontinued Pages: