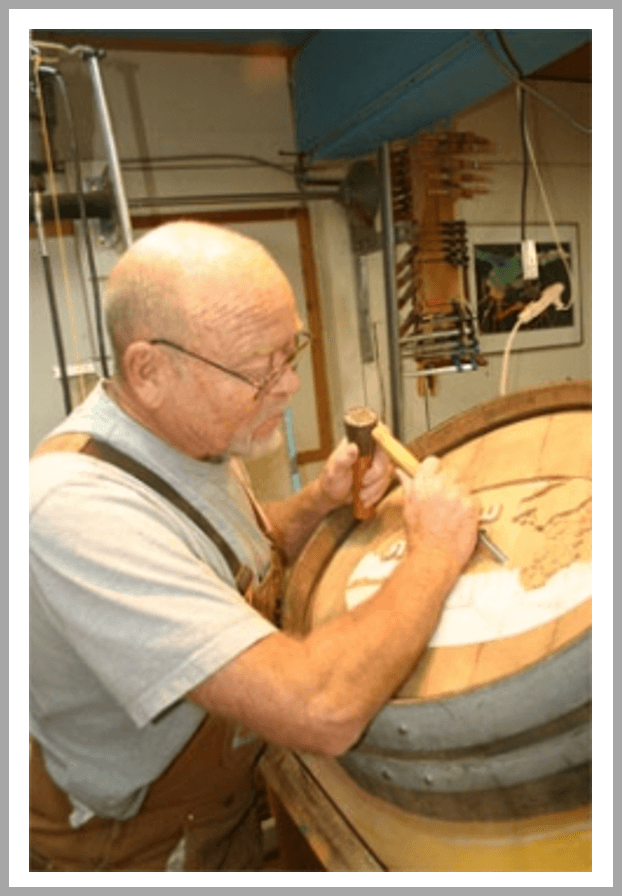 When we first saw these amazing wine barrel designs by Peter, we knew that we wanted to make them readily available to our clients.
Once our customers have settled on a design and layout for their home custom wine cellar they will often go on a hunt for ways to accessorize and make their wine room unique and personalized.
These wine barrel designs are only the tip of the iceberg as Peter is great at working with people to create a completely unique design, just for them.
At very reasonable prices Peter will create a sketch from an idea or an existing image, which when approved by the client, he will turn into a feature that completely dominates their wine cellar with nothing less than a stunning heirloom.
Check out these examples of work completed for clients, from a coat of arms to a landscape to a company logo you are only limited by your imagination.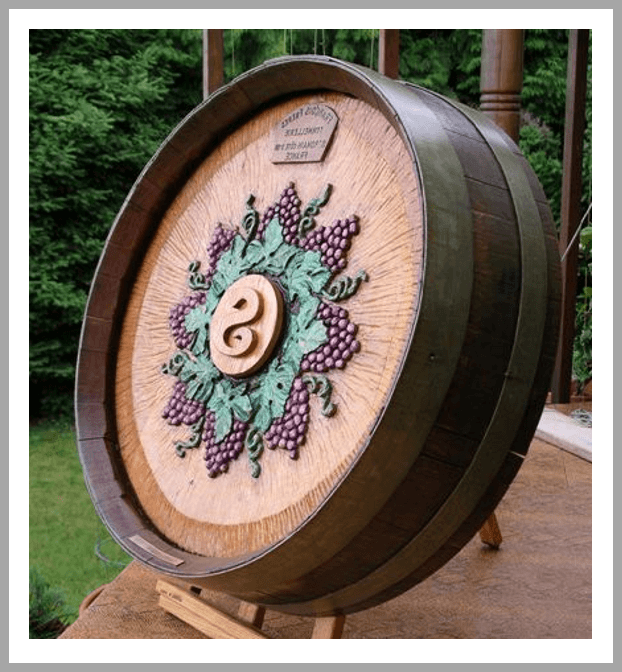 Wine barrel carvings can be multi colored, these dimensional master pieces.
Made from oak barrels these carvings will last more than a lifetime.  The whole wine barrel can be carved or just the barrel end to create a cradled picture.  These products are ideal for personal man caves through to logo designs for winery's, vineyards or corporate entertainment facilities.
Features for Custom Wine Cellars – Unique Individualized Wine Barrel Carvings — Part One
Wine Barrel Carvings for Custom Wine Cellars Residential & Commercial — Part Two

Wine Barrel Carving by Coastal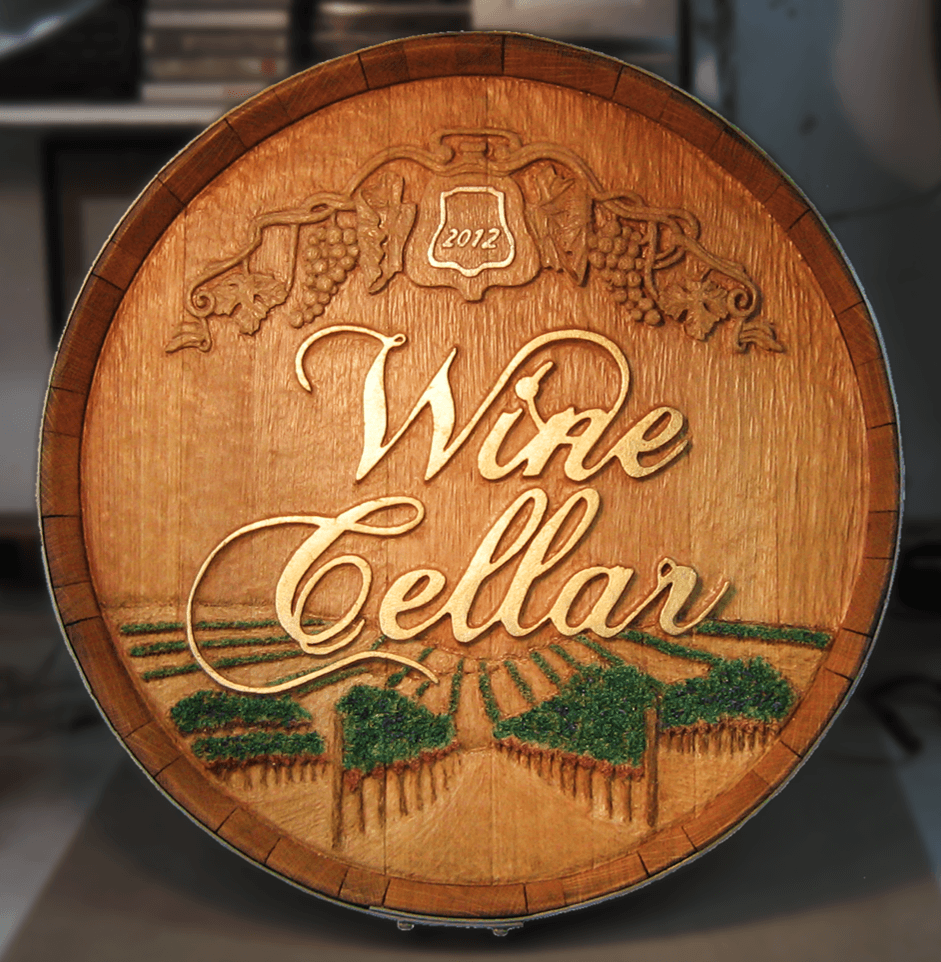 Coastal Custom Wine Cellar's Owner Jerry Wilson can be found at Google+ Follow him there!
The Art of Wine Barrel Carvings
Wine barrels have long been used as containers for transporting and aging wines and liquors.  These wooden barrels have recently found their way into the design world.  The purpose of oak wine barrels is not only limited to storage, but also extends to the aesthetics of a living space.
The life expectancy of a wine barrel is three years, on average.  Once they have served their purpose, the barrels are thrown in landfills, sold as firewood, or used as planters for garden patios.  However, wine cellar builders have developed a creative and eco-friendly approach to giving retired oak wine barrels a new lease on life, by recycling them into different forms of wood art, from flooring materials and wine barrel carvings.
A growing trend in collecting and displaying wines has similarly led to a sudden interest in wine décor, not only in the hospitality industry, but also in residential custom wine cellars.  Wine barrel art carvings are an excellent way to project a personalized and unique appearance upon any living space or storage room.
The art of retired wine barrel carvings is a German folk art carving tradition.  Back then, carved wooden barrels were a symbol of status for distinguished wineries.  Decorated barrels were put on display on their wine tanks, in tasting rooms, wine cellars, or hung in an entrance way.  Wine barrel carvings depict a wide range of subjects, such as favorite vintages, a coat of arms, a company logo, wildlife scenes, and landscapes.
Had it not been revived by a group of modern wood artisans, this old world carving tradition would have faded into oblivion.  There are only a handful of skilled wood carvers continuing the tradition of hand carving recycled wine barrels today.  One such artisan is Peter Forbes, who has been creating stunning and unique barrel carvings for about 15 years now.
Peter Forbes, Coastal's artistic and talented wine barrel carver works one on one with his clients regarding retired wine barrel design ideas, in order to accurately capture their characteristics and individual taste.  He then translates those ideas through sketches, which he creates by hand and sends to his clients for their approval.  His carvings are heirloom quality works of art that can dominate any space and even outlast us all.
The entire wine barrel can be carved, but the barrel end is the part often used in wine barrel carvings.  The barrel end includes about 4 to 12 inches of surrounding hoops and staves.  They make a magnificent heirloom or a stunning cradled picture that is sure to impress visitors and guests.  The barrel end configuration can also be used to create table tops that can serve as tasting tables in wine tasting rooms.
Although carving designs on retired wine barrels can be painted in a variety of colors, designers encourage their clients to showcase the natural beauty of the wood by applying paint sparingly.  Since these hand-carved barrels are made from reclaimed oak wine barrels, it is guaranteed that these elegant pieces of art will last a very long time.