Custom Wine Cellar Doors – We'll Create the Perfect One for You!
For wine to age beautifully, you need to keep the right balance of light, temperature and humidity.
Your wine cellar door should, first, help to keep that condition sealed inside the room, and second, and just as important, should also aim to reflect your personality and accomplishments. Here at Coastal, we intend to help you with both.
Time Honored Techniques Coupled with the Latest Technology in Door Construction!
We combine modern day construction methods with old world methods. We construct our wine cellar doors using a technique called Mortise & Tenon, which have been used by woodworkers for centuries because it is simple to do but effectively strong.
Our custom wine cellar doors go through a special process designed to fortify its strength and insulating properties.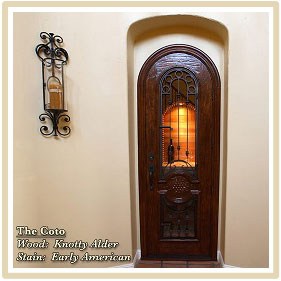 The core of our doors is made out of what we call Laminated Veneer Lumber or LVL, which is a fairly new technology that few other manufacturers offer. LVL is a type of wood product where you have multiple layers of thin wood bonded together by adhesives.
This composite nature makes it less susceptible to warping and shrinking. Furthermore, a Laminated Veneer Lumber has much better insulating qualities than your typical wood.
Wait, Laminated you say? Yes, but only the core of the door bears this feature.
We added an extra step in the core building process by using a relatively thick layer of solid wood as veneer thus the end product would still capture the natural appeal and appearance of a solid hardwood door.
The use of Mortise & Tenon joints and Laminated Veneer Lumber as core gives our hand carved wine cellar doors exceptional strength and quality. Old world meets new world indeed.
Recently Installed Custom Wine Cellar Doors
One of our more popular standard designs this Barolo Style Door is designed with an arched and beveled glass inset.
Manufactured in this case in Knotty Alder with a Rustic Stain finish. Here is one of our more dramatic Barolo Style Doors.
This one has two 18" sidelights adding to the drama of the entryway. Additional custom created etching in the dual pane glass of the door itself really sets off the effect.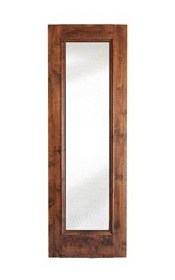 Barolo Glass Door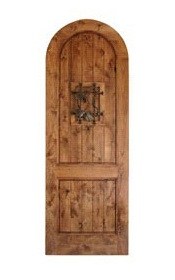 Chianti Door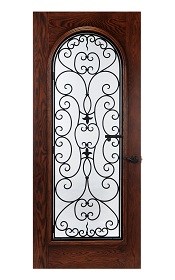 Sonoma Door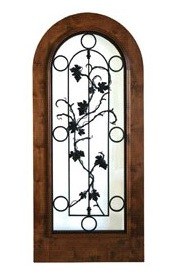 Tuscan Door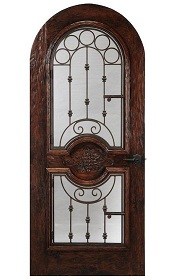 Coto Door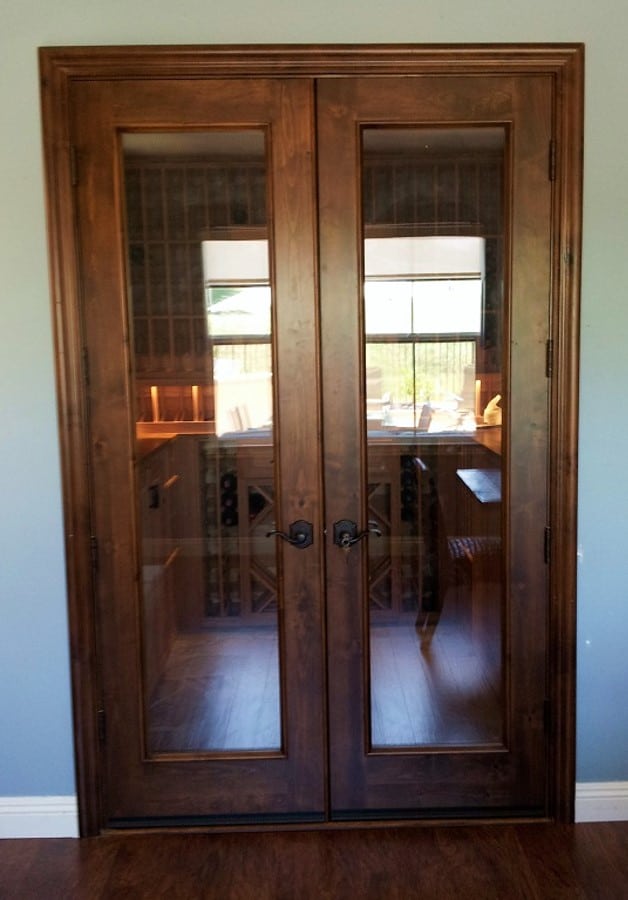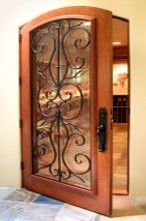 Double Entry Wine Cellar Door Style, Barolo again this time manufactured in Clear Alder with a Chappo Finish. With more glass area a feature wine cellar can be made more visible in the home.
On the right a stunning Tuscan Style Custom Wine Cellar Door with Iron detailing. Unusual dual pane rainwater glass, creating the illusion of rain cascading down the glass.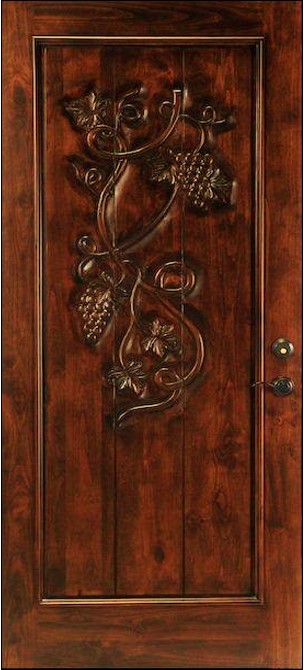 Right a Solid Santa Barbara Style Alder Door with custom carving. The carving can be created from a sketch and personalized on both sides of the door.
Below a Tuscan Square Top Style Door with dual pane glass custom wrought Iron design hinged for easy cleaning. Manufactured in Knotty Alder with a lustrous Cherry Stain finish.

We Create Wine Room Doors Designed to Make A Good Impression… Of Yourself.
We not only offer custom carvings on wood but we also do custom etchings on glass as well. We can do any design of your choosing, whether they're from our gallery or from your own sketch, we can replicate virtually any design!
We can carve your family crest onto the wood or you may want your company logo etched prominently on glass.
We can do all sort of elaborate designs on glass, wood or wrought iron with astonishing quality.
For instance you can go for the very popular old world look with intricate wrought iron details paired with distressed wood.
We even have great ideas for contemporary designs. Additionally, we fabricate equally impressive transoms and sidelights to be paired with your hand carved wine cellar door.
The whole point is, the quality of craftsmanship and detail in your wine cellar door gives you the benefit of a lasting impression on you and your family for years to come.
All Things Glass and Beautiful
One of the most popular options for wine room installation projects is the glass wine cellar door. Whether you have a traditional or modern theme in your residential or commercial space, a glass wine cellar door will complement your existing décor. Its timeless appeal will surely impress guests.  
Proper Installation of Glass Wine Cellar Doors
At Coastal Custom Wine Cellars, we use 1/2″ thick dual paned glass on our doors because it allows us to take advantage of glass's aesthetic benefits and at the same time, preserve the integrity of the wine cellar room.
Dual paned glass is made by attaching two panes of glass together and then sealing it around the edges, leaving a thin space in between. This sealed-in space is the key in eliminating condensation forming around the door or the glass itself.
To add integrity to the wine cellar, we add a polycarbonate vinyl seal. It helps maintain the humidity levels in the normal range (60 to 70 percent) to prevent condensation forming or temperature loss. When condensation forms, mold and mildew will grow on the walls, ceiling, wine racks, and wine labels. The worse thing that can happen is when these fungi affect the cork. This will have a negative effect on the wine's taste and aroma.
Benefits of a Glass Wine Cellar Door
Another advantage of insulated glass is its low heat emission. This property is important because it reduces heat transfer through glass panes. It protects the wine from ultraviolet ray exposure.
In addition to keeping your wines at their best, insulated glass also lowers energy consumption. It prevents your wine refrigeration system from working too hard because it reduces the cooling power required for achieving the optimum storage conditions. When your cooling unit is running normally, it will have a longer lifespan, which prevents additional cost for repairs or replacement.
Aside from dual paned glass, we also manufacture doors with Triple Glazed Stained Glass.
Modern and Minimalist Appeal
As you can see from the doors gallery this type of door is visually appealing.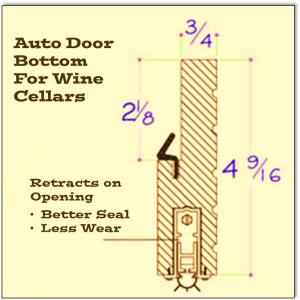 Each piece of glass you see in the design is hand carved, making every triple glazed stained glass door we make uniquely extraordinary and one of a kind. You can even provide your own design and we'll turn it into an amazing work of mosaic art!
This modern door style will not only increase the resale value of your home, but it can also boost your business' sales revenue.
Glass Doors for Business with Wine Cellars
Glass doors are eye-catching. They are in-demand in hospitality setting. Wine cellars with this type of door will attract potential customers easily because it allows your guests to enjoy the good view of your beautiful wine display while dining in your hotel, restaurant, or bar. You may even opt to enclose your wine cellar with glass so it looks like an aquarium!
No More Door Dragging
Coastal Custom Wine Cellar doors are equipped with an automatic door bottom.
This mechanical device, which is built into the bottom edge of the door, automatically pops up into the core when you open it and drops down just before the door is totally shut. Unlike door sweeps, automatic door bottoms do not need door thresholds for it to function effectively thus allowing your floor design to be consistent throughout the house.
Aside from aiding in sealing the interior air in, our specially designed automatic door bottoms prevents damage to your floor due to door dragging. With the added step of weather stripping, Coastal Custom Wine Cellar Doors are truly exterior grade. This means you may also use them as front doors, as well as for patio or deck entrances.
Wine Cellar Doors By Coastal Custom Wine Cellars
The Wood Selection
You can choose from a variety of wood for the veneer. Your choice of wood is important because it lends its essence to your door. For example, clear alders give you a clean, smooth look while knotty alders give you a weathered, antiqued look. We could optionally distress the wood to different levels to make the wood look even older. This feature, the solid wood veneer, sets our doors apart from the usual solid core doors.
As standard features, you can select from 6 different stain and finishing choices: Early American, Chappo, Cherry, Chestnut, Rustic and Wheat. Staining and applying finishing to the wood adds to the door's aesthetic value. We also have 7 different profiles of casement moldings to choose from.
Casement moldings are the decorative strips of wood that go around the perimeter of the door. We ship our doors pre-fit, complete with the appropriate door jamb, casement moldings, proper door swing and hinges.
Glossary of Terms
Condensation: A natural occurring process where moist air turns to liquid when it comes in contact with a cold surface. Distressing: The process of making wood a weathered and worn look using various methods. Finishing: It refers to the process of treating the surface of a wooden material for protection and correction of imperfections. Staining: The process of coloring the wood. Veneer: A usually thin covering over another surface. Weatherstripping: This is the process of sealing openings such as doors and windows to protect an interior space or area from external elements and vice versa.
Specifications
Standard Sized Doors: 30″-36″ Width x 80″ Height, Custom Sizes Available
Joint Construction: Mortise and Tenon
Door Thickness: 1 3/4″
Available Jamb Sizes: Level 1 Up To 4 5/8″; Level 2 Up to 6 5/8″
Casement Moldings included
Distressing Levels Available: Optional Light, Medium, Heavy
Glass: Dual Glazed Tempered
Finishing Choices: 6 (Early American, Chappo, Cherry, Chestnut, Rustic and Wheat)
Exterior Grade Door: Yes
Iron: Hand Forged
Threshold: Automatic Door Bottom or Wood Sill
Hinges: Commercial Grade Ball Bearing Hinges 4.5″ x 4.5″
See examples of Iron Wine Cellar Doors
Visit Jerry Wilson, Owner Costal Custom Wine Cellars at Google+