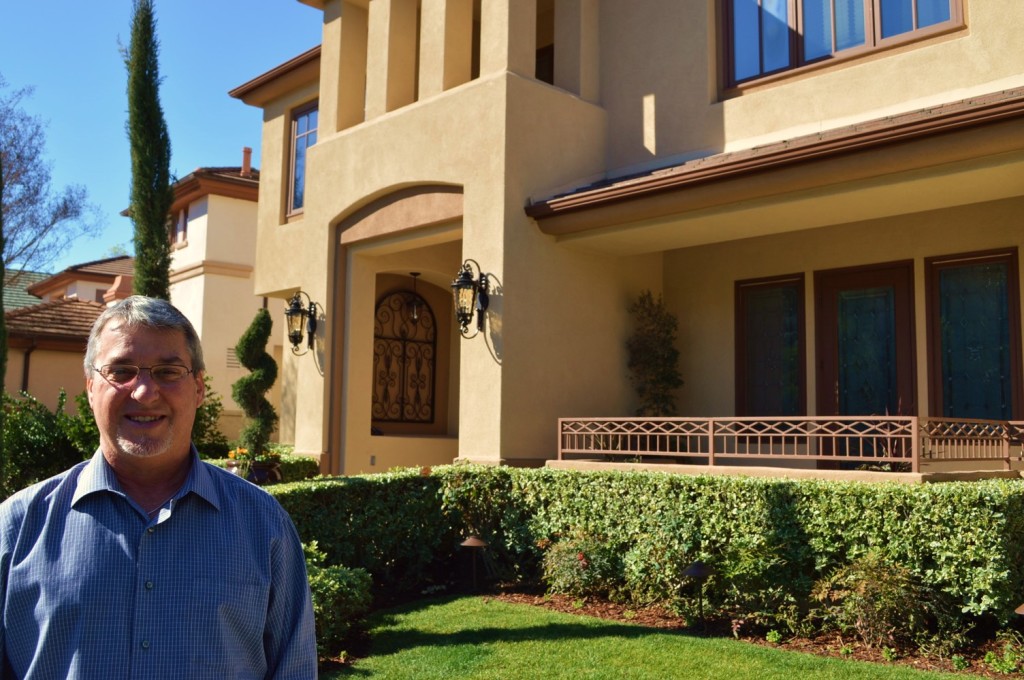 This, our latest residential home, custom wine cellar, "designer" project, was completed in January 2013.
This wine room conversion was built in a beautiful designer home in the prestigious development of Coto de Caza in Orange County, California.
The room features a long sweeping under stairwell design incorporating stylish mahogany racking mixed with VintageView, label forward, metal wine racks.
The end result created an outstanding look whilst also enabling us to pack in extra storage capacity.
A collaborative job, and part of a larger remodeling project, we were originally contacted by the interior designer who assisted particularly with the wine cellar's faux paint selections, flooring options and door hardware.
The racking itself was custom built in Mahogany to which we added a rustic stain with a clear lacquered, furniture quality, top coat and finish.  Metal racks in a black satin finish were added on an opposing wall to the wooden wine racks.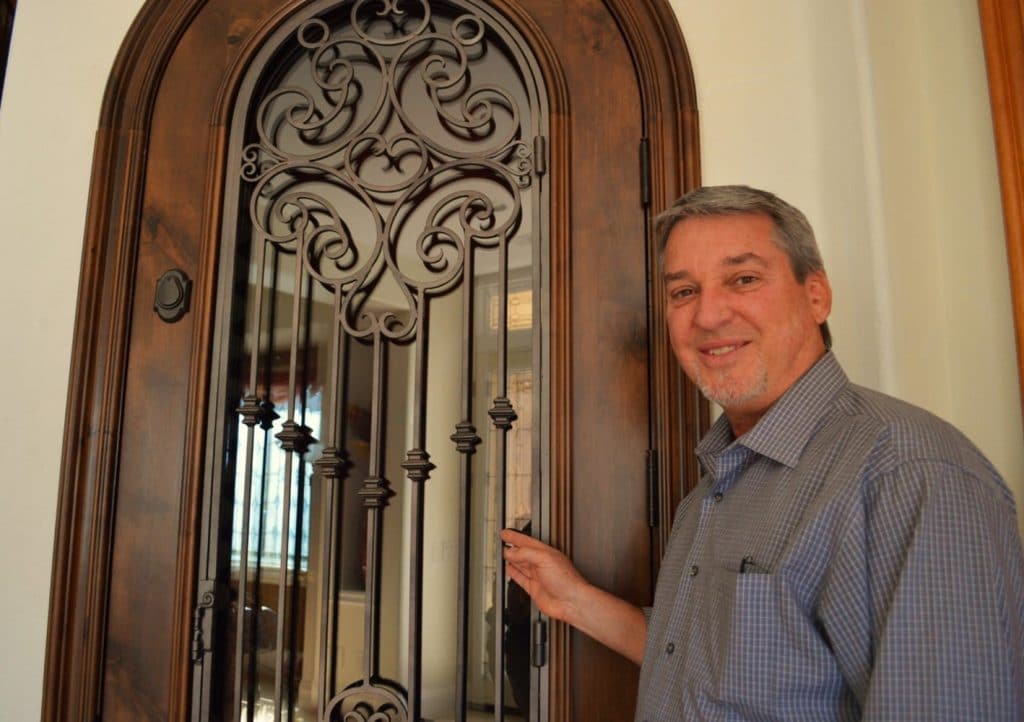 These were selected to be in keeping with the home's very unique styling.  An advantage of the metal racks selected from VintageView is that they only present a 4" profile.  This enabled us to add additional storage to a wall that would otherwise have remained unused.
Tuscan Custom Wine Cellar Door – Unique Wrought Iron Design
Everything about this wine cellar was designed, from the sprinkler heads, to the light switch, to the stunning 8' Tuscan custom built wine cellar door.  The door was constructed in clear alder with a unique custom wrought iron design which was modeled on a drawing provided by the client.  The door was finished in a rustic stain with a bronze finish to the wrought iron.  The final capacity of this wine room was a surprising 514 bottles, impressive for such a small space.
Even though the space was limited with the room only being 4' wide we managed to incorporate a 15 degree display row to give the racking personality whilst also storing the wine properly.
Wine Cellar Refrigeration – Ductless Split System
The cooling system was built and installed by our local wine cellar refrigeration specialists Arctic Metalworks.  For quiet and efficient non-obtrusive running, they installed a ductless split refrigeration system with the condenser placed outdoors on the rooftop.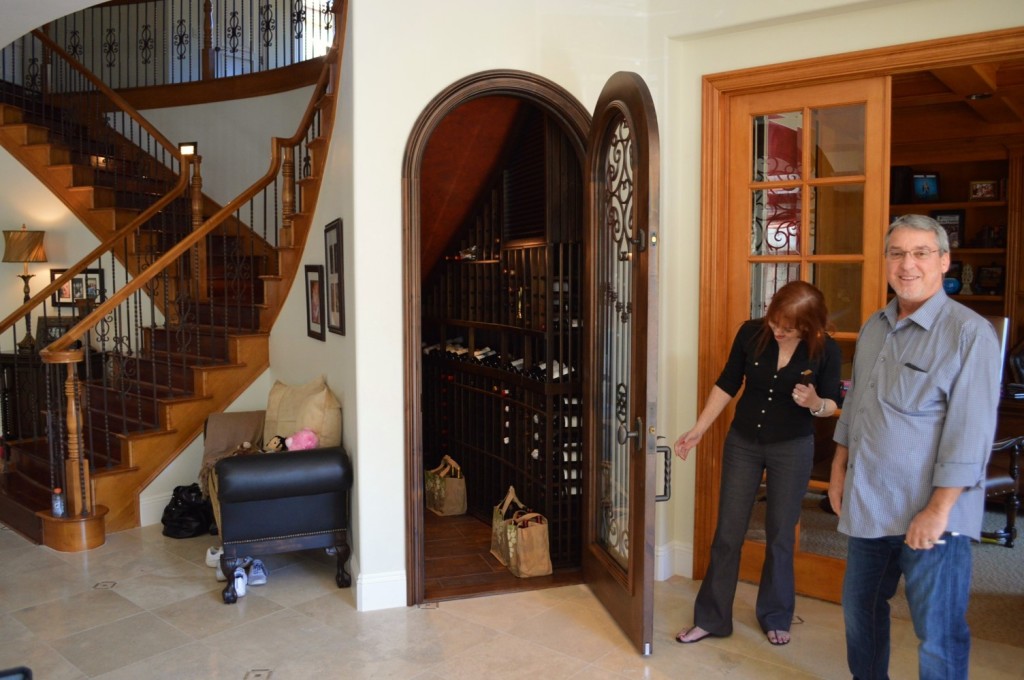 The cooling system's evaporator, while in the wine room, was concealed in a specially constructed lattice style mahogany grill box and cover.  Arctic Metalworks specialize in the installation of proprietary high quality commercial grade wine cellar cooling systems, backed up by ongoing maintenance plans.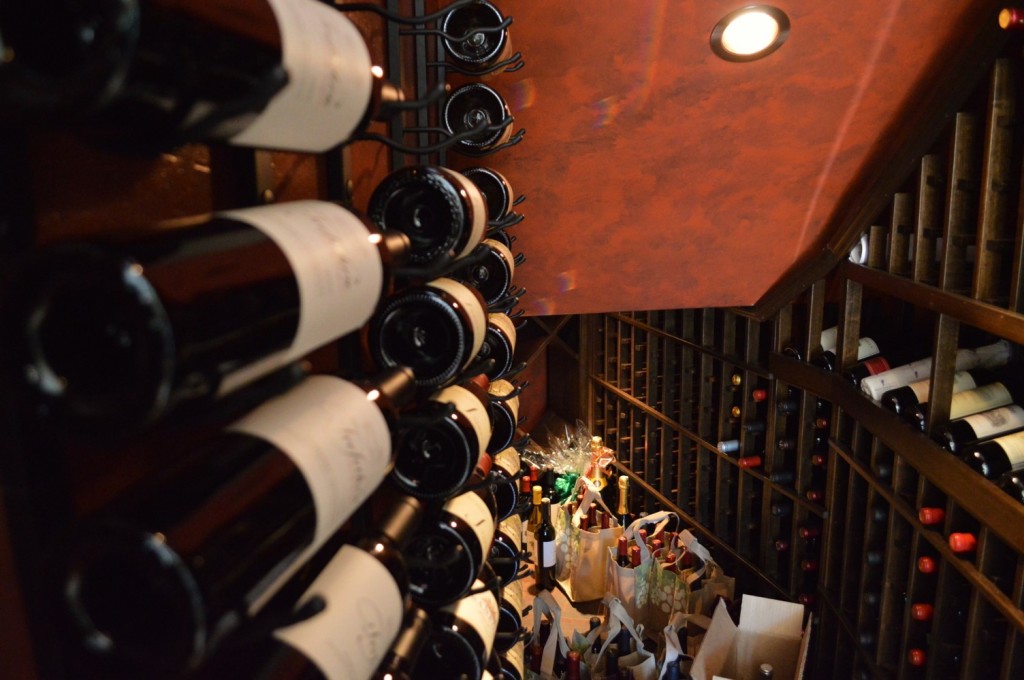 Coto De Caza, Flax Court Custom Wine Cellar Key Features
514 Bottle Capacity.
A Long Sweeping Area Under the Stairwell
Faux Paint Selections
Custom Mahogany Wine Racks
Rustic Stain w/ a Clear Lacquer Top Coat/Finish
Ductless Split Refrigeration by David Gype of Arctic MetalWorks
Condenser was Placed Outdoors – Rooftop Installation
Evaporator is Concealed by a Lattice Style Mahogany Grill Box and Cover
8' Tuscan Style Wine Cellar Door

Wood: Clear Alder.
Custom Wrought Iron Design Provided by Client
Rustic Stain/Finish w/ a bronze finish to the wrought iron

VintageView metal wine racks – black finish
Have a wine room you would like to create?
Call Coastal Custom Wine Cellars +1 (949) 355-4376 or complete a simple FREE design request form and we will contact you.
California Home Wine Cellar Designs — Coto de Caza Orange County CA