Le Cache Mission Wine Cabinets – Timeless Beauty for Your Storage Space
Whether you're a novice or a new wine collector, you will need a refrigerated wine cabinet that is designed to achieve the ideal environment for proper aging. Your wine cabinet should also be built with high quality materials and sophistication. Coastal Custom Wine Cellars offers Le Cache Mission and Carolina Series wine cabinets, which are ideal for home wine storage. 
The Noble Design Tradition of Mission Style Furniture
Throughout the United States there is a growing trend towards a simpler aesthetic in homes and businesses, making the Mission style a nice fit for many of these locations that also store and serve wine. This style is without ornamentation, casting off the excesses of what was at the time of its inception, the dominant Victorian style.
Mission furniture style has become a timeless example of beauty and strength and will likely always remain a noble part of the American design tradition.
It also fits the tastes of many wine lovers, who admire a bottle of wine that is without frills, but is solidly built with quality and taste.
It's for these reasons that Coastal Custom Wine Cellars is excited to offer the Mission and Carolina Series of Wine Cabinets by Le Cache, one of the great manufactures of wine storage units.
Why Choose Le Cache Mission Wine Cabinets?
Mission style is associated with the design elements of the American Arts and Crafts Movement, or with the Mission Revival Style architecture. Originated in the late 19th century, mission style furniture was first popularized by Joseph P. McHugh. The eye-catching vertical and horizontal lines, together with the flat panels, add accent to the wood's grain.
Gustav Stickley launched the Mission style furniture in 1900. Built with exceptional beauty and craftsmanship, each piece will complement any existing décor in your home while storing your collection safely. This style of furniture will also create a relaxing and inviting ambiance in your living space.
The many benefits of the Le Cache Mission wine cabinets make them a trusted brand by residential wine cellar builders.  These space-saver and affordable wine storage cabinets are offered by Coastal Custom Wine Cellars, a leading provider of wine storage solutions.
The Mission Series from Le Cache can accommodate 172 to 286 wine bottles. The racking is made of wood, and is designed to fit standard and large format bottles. Beautiful finishes are available in Classic Cherry or Provincial Cherry.
Comfort and Sophistication
Designed with a classic touch, the Mission Series gives your home wine storage space timeless beauty. Designer of top-notch artisan furniture, Berkeley Mills has put the gorgeous wood grains and straight lines together to add appeal to the cabinets.
The Mission wine cabinets operate quietly, and are designed to match any existing décor in your home. Le Cache uses SB/0™ Technology, allowing the wine cabinets to be placed against the wall.  Without it, at least 6 inches of space between the furniture and the wall will be required.
The windows and hardwood doors are built with hand-carved details and decorative moldings. The crown and slightly distressed finish can easily blend with the existing decors in both traditional and contemporary homes.
The comfort and elegance of these cabinets give you the opportunity to showcase your favorite vintages beautifully, even in tight spaces.
Reliability in Maintaining Optimal Conditions
This line of Le Cache wine cabinets has a built-in USA-made CellarPro cooling unit, a reliable manufacturer of wine refrigeration systems. The refrigeration unit comes with digital temperature and humidity control, which provides convenience and accuracy in achieving the ideal storage conditions for proper aging of wine for years to come.
To ensure that the optimal environment is met, the doors of these wine cabinets are designed with premium insulation, tinted double-pane glass, and sealed seams. These features also protect your collection from damage due to UV radiation exposure.
Other Features of Le Cache Mission Series Wine Cabinets
  Energy-saver modes
  Quick chill modes
  Low-heat interior light
  Audible and visual alarms
  2-year warranty on the cabinet
  5-year warranty on the refrigeration system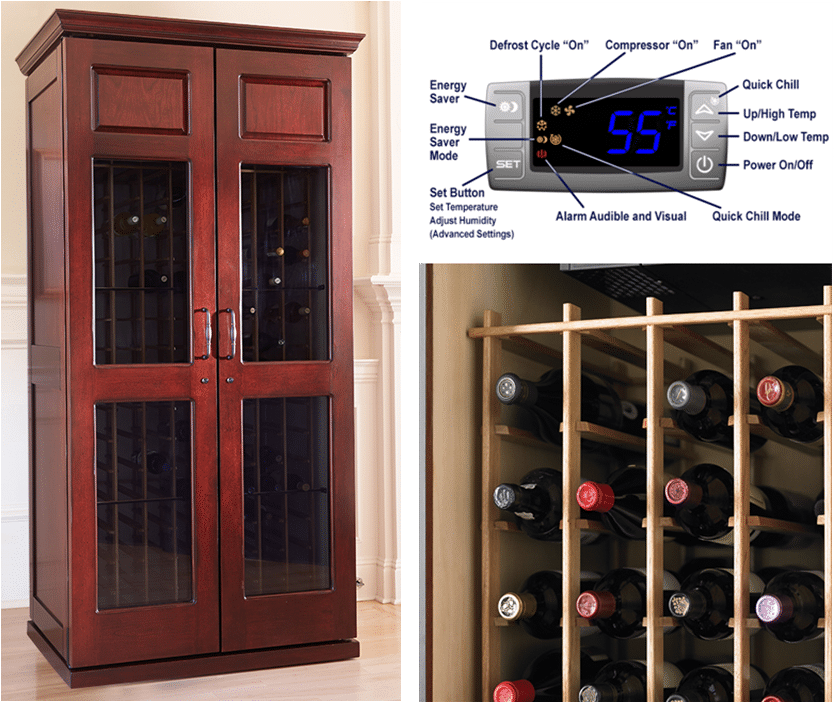 Designed with eye-pleasing architectural details, the Le Cache Carolina wine cabinets also offer casual elegance to your home. Like the Mission Series, they are manufactured with straight-edged crown and base moldings, and slightly distressed finish. Carolina wine cabinets also come with a CellarPro cooling unit and great features, which make wine collecting hassle-free.
Purchase a Le Cache Wine Cabinet. Contact Coastal Custom Wine Cellars.
Using one of the Mission and Carolina wine cabinets by Le Cache to store your collection will add timeless beauty to your home, and keep your wines safe. Make a purchase today by calling us at +1 (888) 735-8889 (toll-free). If you live in Baltimore, Maryland, Southern California, or in the New Jersey/New York areas we can set up an appointment with a design consultant for the assessment of your space.
View the different styles of Le Cache Premium Wine Cabinets here.
Gallery of Images