For this project in a Manhattan Beach Los Angeles home we show you how we converted a simple living area into a stunning custom wine cabinet/wine cellar. We began the demolition and wall preparations in November 2014 and the installation was completed a week before Christmas.
Custom Wine Cabinet Cellar Specifications
840 Bottle capacity
Premium Redwood Wine Racks
15' L x 20" D x 9' H enclosure.
Features: Open Diamond Bin, Label Forward Horizontal Displays for 750 ml., 1.5L and 3L Bottles, High Reveal Displays for 750 ml. and Wood Case Bins.
LED Display Lighting illuminate the high reveal display rows.
Ductless Split Refrigeration System by Arctic. The Evaporator is concealed behind the operable grill cover. Magnets were used to keep the grill cover in place. The condenser is located in the garage.
(2) Pair of Coastal's Barolo Style – Dual Pane Glass Doors w/ Q-Lon to maintain an air tight seal around the door. Doors were stained with a Chestnut Finish. Fixed Glass Window between the Doors.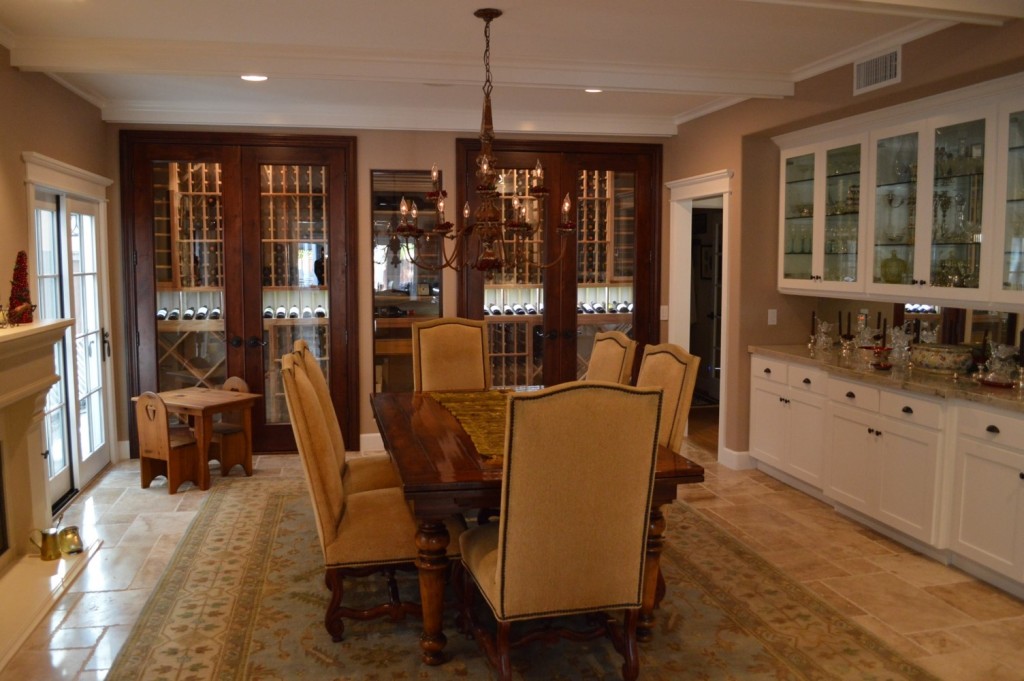 The wine cellar was only one aspect of a large renovation project underway at the home. Consultation and design began in August 2014. A minor obstacle was the 20" depth of the enclosure. Because our custom wood wine racks are 13.5" deep we were left with only 6.5" of clearance to access bottles. The two door openings of 64" each were not an issue, however we had to be sure that bottle storage in front of the fixed wall or the fixed glass were in a label forward display or open bin format. This ensured the bottles could be easily accessed.
Manhattan Beach Wine Cabinet Video Tour
Manhattan Beach Los Angeles Wine Cabinet Custom Cellar Project Tour
More and more homeowners these days are keen on including a custom wine cellar in their living space.  A private wine enclave not only adds instant curb appeal, but also enhances the aesthetic value of the home.  Residential wine cabinets create a comfortable space where wine collectors can organize, display, and manage their wine collection.
Getting in Depth with the Wine Cabinet Manhattan Beach Los Angeles

Project

 
This recently completed wine cellar project in Manhattan Beach, California demonstrates how a simple space in the dining room area was transformed into a striking custom wine cabinet.
The enclosure is 15' wide and 9' tall, and has a total storage capacity of 840 wine bottles.  It features Premium Redwood wine racks, a ductless split wine cellar refrigeration by Arctic Metalworks, and two Barolo-style doors.
Coastal Custom Wine Cellars was contacted in July 2014.  The proposed residential wine cabinet was actually a part of a large renovation that was currently underway.
We first discussed with the homeowners the wine cellar cooling options, and how they wanted to organize and display their wine collection. Then the demolition and wall preparations began in November 2014.
Wine Rack Design – Matching and Combining
The wine rack design for the wine cabinet Manhattan Beach Los Angeles project includes label forward horizontal displays, high reveal displays, open diamond bins, and wood case bins.  The client opted for Premium Redwood wine racks with a Chestnut finish, as they blended well with the design schemes of the dining room, as well as the kitchen area.
Label forward, horizontal displays, facilitate horizontal placement of bottles, that allows for easy identification and recognition of wine labels, as well as helps maintain consistent cork and wine contact, preventing the former from drying out and becoming brittle.
Open diamond bins and wood case bins are the best wine rack design options for storing wines in bulk.  Diamond wine bins are perfect for storing numerous wine bottles of various sizes in groups, while wood case bins are great for consolidating wine cases.
Single bottle storage wine rack design with a high reveal display row provides additional storage space for 750 ml bottles.  Redwood wine racks with a high reveal design pitch bottles to a 15 degree angle that easily showcase the different wines stored along the display area.  LED display lighting installed along the high reveal display row illuminates some of the client's favorite vintages.
Keeping the Room (and Wine) Cool
To stabilize and maintain temperature and humidity levels inside the residential wine cabinet Manhattan Beach Los Angeles, Coastal Custom Wine Cellars installed a ductless split wine cellar refrigeration system by Arctic Metalworks.
A split wine cellar refrigeration unit is the most versatile and efficient of all cooling systems.  The split feature of this cooling system allows the noisiest part of the unit (i.e. the condenser) to be located remotely, thus providing optimum cooling and quiet operation.  A ductless split refrigeration system uses a line set consisting of electrical wiring and copper tubing to connect the evaporator coil to the condenser.
For the wine cabinet Manhattan Beach Los Angeles project, the condenser was placed in the garage, while the evaporator unit was installed inside the wine enclave.  These condensing units can also be located outdoors, and include exterior housing to protect against harmful elements.
A custom designed louvered grill cover keeps the evaporator component of the split wine cellar refrigeration system hidden from view.  The operable grill cover was built from the same material as the wine racks, in order to create a seamless appearance.
How Coastal Addressed the Challenge on this Project
The challenge of the Manhattan Beach wine cabinet project was the depth of the storage space.  Accessing the bottles to the left and to the right can be difficult, since Coastal's custom wine racks are 13 ½ inches.  To solve this problem, a pair of Barolo-style doors was used to fill each of the 64-inch wide openings.
Coastal's Barolo-style dual pane glass doors feature Q-Lon weather-stripping and concealed door bottoms. These ensure an air tight seal around the door and keep the room cool.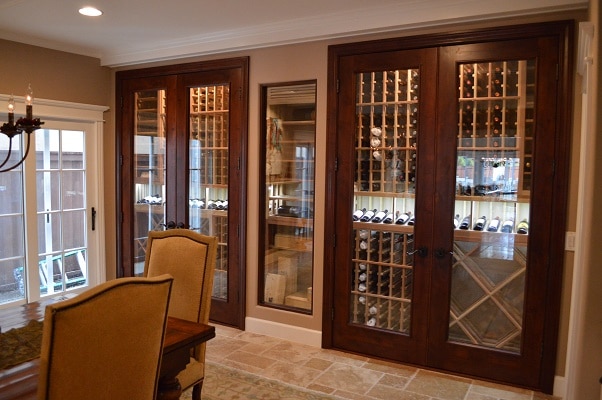 The doors were stained with a Chestnut finish to add a nice touch to an already striking wine cabinet display.  A fixed glass window is situated between the doors where label forward displays for 3-liter bottles are visible, along with some wood case openings.
The client was very pleased with the end product, as well as Coastal's personalized approach in customer service; so much so that he took the time to share his experience on Yelp San Juan Capistrano and the design website Houzz.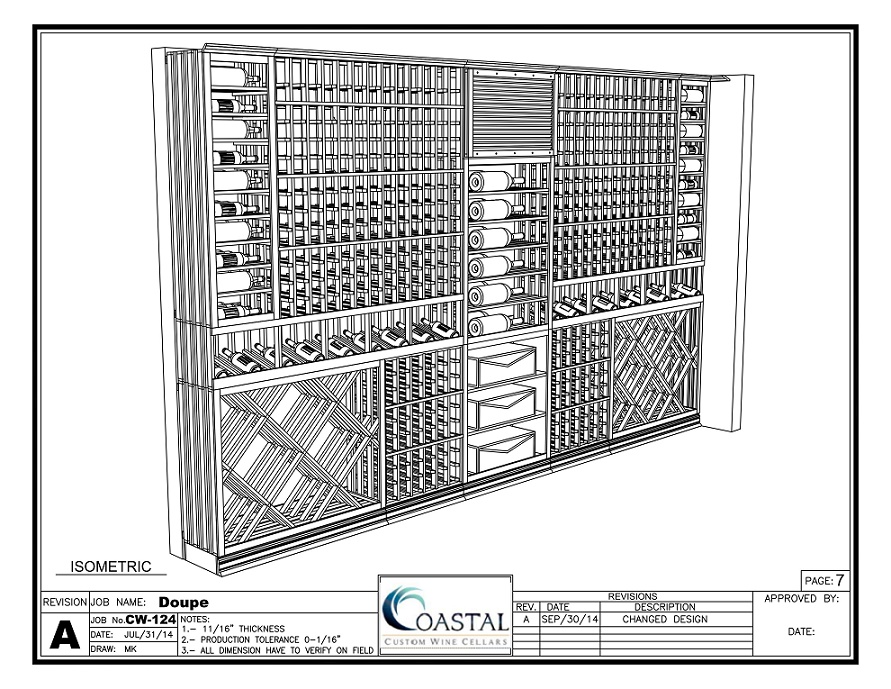 3D Wine Cellar Design by Coastal
Get your Own Custom Wine Cellar or Wine Cabinet Now!
Coastal Custom Wine Cellars has over ten years of experience in wine cellar design and installation.  They provide all aspects of wine storage needs: custom wine racking systems, wine cellar cooling solutions, wine cellar doors, and wine cellar flooring options.
Contact Coastal Custom Wine Cellars now for a free design consultation.