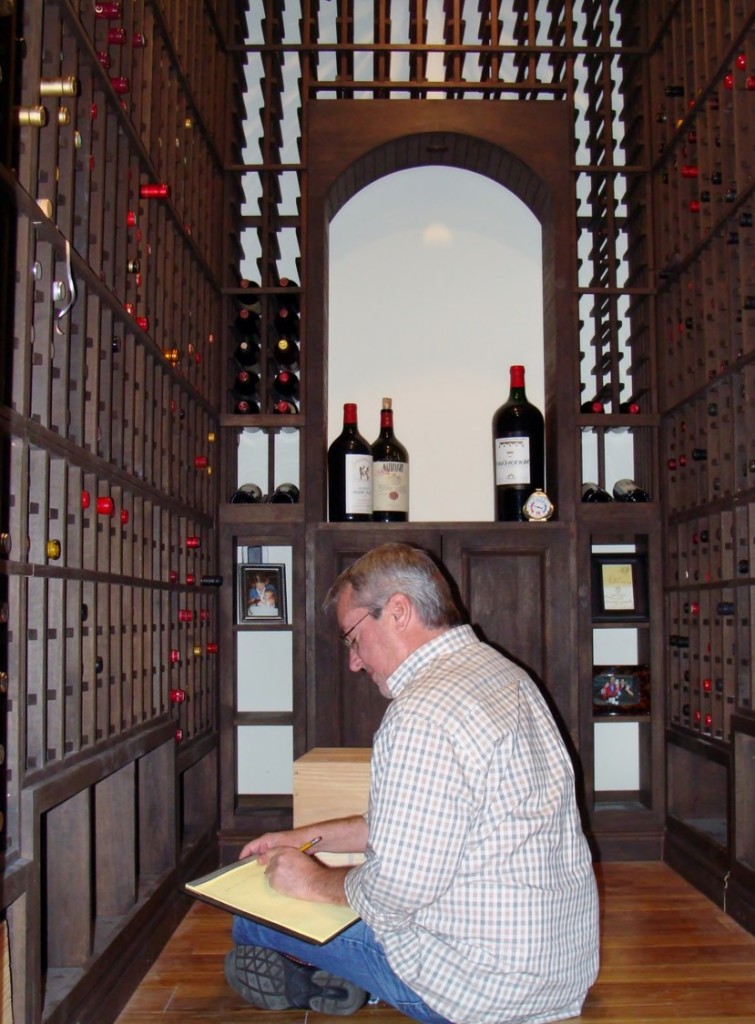 Custom wine cellar design can be extravagant and hugely expensive or good looking and yet still low cost. Take a look at the residential home project we recently designed and installed for our clients in Newport Beach. We think it is a great example of an impressive wine cellar built on a budget.
Custom Wine Cellar Design – Key Features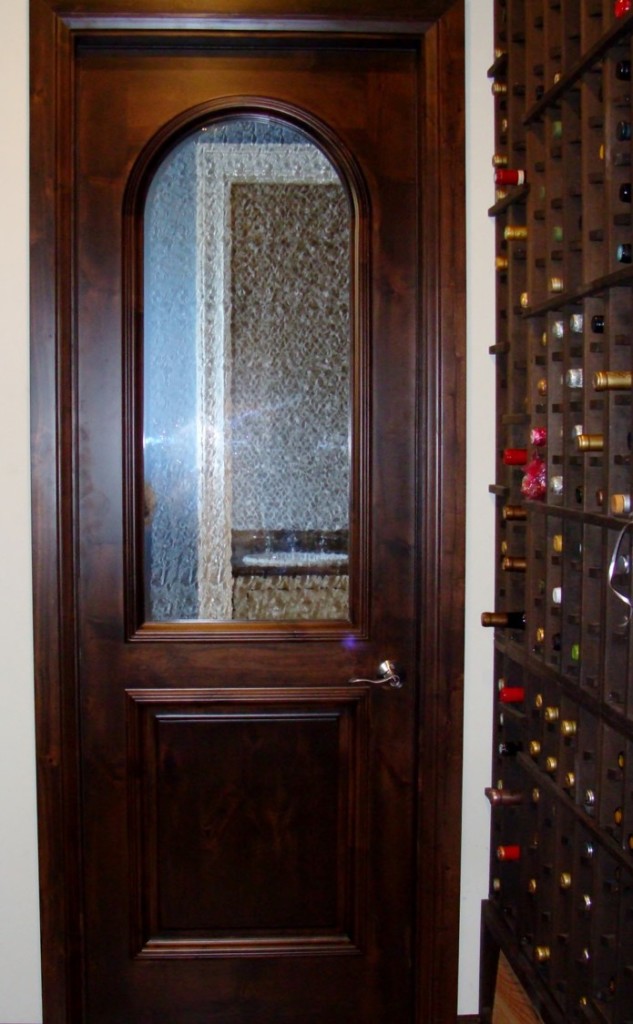 1355 Bottles
Alder wood with our Rustic color stain.
No satin finish (lacquer) was applied which allowed for a more rustic appearance
Custom Alder door with German Antique dual pane glass
Self-contained CellarPro 4200VSx cooling unit.
In October 2014 we visited a home in Newport Beach, CA. recently purchased by our client.
Next to the office was a large closet/storage room measuring 10' L x 6.5' W x 9.5' H.
The left side wall was an exterior wall making this enclosure cellar perfect for a self-contained CellarPro exterior vent cooling unit. But before we could cool the wine cellar we needed to prepare the room for refrigeration.
Closed Cell Foam Insulation – Air Tight Vapor Barrier, High Insulation Value to Walls & Ceilings
All of the existing wall coverings were removed, and the exposed walls and the ceiling were sealed and insulated using a closed cell – high insulation spray foam provided by Burton and Clarke Construction.
Closed Cell High R Value spray foam allows for higher insulation in less space.  For instance, 2" x 4" walls vs. 2" x 6" walls, and it does not fall or shrink. It actually adds structural integrity to the wine cellar.
Once the cellar was sealed properly we painted the walls and we were ready to install the cellarage, the wine cellar door and the exterior vent cooling unit.
All the wine racks were constructed in a Knotty Alder and we added our darkest color option, a Sherwin Williams "Rustic" stain color. To retain the rustic feel, our client preferred we did not add our clear satin (lacquer) finish.
The door was custom designed specifically for this wine cellar. It is an 8' wood framed door.
We included a dual pane German Antique glass. German Antique glass is a clear light panel with a very slight distortion of the wines and wine racks viewed through it.
CellarPro for the Cooling System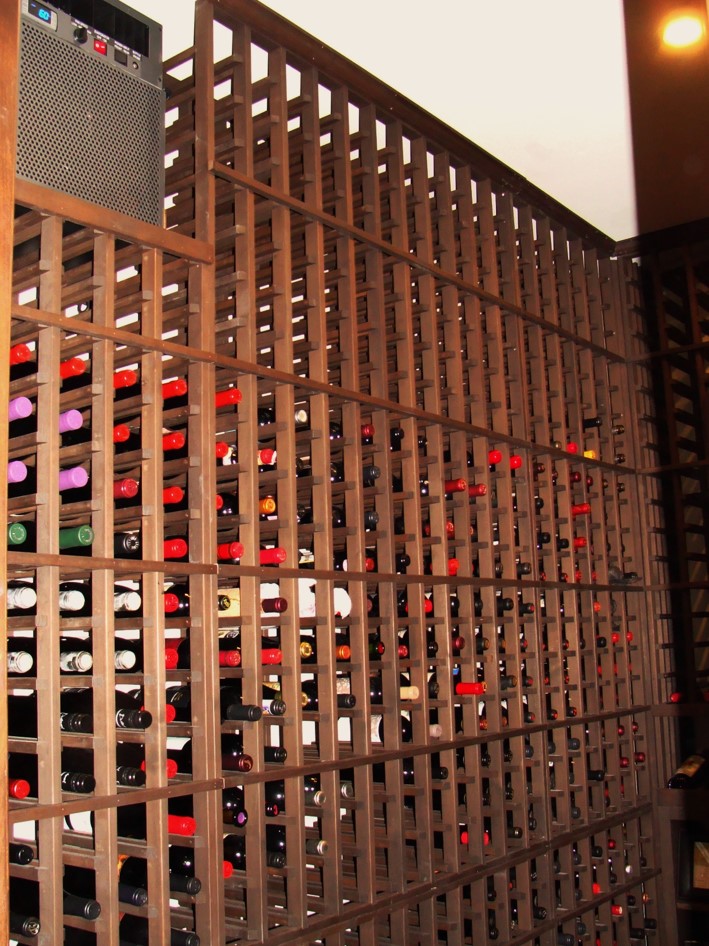 The cooling unit was the CellarPro 4200 VSX.
CellarPro systems are easy to install, requiring no mechanical contractor or refrigerant lines and they are perfect for exterior venting as they will function efficiently, even when the outdoor temperature is over 100F degrees.
For temperatures that dip below 40F we recommend you add the compressor heater option to allow for temperatures down to -20F degrees.
Completed December 2014, just in time for Christmas. I'd say that a new wine cellar is the perfect gift for the wine lover in your family.
See more Wine Cellar Designs in our Gallery Portfolio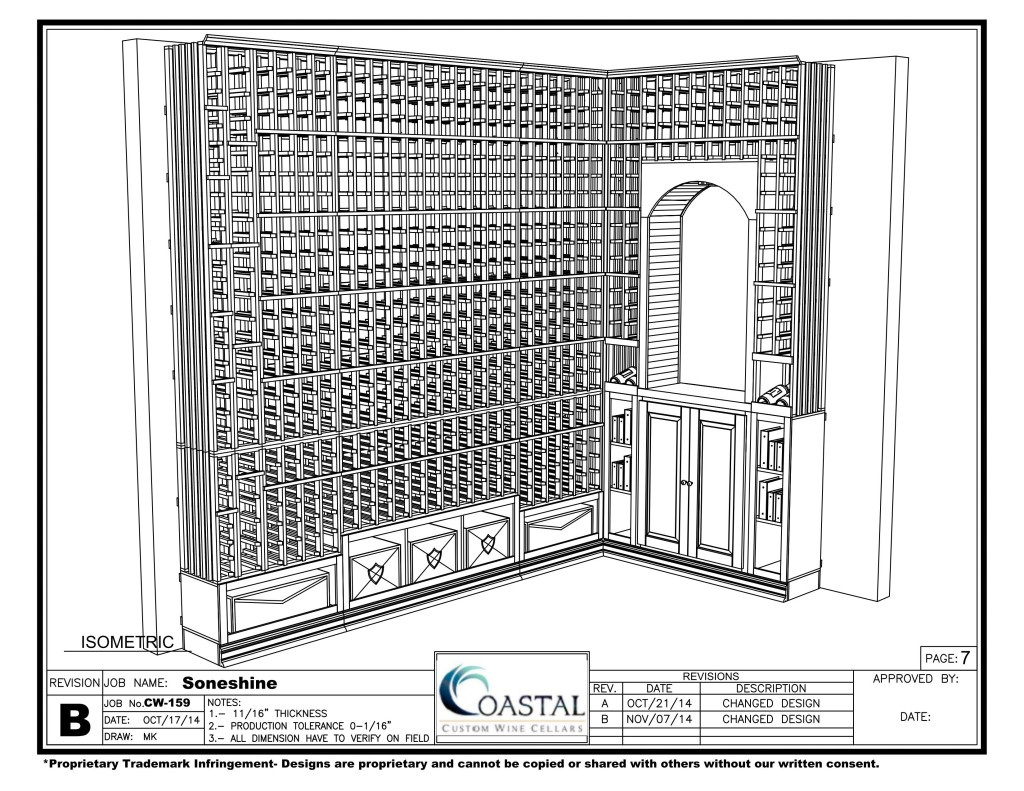 The Completed Wine Cellar
Before
Wine Cellar With Door Complete