The Wine Cellar Client
In building Custom Wine Cellars we do not often get the opportunity to actually create one for a Californian Vineyard.
It was therefore with a lot of excitement that went to visit the owners of the Sea Smoke Vineyard located in the Santa Rita Hills in Santa Barbara California.
Sea Smoke Cellars' vineyards in Santa Barbara County are perched on a parcel of land hugging the northern banks of the Santa Ynez River.
The site was chosen for its unique microclimate and geography which helps in stunting the fruits' maturation.
The fog (sea smoke) that floods its way from the Pacific up to the river valley cools the vines, resulting in a longer ripening period that produces a minimal harvest of grapes with remarkably intense flavors.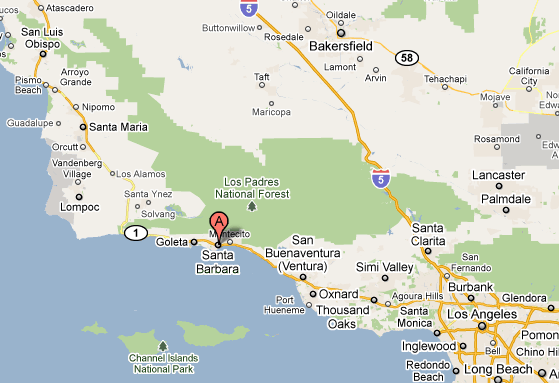 The lands' shallow clay soil, southern exposure and steep slopes have long been coveted by vintners, and it took the passionate efforts of the company's owner to convert this unique stretch of land into the world-class Pinot Noir producing vineyard as we know it today. The actual Sea Smoke Cellars winery is located in Lompoc, CA about 130 miles northwest of Los Angeles.

Sea Smoke Cellars produces some of the most sought after Pinot Noirs, which they wanted to display at their custom wine cellar Lompoc, California.

Coastal Custom Wine Cellars were really excited that they chose to partner with us to create a wine cellar that not only stored and displayed the wine, but also reflected the passion and mastery they put in producing their renowned Pinots.


Custom Wine Cellars California Sea Smoke Pinot Noir


In addition to Sea Smoke Vinyard's own products, they also have a large collection of wine that varies from standard sized bottles, to the 3L and 6L types, in their wine storage in Lompoc, CA.

They also wanted to store some of it in their original wooden crates and cardboard boxes. The size of the room, which measured 243″ wide, 87″ deep and 104″ high, allowed us to create various wine racks that can store all types of bottles and crates that our wine cellar Santa Barbara clients have in their collection.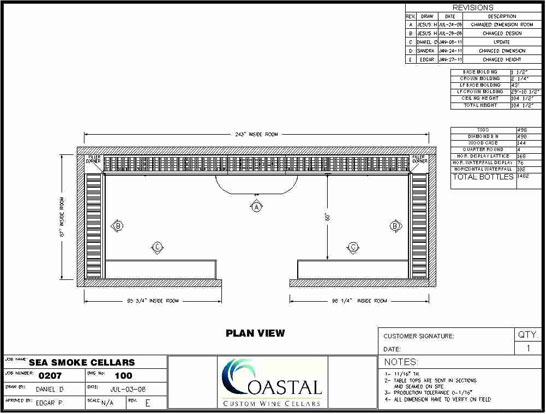 Before starting a project, Coastal Custom Wine Cellars provide clients with detailed CAD drawings
It is very common for collectors to underestimate the potential size of their collection.
For the custom wine cellar in Santa Barbara, California, we created a design that can accommodate a wide variety of bottle sizes and types.
The collection includes numerous large format bottles. This bottle type poses the most common problems when allocation for their sizes is not incorporated into the design early on.
Storing large wine bottles the standard way would use up a lot of space because the length of the bottles would require deeper wine racks.
Anything more than 13 inches would be far too deep for their 750mL wine bottles.
What is more, with standard storage configurations, the client wouldn't be able to prominently display their own labels.
Because of this, our Coastal Custom Wine Cellar designers were purposeful in designing unique custom wine storage racks that would hold various sizes of wine bottles for our Santa Barbara wine cellar client.
A Flexible Design That Accommodates A Wide Range of Wine Bottle Sizes and Types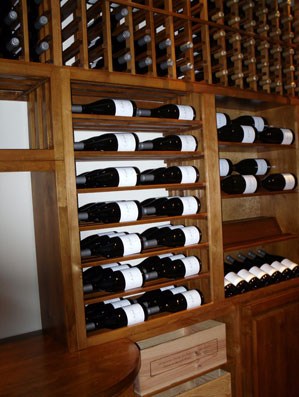 horizontal wine rack made from knotty alder shows off custom wine labels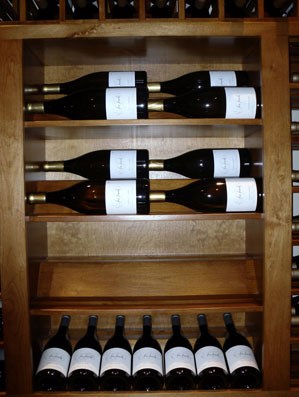 waterfall display wooden wine rack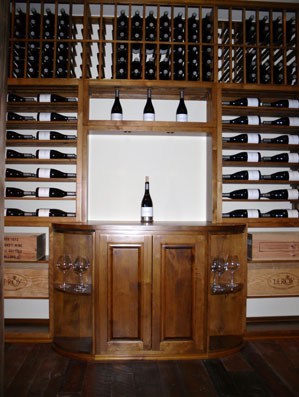 knotty alder tasting table perfect for customer tastings
The custom, 3-bottle deep horizontal lattice displays and the horizontal waterfall displays allow the wine bottles, and the labels, to be more visible. Both storage configurations also allow for easy access to the bottles. Notice that with the horizontal waterfall displays, you can store the bottles in varying orientation.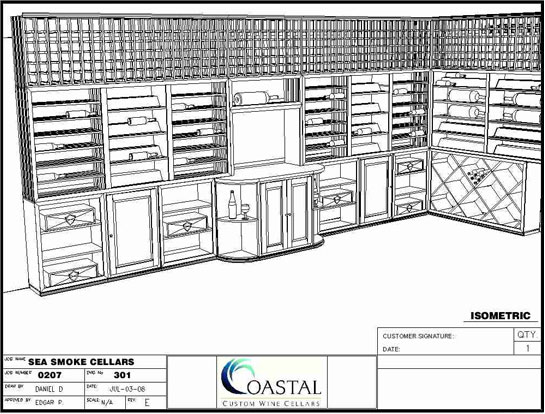 Several different wooden wine racks were combined to create a beautiful and practical wine cellar Santa Barbara
Diamond and Rectangular Storage Bins Significantly Increase Storage Capacity
A mixture of diamond and rectangular storage bins were built to significantly increase storage capacity for future use. Add to it the single bottle wine racks on top and this custom wine cellar in Santa Barbara can store as much as 1480 wine bottles.
Wooden crates and cardboard boxes are conveniently shelved in the rectangle storage bins.
In this image you can see one of two half height diamond wine storage bins just below the windows.
They can serve as table tops for wine glasses and other wine cellar accessories. Cabinets were also built into the design that could serve a multitude of functions including wine glass storage.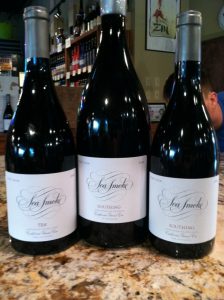 The table top in the center of the room can also be used for centerpieces.
Perfect for staining applications, the Knotty Alder has become so popular because of its abundance and affordability, especially when compared to other hardwoods.
It is currently the leading hardwood of the Pacific Northwest.
To further enhance the rustic appearance of the flooring and window trims throughout the tasting room and the cellar, we chose the Knotty Alder for wood material for the wine racks and cabinets.
Knotty Alder has numerous knots and distressed areas in its otherwise nice grain patterns that give the wood a remarkably natural look.
A wheat stain and clear lacquer finish on the knotty alder wine racks produced a beautiful, rustic appearance for the entire custom wine cellar.
The Natural Charm of Knotty Alder – Custom Wine Cellars Design
The detailed CAD drawings allow our clients to see and approve their
custom wine cellar design before the project begins.
Below is a look at before-and-after pictures so you can get a feel for the transformation. The knotty alder wine racks can also store the clients' Burgundy collection in their original wooden crates. The winery's products now presented in a professional manner.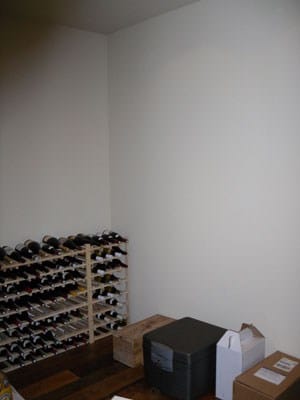 Before the wine cellar remodel, wine was stored in boxes and crates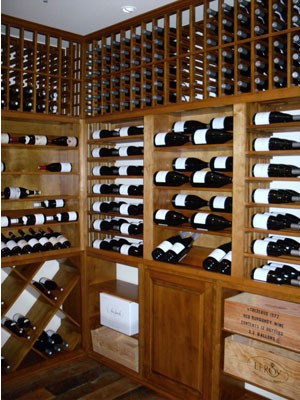 Our Santa Barbara wine cellar client was very happy with the finished product
Our latest custom wine cellar creation is a nod to our staff's creativeness and excellent craftsmanship. Every aspect of this Santa Barbara, CA wine cellar, from the display and storage configurations, to the excellent choice of wood, is a product of Coastal's years of experience in the custom wine cellar industry and dedication to its craft.
Coastal Custom Wine Cellars is extremely proud to have worked with Sea Smoke Cellars on this custom wine cellar project in Lompoc, California.
Sea Smoke's estate vineyards are perched on south-facing hillsides above the Santa Ynez River. The vineyard is located in the western end of Santa Barbara's Santa Rita Hills. The actual winery is located in Lompoc, CA. about 130 miles northwest of Los Angeles, CA. Coastal Custom Wine Cellars our proud to have successfully designed and installed this distinctive these custom wine racks at the prestigious vineyard.
See more wine cellar designs such as this Custom Built Wine Cellars San Clemente California Coastal Project