New Custom Wine Cellar Short Hills, New Jersey
Wine enthusiasts come from all corners of the earth, with different backgrounds, different goals and different budgets. The Kapur family, clients of ours who live in Short Hills, New Jersey, had a big passion for wine but very little space to display that passion. They came to Coastal Custom Wine Cellars looking for a simple elegant design to fit their limited space and budget. Over the course of about 10 months we worked with them to create the wine cellar of their dreams.
Hi Jerry,
Coastal Custom Wine Cellars did an awesome job of our wine racks. Jerry was a pleasure to work with. He was very professional and really knew his stuff. Though some parts were delivered damaged, he was quick to resolve the issue and we had the replacement parts in no time. The geography (Jerry in California and we are in New Jersey) was not a hindrance at all. We were able to get things done via phone and email.
Jerry also recommended an awesome installer, Richard from Wine Cellar Installations in New Jersey. He was very professional and in and out in no time.
The combination of the racks Jerry designed and manufactured along with Richard's expertise made the experience of building the wine cellar seamless and fun! There were no problems at all. In fact, I asked Richard a couple of times if there were any issues with the install, and he said no!
I give these guys an A+++++!!
Custom Wine Cellars New Jersey Wine Cellar Builders Sneak Peek
Are you like the Kapurs with big dreams for your wine cellar but have limited space? Coastal Custom Wine Cellars can create your ideal wine cellar. There are four important things to consider when designing your custom wine cellar:
The size of your wine cellar
Wine racks that will best display your wine
The type of wood you want to use for your custom wine cellar
Types of wine cellar cooling systems
The Size of Your Wine Cellar
The size of your wine cellar space will determine the overall design of the cellar. The Kapurs in Short Hills, New Jersey had a small space with a depth of 152 inches and a width of 53 inches. They wanted to maximize that small space so we placed the wine racks along the left side leaving plenty of room to maneuver on the right side. We also kept the design simple and elegant so as not to overpower the space. In the end, having a small space was an advantage to the Kapurs because it lowered construction costs.
Wine racks that will best manage, store and display your wine
Wine bottles vary in sizes and shapes and people often want to display certain bottles of wine in different ways. To make this cellar elegant we made an open diamond bin design at the bottom that allows case management storage and storage for large format and odd-shaped wine bottles. These sections are deep enough to safely hold multiple bottles.
The New Jersey Kapurs wanted to use materials that were not only economical but also helped the proper circulation of air in and around the bottles, so we used 1"x 2" redwood slats to create a lattice design instead of solid wood. For single bottle storage on top of the diamond bins, we designed a high-reveal display row which pitch the bottles at a 15° angle. This will allow full visibility of the Kapurs' finest wines with no obstructions.
On the top row, we provided what we call a universal opening which gives more wine storage space for standard size wine bottles. On the back wall, wine racks were installed with a small opening and wine table wherein the Kapurs can access and pour wine to their heart's content.
At Coastal Custom Wine Cellars we have a variety of wine racks to choose from including: single bottle storage racks, Curved Corner units, Arches, Tabletops, Tasting Tables, Diamond and X-Cube Bins, Bin/Case Racks, Champagne/Magnum Racks, Split Bottle storage, Waterfall Display, Quarter Round Display. We can mix and match these wine racking solutions to create a custom storage area for your wines and help you choose a wine rack system that will accommodate the maximum amount of bottles at an economical cost.
The Type of Wood You Want to Use for your Custom Wine Cellar
Our goal is to provide our customers with a variety of wine cellar design options so they can create a dream cellar that perfectly meets their needs. That's why Coastal Custom Wine Cellars New Jersey prides itself on the availability of wood types, color, grain patterns and finish options to make wine racks that suit our customers' needs, tastes and budget. The longevity of the wood to be used will determine the strength and durability of the wine racks to store hundreds of wine bottles without any fear of collapse.
The Kapurs chose unfinished premium redwood wine racks which not only created a beautiful and subtle effect but was also affordable and durable. They come in a variety of colors from white to pink to red and reddish brown. There's no need to finish the wood since premium redwoods develop deeper color over time. It is also 100% biodegradable and has natural resistance to decay. The Kapurs enjoyed great savings while enjoying the beauty of redwoods.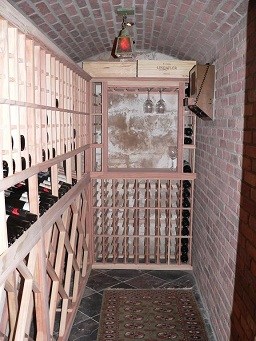 Custom Wine Cellar Build – Cellar As Work Progressed
Types of Wine Storage Cooling Systems
After drinking a glass of wine, it is possible to determine if the wine was properly preserved or not. That's why wine cooling has to be considered when designing your wine cellar. Our wine cooling solutions will certainly make your wine mature gracefully by regulating the temperature and humidity of your wine cellar.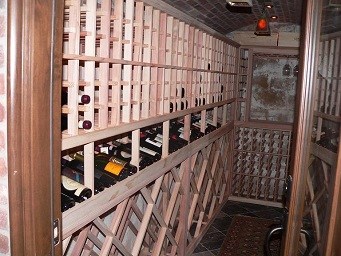 Custom Wine Cellar Build – Completed Custom Wine Cellar
We offer many wine cellar cooling options including the following cooling units:
WhisperKOOL Refrigeration Units
Whisperkool products have a high level of accuracy for controlling the temperature and managing humidity levels. In Short Hills, New Jersey the Kapurs utilized a self contained Whisperkool XLT cooling system because it suited the limited space and could exhaust to an unfinished room that would not exceed 85F degrees. Also, the reliable WhisperKOOL units can be installed without the assistance of an HVAC contractor. This helped the Kapurs stay well within their budget.
Split Cooling Units
The components of this wine cellar refrigeration system from WhisperKool are split into two. The condensing unit can be placed outside or inside and we provide a variety of models and sizes for this cooling system.
Creating and maintaining an ideal and perfectly designed wine cellar depends on the following factors: size of your wine cellar, ways you want to display your wine bottles, type of wood you want to use for your wine racks and the wine cooling system.
Just like the Kapur family in Short Hills, New Jersey, make your wine room a perfect resting place for your wines and a fun place for entertaining friends with Coastal Custom Wine Cellars!
Wine Cellar Design in Short Hills, New Jersey
To see more examples of Custom Wine Cellars Built in New Jersey visit Custom Wine Cellars New Jersey