Situated on the Newport Coast between Newport Beach and Laguna Beach California this Custom Wine Cellar certainly has Location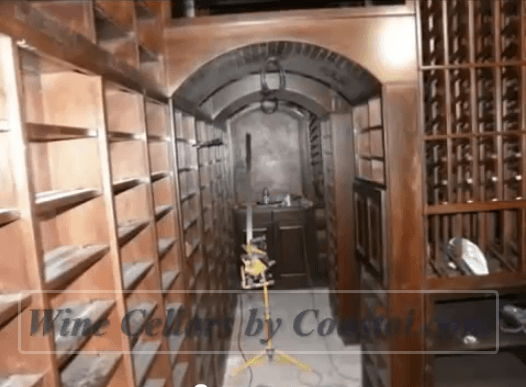 Built in a home with stunning views of the Pacific Ocean this library style, custom wine room is much bigger than the average. With a 13ft by 20ft floor space area and a 10ft high ceiling, extra features were designed into this custom wine cellar. With the wine racking going all the way to the ceiling and a "wine display" style design, the total capacity of the finished wine cellar came out at 4,086 bottles.

The actual project was three years from design to installation and as of writing this the home was still under construction.

As you will see from the drawings there is a lot of wood case and bulk storage as well as horizontal displays for very large 3-6 liter format bottles. Along with 15 degree display rows and specially designed niches for two library style rolling ladders, this cellar has serious style. The rolling ladders were inherent to the custom wine cellar design as the racking extends all the way to the ten foot high ceiling.

All the racking was constructed in beautiful solid Malaysian Mahogany with a non-aromatic rustic stain. A clear lacquer top coat was applied to give it a superior lustrous finish. Learn more about Custom Wine Rack Wood Options.

In a series of three videos about this custom wine cellar design and build project we will show you the details of this design as well what the completed job looks like.

Video #1 Sneak peek slide show of the Wine Cellar and a glimpse of the home itself


Custom Wine Cellars Builder Newport Beach Orange County California


This exquisite home is actually a Guest and Entertainment Residence constructed next door to the primary residence in Newport Coast, CA.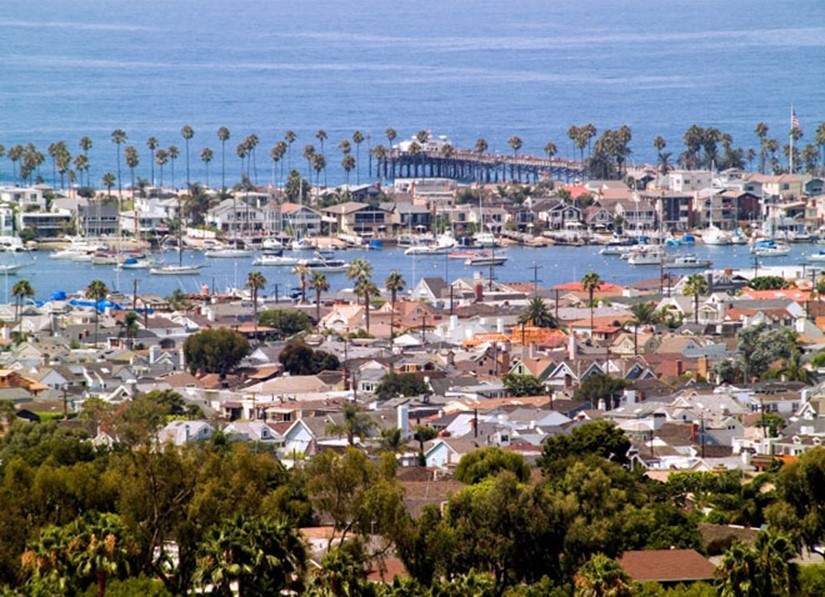 Panoramic views of the Pacific Ocean are dwarfed by the incredible features found in this home and custom wine cellar. In October of 2008 we submitted our preliminary design to our clients. After numerous design and change orders the final design went to production in July 2011.
The installation actually took less than 1 week as many of the components arrived fully assembled from our factory.
Earthquake Tilt Designed Custom Wine Racks
As you are probably aware California has been known to experience the odd earth quake and indeed, if you have every experienced one, you will understand the need for the next feature. All the racking was designed with a slight backward tilt in order to reduce the possibility of the bottles being shaken from the racking.
Library Style Custom Wine Cellar
The style of the wine cellar is such that as you enter the room you go through a series of arches to a lattice arch display, sink area and wine tasting table top. To get a good feel for this take a moment to watch our video tour of the project. We essentially created "aisles" for the wine storage areas just like a traditional bookcase library. Clearly built for the entertainer, this wine cellar has horizontal display storage that shows the full length of the bottles and includes 27 openings for 3-6 liter bottles and 391 horizontal displays for 750-1.5ml bottles. In addition there are 45 wood case storage shelves for bulk storage.
To see other styles of custom wine cellars visit our gallery.
In the images above you can see the rolling tracks and storage niches for the rolling ladders. If you look carefully you can also see the "Earth Quake Tilt" of the wine racks themselves. Also note the beautiful tonal coloring of the finished mahogany used in the construction of this wine cellar.
Video #2 A look through the design detail of the cellar with a commentary
Custom Wine Cellars Builders Newport Beach Coast California – Library Job
Custom Wine Cellar Refrigeration Ducted Air Handler
As this is a climate controlled basement Wine Cellar we sealed and insulated all the walls to ensure the cooling system ran efficiently and remained mold free during its lifetime. Included into the design was a self-contained ducted air handling Wine Cellar Cooling system which simply means that in the wine room itself, there are only hidden vent openings for the cold air supply and return. All the cool air is ducted to and from an adjacent area with the added benefit of reducing the ambient noise in the room. The wine cellar refrigeration unit therefore cools the cellar and manages the humidity without any equipment actually needing to be installed inside the cellar itself.
Here is a list of the main features of this exquisite residential custom wine cellar
4,086 Wine Bottle Capacity
13′ x 20′ custom wine cellar (260 square feet)
10′ High Custom Wine Racks
Two Library Style Ladders by Alaco Ladders
Hidden Storage for Ladders
Temperature readings and the inventory is managed electronically from anywhere in the house.
Multiple Arched Passages
Earthquake Tilt for all single bottle storage openings
45 Wood Wine Case Storage Openings
391 Horizontal Wine Bottle Displays for 750 ml. and 1.5 Liter Bottles
27 Horizontal Wine Bottle Displays for 3 Liter and 6 Liter Bottles
Self-Contained Wine Cellar Cooling Ducted Air Handler cools the cellar and manages the humidity without any equipment actually installed inside the cellar. All the cool air is ducted to and from an adjacent area
Wine Rack Construction Malaysian Mahogany w/ Rustic Stain and a Clear Lacquer Top Coat Finish
This was a large and exceptional project and included a lot of unusual features. We are exceptionally proud of this project and have enjoyed sharing it with you. Regardless of whether you are lucky enough to live on the California coast in a place like Newport Beach, if you have a project that you would like to kick off and or would simply like some design ideas, please reach out to us and without obligation, we will be glad to help. Get your FREE 3D Custom Wine Cellar Design today!
Video #3 A look at the completed Library Wine Room with a commentary
Custom Wine Cellars Builders Newport Beach Coast California – Library Part Two
If you enjoyed looking through this project maybe you would like to see some others? We have many other completed wine cellars and are uploading them as quickly as we can. Many vary from this project in design, size and scope. For example take a look at this Custom Wine Cellars New York project on the opposite coast to California. This project was designed to carefully manage costs by making use of a mix of fully custom and semi-custom wine racks.
Custom Wine Cellars Builders Newport Beach Coast California – Library Job
Custom Wine Cellars California