How to Build a Wine Cellar in a Very Small Room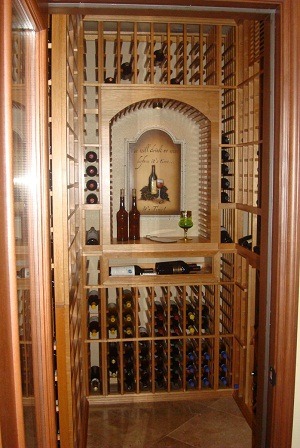 Feature Arch – Custom Wine Cellars Orange County CA – Fisher
Recently completed in Laguna Hills Orange County California in a sub-division known a Nellie Gail Ranch, this project was originally a small unused powder bath. As such this is an example of how even very tiny rooms can be easily converted into surprisingly effective custom wine cellars.As the goal with this wine room design project was to create a fully functioning refrigerated wine cellar, there was a fair bit of preparation needed to the walls before the racking could be installed. The chosen room had an external wall with a window, plumbing fixtures and cabinetry. All these features needed to be removed and the walls prepared with a vapor barrier, insulation and then refinished to make the room ready for cooling equipment and the wine racks.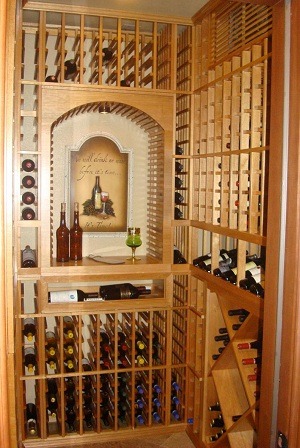 Wine Cellar Cooling Unit Louvered Grill – Custom Wine Cellars Laguna Hills California
For the wine cellar cooling system We installed an RM 3600 split system refrigeration unit from US Cellars. These purpose built wine cellar cooling units enable the evaporator to be installed behind a louvered grill in the wine racks and the condenser to be installed anywhere up to 75ft from the wine room. This type of cooling system eliminates any hot air being vented into another room in the house.
After consulting with our clients to understand how they wanted to store, display, manage their wines, and as standard practice with our wine room conversion projects, we created a 3D wine cellar design package. This was so that the clients could review it and make sure they liked the final design before having the wine racks actually custom manufactured.
In this particular custom wine room design we created a layout which enabled a total capacity of 471 bottles of wine. The design included a display arch, diamond bin storage, high reveal and horizontal display rows. The wine racks were manufactured in mahogany and had a natural clear finish applied. The custom wine cellar entry door was made with dual pane glass and chestnut stained mahogany framing allowing the wine room to be a viewable feature in the home.
One of the constraints with this particular design was the fact that the room was only 60" wide with an offset entry door close to the left wall. To make the design work we had to be a little creative and still try to maximize the total storage capacity for the wine cellar. To do this we installed 6″ deep horizontal, label forward, display wine racks on the left hand wall. This style of racking has the advantage of both looking great and allowing the storage of both standard and magnum wine bottles. This style of racking is very shallow and thus does not impede the actual entry to the wine room.
For the rest of the racking we used 13 1/2″ inch full depth racking. To create visual impact and character as you walk into the room, we placed an arched tasting area with a horizontal display for feature wines underneath the arch directly across from the entryway. Then on either side of the arch we added high reveal rows which tilt the bottles presenting the wines so the labels are visible and enabling like wines to be stored above and below.
On the right hand side wall, as well as plenty of high capacity standard racking, we continued the high reveal rows and added a central diamond bin case storage area below. At the top of the wall we added a specially manufactured louvered grill created from the same material as the wine racks to conceal the cooling unit's evaporator unit.
Here is the plan view created by our standard 3D design CAD package. This view provides all core dimensions, in this case a 60 ¼" width by 77 ¼" deep by 100 ¼" high room, wine rack component sizes with individual bottle capacities, finish moldings, filler locations. It also includes the CAD engineer who created the 3D design package and the quality control approval manager. Additional notes; includes such things as manufacturing tolerances and total bottle capacity (Total bottles 471). All these things, along with the following views, enable our clients to understand and approve their wine cellar design before it is released to manufacturing.
Enjoy ready about and seeing the details of this project? If so see other wine cellar designs and completed projects such as the Laguna Beach Custom Wine Rooms and the Orange County Wine Cellars projects.
Call +1 (888) 735-8889 to kick off your own residential wine room design today by taking advantage of our free 3D design consultation package today.