The Design Process for Los Angeles California Wine Cellar Project
How do you know which wine cellar design is best for you and your wines? At Coastal Custom Wine Cellars we take the planning and design phase very seriously because we want to help you build the perfect resting place for your wines. We are very glad to have created a flexible wine cellar design for our client in Los Angeles California to accommodate his bottles of different types and sizes and to maximize the space of his wine storage room.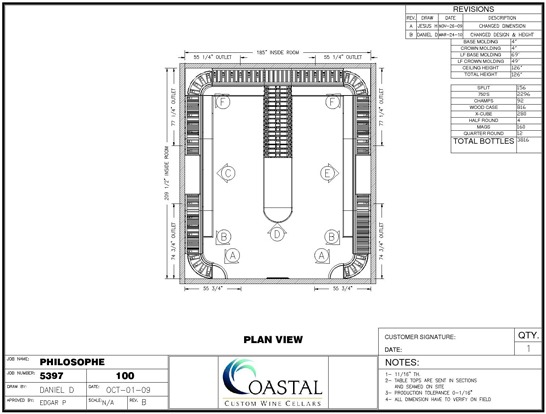 A Flexible Wine Cellar Design for Los Angeles California wine cellar project
The project started on October 2009, when the client contacted Mr. Jerry Wilson, the founder of Coastal, and provided him with basic information about the shape and dimensions of his wine room and the placement of the cellar door. The client wanted to maximize the storage in his wine room which measured 182″ wide, 210″ deep and 126″ high, maintain the ideal temperature of 55 degrees – 60 degrees Fahrenheit and have a beautiful wine cellar door. After having the initial discussion with him about his wine cellar requirements, the basic design was then submitted to a group of experts called Coastal's CAD team. A few days later, a beautiful 3D design was created that went through four changes before the client approved it.
Beautiful Wine Rack Display and Effective Wine Cooling System
After understanding your plans and storage needs, Coastal is ready to offer you the best wine storage solutions that are elegant, simple to customize and easy to expand. For our Los Angeles California wine cellar client who has a collection of different bottle sizes, we created a wine rack system that can hold his collection of 3,816 wine bottles. His collection varies from splits, magnum-sized and champagne-sized bottles and all of them fit perfectly in his custom wine racks. He wanted to maximize the space by taking advantage of 10-foot ceiling height so we created custom wine racks that filled the 10 foot space. We designed these wine racks to have a track on them so the client could use an 8-foot rolling "library style" ladder to access wines beyond normal reach.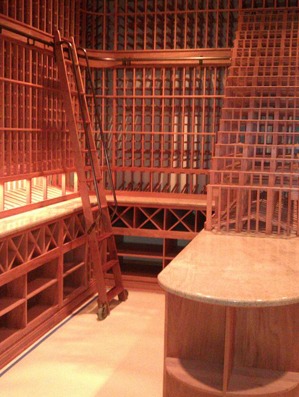 A rolling ladder was made to reach wines that are stored above 8 feet in Los Angeles California wine cellar
Ideal for creating smooth transition from one wall to another, the true radius curved corner rack was used on all four corners of the room. The bottom section of the back wall (Elevation D) consists of rectangular-shaped openings for wood case storage. At the center towards the entry is a magnificent waterfall cascade wine rack with a table top which provides a functional and beautiful presentation.
It also gave the owner the opportunity to showcase his bottles uniquely in the middle of his large wine cellar.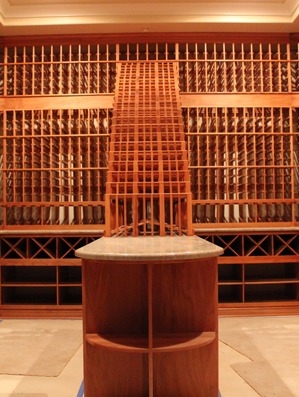 A magnificent waterfall cascade wine rack with a table top was used in Los Angeles California wine cellar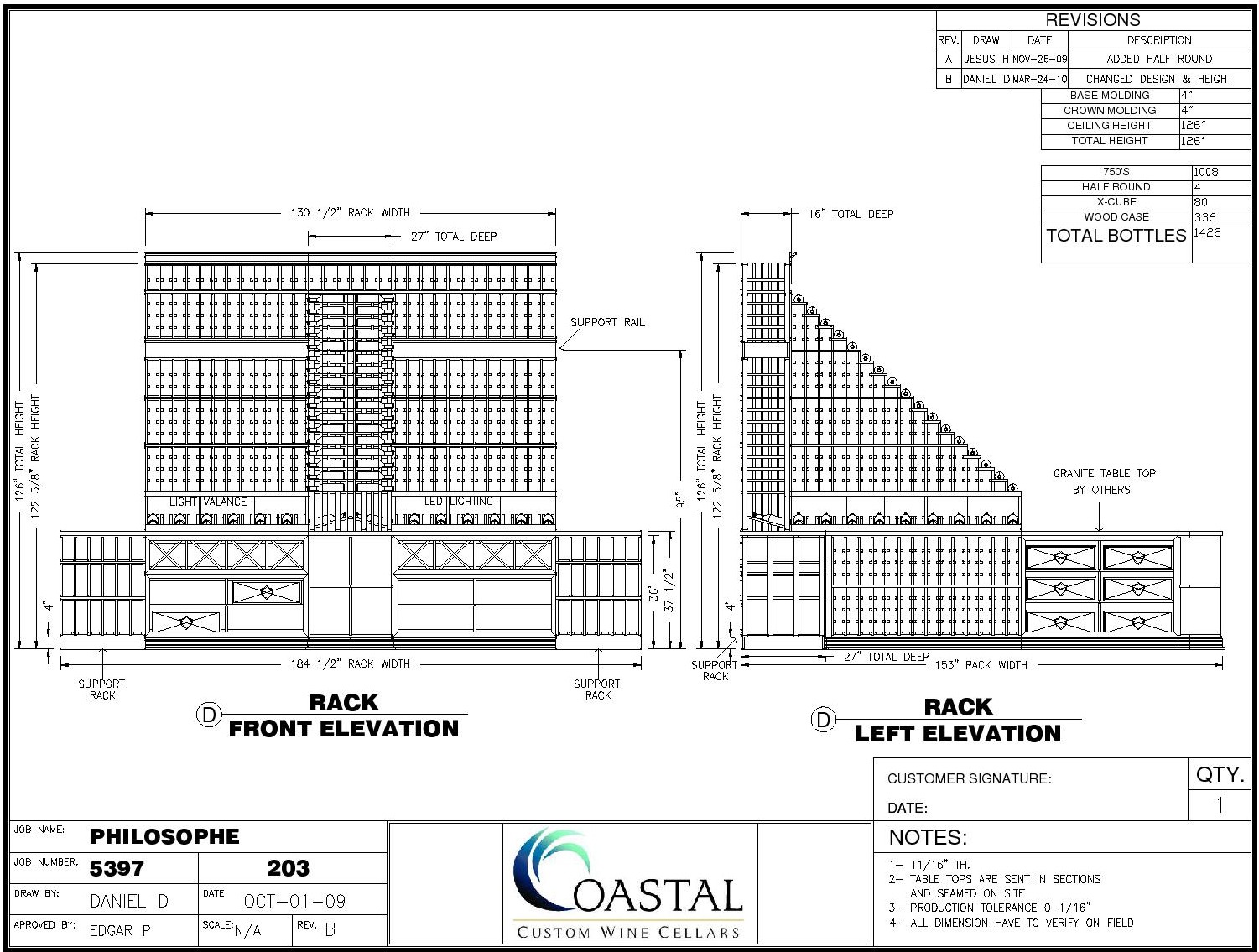 Elevation D of Los Angeles California wine cellar includes waterfall cascade wine rack and rectangular-shaped openings for wood case storage
To maximize storage capacity, a ductless split wine refrigeration system was installed on a wine rack on the left side wall (Elevation C). It is clad in a wood grill box and a louvered vent cover.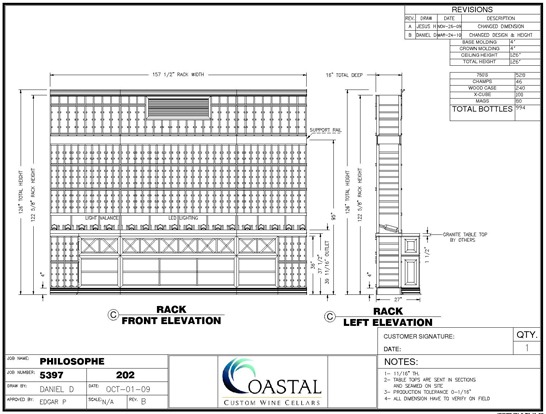 Elevation D of Los Angeles California wine cellar includes split wine refrigeration system clad in a wood grill box and louvered vent cover
This wine cellar refrigeration systems Model RM 6600 TE, is a product of US Wine Cellars. A remote condenser is included which can be placed indoors or outdoors. If placed outdoors, a protective housing is needed during winter season to keep refrigerants from freezing. Fan coils are placed on the wall or into the ceiling. The mechanical contractor supplied the line set to the condenser and fan coils. This split system is easy to install, affordable, does not create any fan noise or expel heat exhaust to an adjoining room in the house and requires less maintenance. At Coastal, you can select from three types of split cooling units (link 9): Cabinet Cooler (CC) Series, Rack Cooler Series (RM) or Wall Cooler Series (WC). All these units are pressure tested by the manufacturer to ensure quality and factory wired for simple field installation.
We constructed the Los Angeles California wine racks using Heart Redwood which is favored for its natural beauty and soft earth tone color distinctions, which develop overtime. This wood species is harvested from the core of the redwood tree and exhibits consistent dark colors. It is widely-used by manufacturers in constructing wine racks because of its resistance to decay and shock, non-aromatic quality, natural wood preservatives and tolerance to humid conditions. Choosing heart redwood wine racks will surely let you have happy memories with your wines for years.
The Entry to Philosophe Custom Wine Cellar
A perfect wine cellar deserves a door that has excellent beauty and functionality. Without the proper installation of the cellar door, factors which are essential for the proper maturation of wines such as the right balance of light, temperature and humidity cannot be achieved. The wine cellar doors are made not just to set the mood of your interior design but also to seal in the ideal climate conditions in the wine cellar, thus protecting your wines from being spoiled. Custom wine cellar doors in different styles and options, allowing the owner to have a customized wine cellar door .
The beautiful wine cellar door of our Los Angeles California client is an arched door with arched glass sidelights and transom which added a splendid focal point. The door was built with wrought iron grill on dual paned glass. Wrought iron grills can be designed and painted to best fit your theme and desired configuration. It is highly recommended that the glass be dual-paned to provide better insulation in the wine room.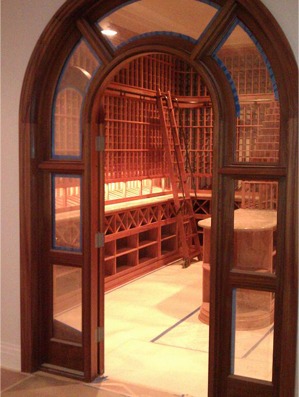 The wine cellar door of Los Angeles California was made with arched glass with sidelights and transom
A glass cellar door can be etched, stained or just plain. You should go for the first two options if you want a more attractive entryway to your cellar. It is also ideal to use insulated glass because of its improved binding capacity and ability to control climate in a cellar.
This custom wine cellar los angeles california which went to production in July 2010, is another splendid creation of Coastal. We give our customers the opportunity to dream, design and have the best wine cellar to preserve and display their wines beautifully. In the end, it's not only you or your guests who will experience the advantages of a carefully-crafted wine cellar. Your wines will also have the greatest benefits for years to come!
Custom Wine Cellar Los Angeles CA Philosophe
Heart Redwood wine racking with a clear lacquer finish.
3816 wine bottle capacity.
Wine Racks have nearly 40′ of counter height, Heart Redwood tabletop material. Sealed to protect against spills
Wine Racking accommodates split wine bottles (.375ml.), standard and large format 750ml. bottles, large format champagne bottles, 1.5L magnum bottles, wood case wine storage and lots of tilted and vertical display
Total height =126″
Includes an 8′ rolling ladder to access the wines stored above the 8′ height
Wine Cellar Climate Control
Includes a ductless split wine refrigeration system concealed with a grill box and louvered vent cover. All in a matching Heart Redwood with a clear lacquer finish. The split refrigeration system is a product of US Cellars. Model RM 6600 TE. It includes a remote condenser which can be placed indoors or outdoors. Outdoor placement requires a protective housing and if it is in a cold weather climate, we strongly recommend a low ambient kit. This will keep the refrigerants from freezing in the Winter months. Inside the wine cellar the fan coils are placed on the wall or can be soffited into the ceiling. A licensed mechanical contractor will supply the line set to the fan coils and condenser. Utilizing a split system means that there is no fan noise or heat exhausted into adjoining rooms and all maintenance and service can be performed on site.
Waterfall wine racking display in the center of the room cascading towards the exquisite arched door with arched glass sidelights and transom.