The Orange County California Custom Wine Cellar Client Project
With California's historic roots in farming, it's not surprising that it is a haven for fine wine with over 800 wineries producing 90 % of all wines in the nation. Wine events are very common in this State.
This client of ours in who lives Orange County, California loves to entertain her friends and to hold to regular dinner parties where sampling her new wines are part of the theme. Although she is a self confessed wine geek she was only able to store a few wine bottles in her house since she didn't have a real wine cellar, a place to store a significant wine collection.
The closest wine storage that our client had was about 20 miles from her house. As she built up her collection she became frustrated by having to travel so far to access her wine collection. Ultimately she finally decided to take the plunge and covert a whole but poorly used room into a dedicated residential custom wine cellar.
We at Coastal Custom Wine Cellars were very happy and excited to partner with our client in transforming a simple room with a small closet into a fabulous wine cellar. As always, our goal was to meet our client's storage needs, aesthetic tastes and budgetary requirements.
To achieve these goals, Coastal Custom Wine Cellar designers incorporated both custom and semi-custom wine racks in designing unique wine storage racking with openings for 375 ml, 750 ml and 1.5L bottles.
Features of the Wine Rack Design Video Series

Custom Wine Cellar Orange County Wine Geek Part One

Our client has a collection of over 2000 bottles of different vintages, sizes and shapes. To create the wine cellar of her dreams, which accommodates 2772 bottles, we combined a line of custom (built from scratch) and semi-custom (already designed) wine racks incorporating features that she wanted to have in her wine room.

Though these racking styles were combined, they were built with the same height, depth, and thickness and without visual evidence of lesser quality. Semi-custom wine racks are more economical but have the same wood quality and craftsmanship as that of custom wine racks.

All the semi-custom wine racks were assembled in the owner's garage before they were brought into the wine room. The client was very impressed that Coastal delivered the racks with photos and detailed instructions which made it very easy for the contractors to assemble them.


Custom Wine Cellars Orange County Wine Geek Part Two


On the right side of the wall, we incorporated some custom components and modular storage at the bottom section of the wine rack. Openings were made for different sized bottles. Small openings are for the splits of 375 ml bottles. To the left of that is the double deep column for double storage of magnum sized or over sized champagne bottles. This section added depth and character to the room.

To the leftmost side, we added 7 columns with champagne sized openings, which are 4″x4″ each. These openings were built for the Pax Syrah wines of our client, which the client thought would not fit on the standard 750 ml openings.

When the racks were assembled, the client was pleasantly surprised to find out that her large Syrah bottles did fit in the standard wine rack openings. But still it's good to have and offer a good mix of sizes. Below single bottle openings are bin cases for wooden case options, bulk storage of various wines.


Custom Wine Cellars Orange County Wine Geek Part Three


The top section of wine rack on the left side of the wall came from the 8-foot semi-custom wine racks of Coastal which impressed the owner very much. Under it are single bottle storage racks which are 23 inches depth which allow our Orange County client to put one bottle first and push it to the back and put another in front of it, allowing maximum storage capacity.

A high reveal display row just 40 inches above the finished floor was designed to display our client's favorite vintages. To add elegance and dramatic effect, recessed can lights, directional and LED ribbon lighting were placed just above the bottles.


Custom Wine Cellars Orange County Wine Geek Part Four

On the back wall, we incorporated some more custom features to achieve our goal of maximizing the storage space of the Orange County wine cellar.

The top is single deep and the bottom section is double deep with a table top spanning the width of the wall. The table top was made of premium redwood and finished with a clear lacquer to protect wood from spills.

All the wine racks were also made from Premium Redwood. Using this wood species is of great advantage for the client because of its beauty, affordability, durability and resistance to decay.

Premium Redwood as a wood species offers a variety of colors from white to pink to reddish brown making the premium redwood wine racks look very attractive. It is also non-aromatic quality which keeps your wines' original taste and flavor.
Split Wine Room Cooling System
Without the proper wine cellar cooling system, proper aging of wines is impossible! Controlling the temperature and managing humidity level in a wine cellar were two significant factors to consider. The Orange County California wine cooling unit is a split refrigeration system which does not create any fan noise or expel heat exhaust to an adjoining room in the house. It is clad in a wood grill box and cover and comes with a remote condenser placed outdoors and fan coil inside.
The wood grill box is made from redwood like the wine racks and therefore blends in with the wine cellar. It makes the cellar more elegant and sophisticated. The Rack Cooler Series by US Cellars was chosen because it is perfectly designed to be installed on wine racks for maximum storage capacity.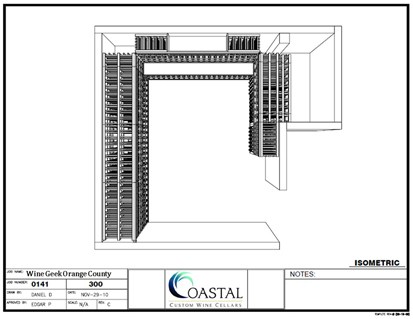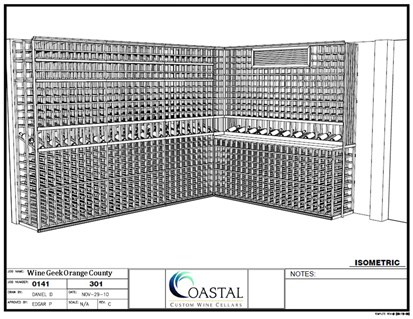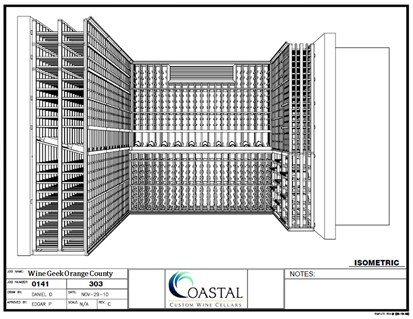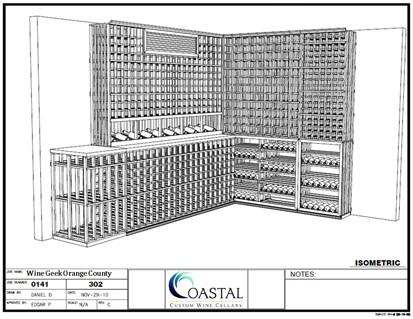 Like our California Orange County client, you need not worry about having small selection of wines in your house for wine theme events or dinners. You can now start building your home wine cellar designed exactly to meet your storage needs and budget! At Coastal your each wine cellar is unique and guaranteed for long-time satisfaction.
Custom Wine Cellars Orange County California Wine Geek
About to Start Your Own Home Wine Room project and Need Design Inspiration?
See our latest Wine and Cigar Humidor Cellar Design Project for a home located at Anaheim Hills California
See also Commercial & Residential Wine Industry