Dana Point, CA Garage Conversion Wine Cellar Project
Modern wine rooms are designed to serve as an elegant display area, as well as a fully functioning wine storage space.

A residential wine cellar can be installed in a seldom used or unused living space of a home, such as the basement, under the stairs, in a closet, or even in a garage.

Custom wine cellars installed in Orange County California should be a beautiful addition to any home, as they not only provide a unique showcase area for wines, but also add to the aesthetic appeal of the space.

Several factors come into play when it comes to custom wine cellar design and installation, such as controlling storage temperature and humidity, ensuring optimal sealing, and racking solutions for storage and display.

Properly addressing these factors will create an environment that is conducive for storing and showcasing wines.

Residential Wine Cellar Design Garage Conversion Orange County

.
The Dana Point Wine Cellar Design
This recently completed wine cellar installed in a residential home in Dana Point Orange County California is a garage conversion project.
It demonstrates how carefully installed wine cellar components can provide the best climate conditions for long term wine storage.
For this completed home wine cellars project in Coastal Custom Wine Cellars converted just a small portion of the client's 2-car garage into a dedicated wine room.
After overcoming a few obstacles (e.g. the garage door, roller tracks), the Coastal team managed to create a wine cellar design that has a total storage capacity of 675 wine bottles.
The room in a two-car garage enclosure features a number of different wine racking styles.
The different styles of racking used accommodate the client's standard sized and large format bottles, a proper cooling system, and an impressive Tuscan-styled arched wine cellar door.
Coastal Wine Cellar Builders California Office prepared a free 3D wine cellar design package that consisted of an overhead view, different elevations, and several 3D visuals.
The complementary three dimensional presentation of the design allows the client to preview the finished product, as well as see how all the components tie together.
This California residential "garage" wine room measures just over 11' long and 5' wide, and can accommodate a total of 725 bottles.
Different custom wine rack styles were integrated into the design, which included wood case storage and 1.5-liter, 3-liter, and 6-liter requirements.
Custom Wine Racks for Different Wine Bottle Sizes
The right side wall of the wine storage space is dominated mostly by custom wine racks with single bottle openings.
With inner dimensions of 3 ¾" x 3 ¾," they can fit most standard-sized wine bottles, including standard champagne bottles, California Bluechips, Oregon Pinots, and Zinfandels.
With inner dimensions of 3 ¾" x 3 ¾," they can fit most standard-sized wine bottles, including standard champagne bottles, California Bluechips, Oregon Pinots, and Zinfandels.
We included a tabletop for serving wines and added a pair of drawers for wine accoutrements.
Just below the drawers are diamond bin components for bulk storage.
To accommodate the client's collection of large format bottles, Coastal Custom Wine Cellar Builders California added label forward custom wine racks just above the opening, which can hold a total of 4 magnums or 1.5 liter bottles.
Storage for Large Format Wine Bottles
The left side wall of this Dana Point home wine cellar project was designed to hold the client's collection of large format bottles and large wooden cases.
It features a quarter round shelf, where wooden boxes for magnums are on display. Moving further into the wine room, storage compartments for large bottles (e.g. 1.5-liter, 3-liter, 6-liter) are provided in a label forward orientation.
Four smaller magnum-style bottles can fit per opening, and two for double magnums. Down below are wood shelves for wood case storage, for 12 packs and 6 packs.
The wooden shelves are adjustable, which means the shelves can be adjusted to suit any space, design, and storage need of the client.
Custom Wine Rack Design Features
High reveal display row custom wine racks went around the perimeter of the residential wine cellar Orange County California.  
Wine bottles pitch to the 15 degree angle when stored in the display area. LED lighting installed behind a valance illuminates the bottles and highlights wine labels.
This type of wine rack design is an excellent management tool, because it can store like wines above and below the display row.
The back wall across from the entry features custom wine rack design with an opening for wood cases, flanked with additional single bottle openings and a display row.
The single bottle openings and display row were added with wood case openings and adjustable shelves.
To increase the storage capacity of the custom wine room, the wine cellar builders created a double deep configuration just below the wood case storage.
The back wall also features a tabletop with adjustable shelves.  Although originally intended for wood case storage, the shelving can also be used to hold artistic or decorative pieces.
The tabletop serves as a work area used for serving or decanting wines.  In this particular case, the client used it to display his 12-liter wine bottle.
Below is a double deep lattice diamond bin.   The lattice-style feature promotes better air flow between the bottles and adds character to the Orange County Wine Cellar Design.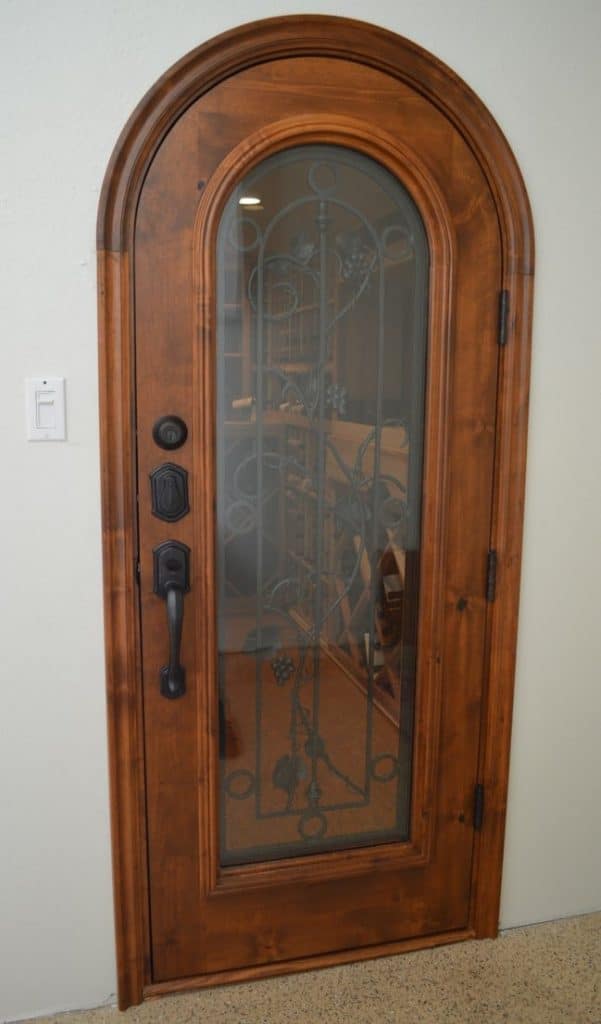 While the double deep configuration increases the storage capacity of the Dana Point residential wine room.
The right side wall features a solid case opening with a solid premium redwood tabletop, flanked by single bottle storage racks with a high reveal display row.
A display rack with a high reveal feature pitches wine bottles to a 15 degree angle, which keeps the cork in constant contact with the wine.
Additionally, it showcases the client's best wine bottles in an attractive way. A quarter round display rack was utilized as an elegant end piece to the racking system on the left side wall.
This type of wine rack design can be used for decanters or to display decorative items.
Below the solid case opening are several drawers for storing wine accoutrements, such as corkscrews and napkins.  Wine cellar design Orange County California provided more bulk storage down below in a diamond bin configuration.
The client picked out the Pinot-colored paint scheme, which blended well with the subtle color variations of the Premium Redwood wine racking systems.
It was very important to the client to store, organize, and display his wine collection properly.  Hence, the Coastal team utilized different styles of storage and display racks, in order to meet those requirements.
Arched Wine Cellar Door with Operable Wrought Iron Grill
One of the most eye-catching features of this project is the Tuscan-style wine cellar entry door with a wrought iron grill.
The unique grape leaf design adds a touch of elegance and is operable, which means it can be opened and closed for cleaning purposes.
Check out our range of wine room doors options here.
Wine Cellar Cooling Unit from CellarPro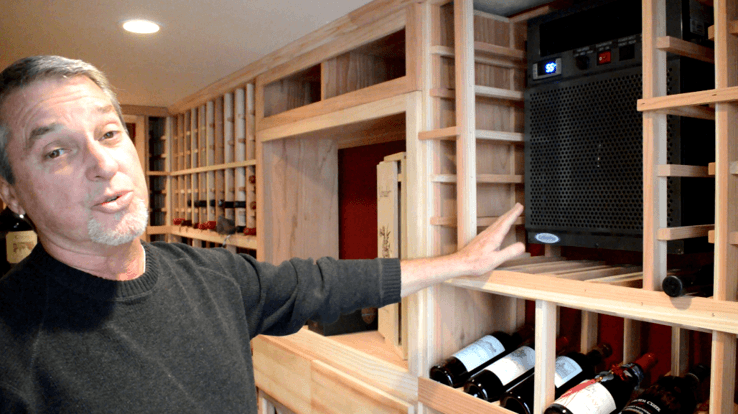 The Coastal team installed a self-contained CellarPro refrigeration system to maintain ideal climate conditions in this Dana Point home wine cellars project.

To stabilize temperature and humidity inside the wine cellar space, a CellarPro exterior vent cooling unit was installed in an opening within the right wall racking system.

The cooling unit exhausts to the outdoors. It has an extended cover to protect the unit against elements.

For more custom wine cellars video tours, visit our YouTube page at https://www.youtube.com/user/winecellarsbycoastal.

Custom Wine Cellar Design by Wine Cellar Builders California

.