Many homeowners face the dilemma of where to store their growing wine collection. Nowadays, almost any area of your home can be transformed into a residential wine cellar that will preserve and display your wine bottles properly. One of the most common areas of the home used in wine cellar conversion projects is the garage. In Orange County, California, Coastal Custom Wine Cellars has completed a wine cellar installation in an unused garage to accommodate the owner's larger collection.
A Garage Converted Into a Beautiful Wine Cellar
In December 2013, we were contacted to visit a home in Irvine, an affluent suburban city in Orange County, California. The owner is a surgeon, who loves to collect red wines from different regions and areas of the world. He had about a couple hundred of bottles stored in a cabinet.
Suddenly, he needed a place to store a much larger collection he inherited from a relative who passed away. He faced the dilemma of where to store his wines. He decided to convert his unused 4-car garage into a wine cellar.
In March 2014, we started the garage conversion project by creating a 3-dimensional design that showed our client a vision of his wine room. The design package includes different plan views, wall elevations, and bottle capacities.
In every project that we do, we always consider all the functional and aesthetic requirements of our clients. This will ensure that their precious wines are safe, and are displayed impressively.
Wine Cellar Installation Irvine, California
Garage Wine Cellar Installation Orange County, California for a Larger Collection
At Coastal Custom Wine Cellars, we aim to exceed every client's expectation. The client's goal was to have a storage space that can house about 1,500 bottles. But we found a way to achieve higher storage capacity. We enclosed the back half of the garage to create a 17' wide x 10' deep wine cellar, resulting in racking that can accommodate 2, 138 bottles.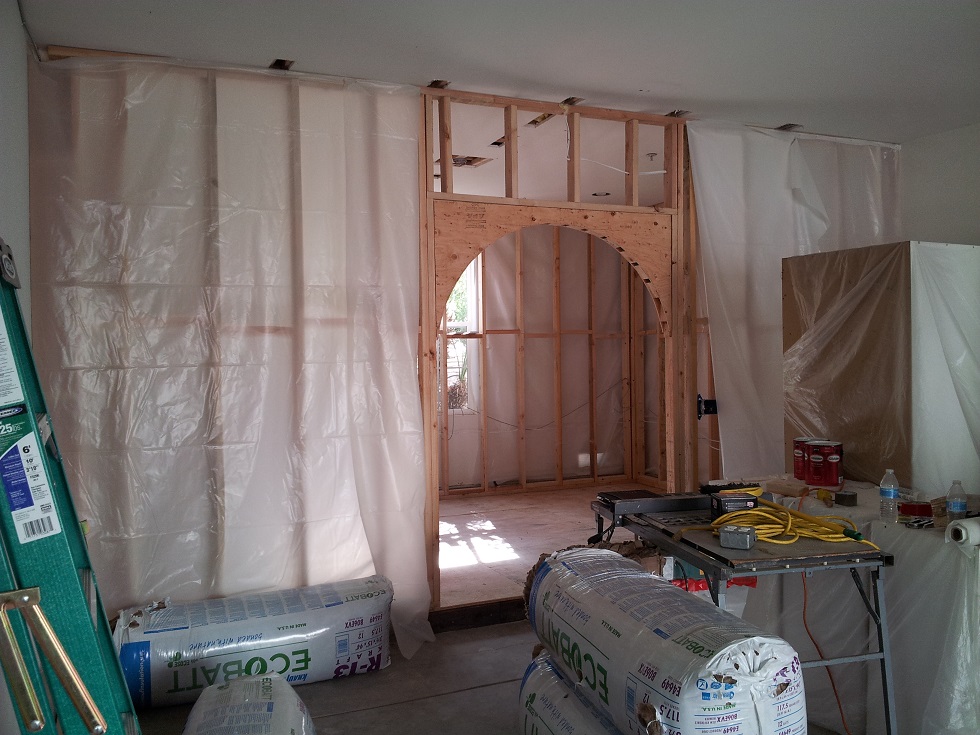 Custom Wine Rack Components
The right wine rack design will create a magnificent display of your collection. Our creative and experienced designers incorporated racking components that achieved the desired look that our client wanted for his wine room.
The cellar racks are constructed from mahogany, one of the most favorite wood species among residential wine cellar builders. We applied cherry stain and satin finish on the wine racks for a more attractive look. In addition to its natural beauty, mahogany is also known for its durability.
We designed the mahogany wine racks with custom components, resulting in a beautiful and organized bottle display.
Elevation A (Back Wall)
Directly across the entry is elevation A or the back wall. It includes a lattice arch and granite tabletop at the center, which is bordered by label forward horizontal displays. This type of wine display adds some character to the cellar, and allows the owner to show off the labels of his favorite vintages. Below the tabletop, you will see some cabinetry and drawers for wine accoutrements, liquor bottles, napkins, wine glasses, and other wine cellar accessories.
The left and right bottom half of the racks include a diamond bin configuration, which is intended for bulk storage. There's a high reveal display row in the middle section of the elevation A racking. In this row, the bottles are pitched at a 15-degree angle to keep the cork in contact with wine. Dry cork will ruin wine due to oxidation. The rest of the racking have single bottle storage slots.
Elevations B (Right Wall) and D (Left Wall)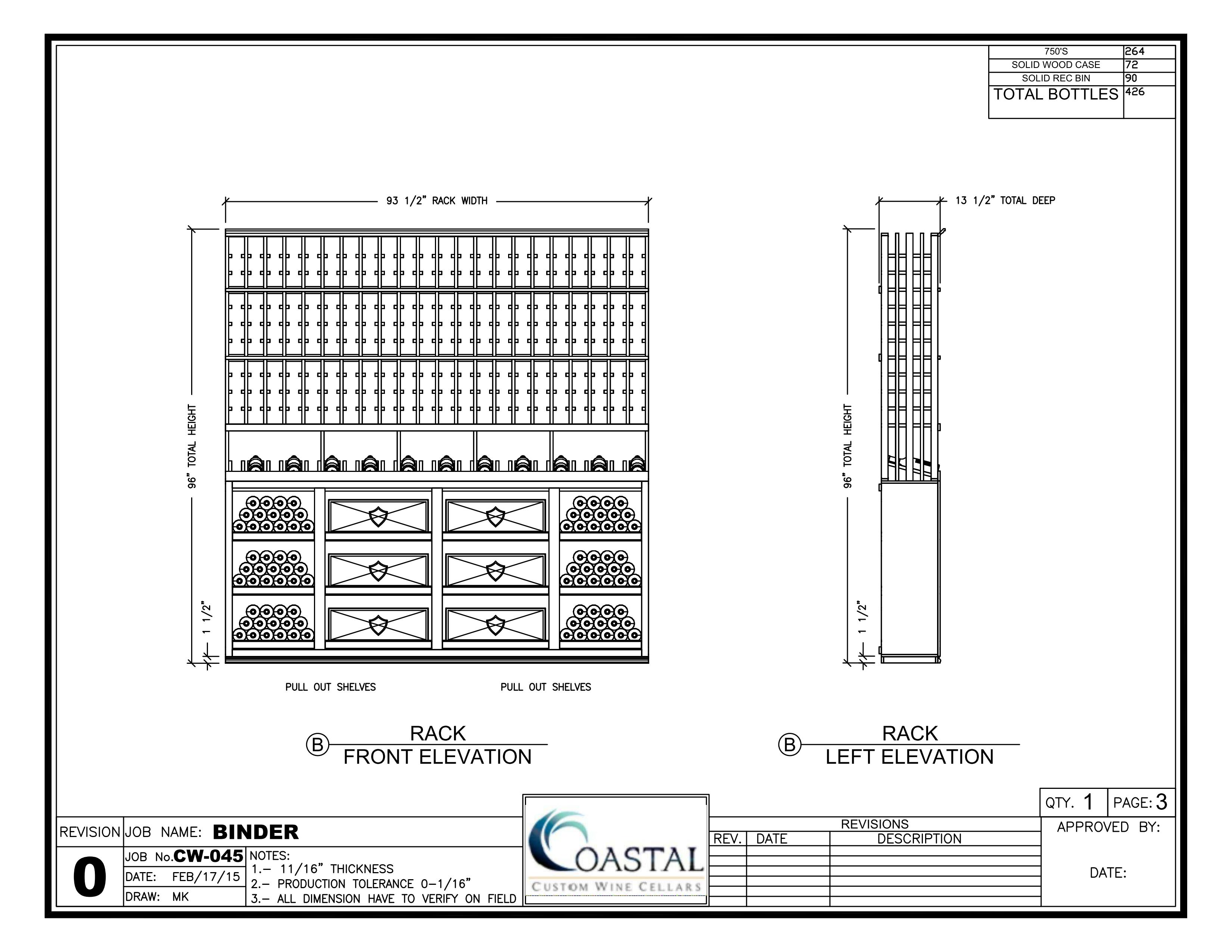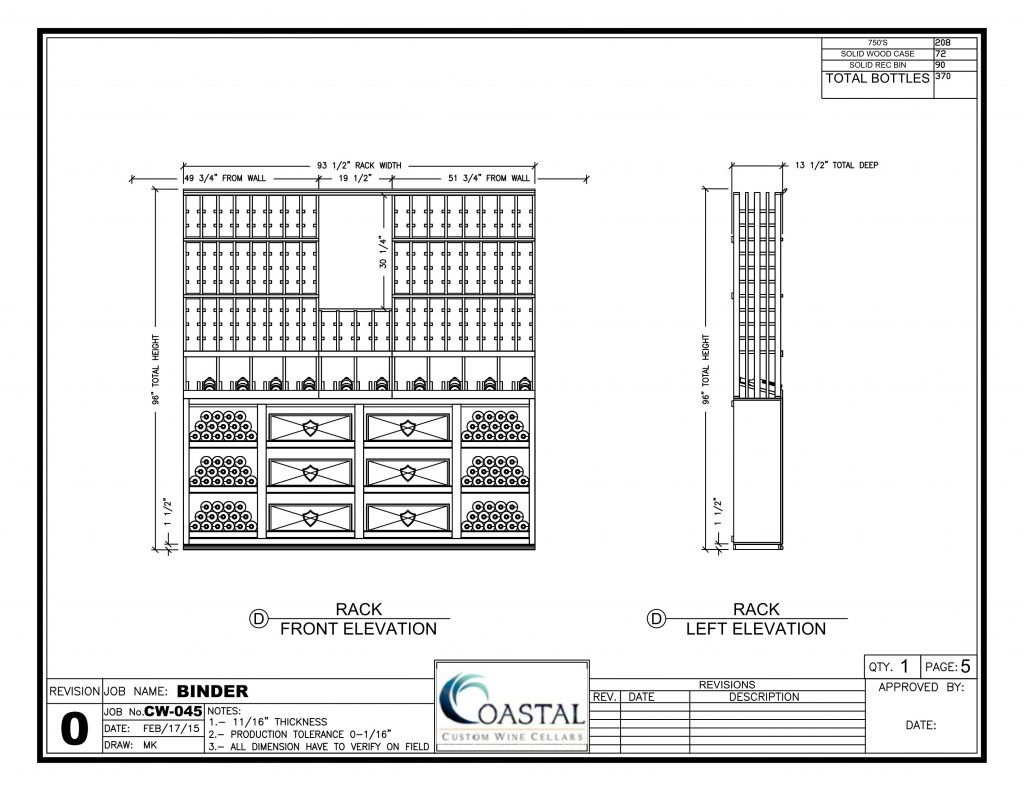 Elevations B and D consist of individual bottle storage slots at the top section, a high reveal display row at the middle, and diamond bin storage at the bottom section. Both walls also have wood cases, which we placed on roll out shelves. There are bulk storage openings on both sides of the wood cases, intended for 1.5L or magnum bottles.
We left an opening on the left wall where the self-contained wine cooling unit is installed. It has a granite tabletop, which can be used to display some bottles and other accessories.
Elevations C and E
Elevation C has quarter round display racks, which are installed at the entry. These racks allow the client to display his favorite bottles, wine glasses, or other items he wants to show off in his wine cellar.
Right after this racking are the diamond bins. Above this racking are the single bottle storage and high reveal display row.
Elevation E consists of the freestanding tasting table with granite tabletop. Its end caps utilize label forward displays, while the front section of the table was designed for individual bottle storage.
Lighting System
One of the most important factors to consider in building a wine cellar is the lighting system. Getting it right will create a dramatic effect to your wine storage space, while keeping your collection safe.
To illuminate the display rows beautifully, we used an LED lighting system for this project. Unlike fluorescent and incandescent bulbs, LED lights are ideal for wine cellars because they emit only a minimal amount of heat. Excessive heat can have a negative effect on wine's color and taste.
Refrigeration System
A wine cellar cannot preserve wine properly without a quality refrigeration system installed in it. In this Orange County, California wine cellar installation project, we used the CellarPro VSX wine cooling system.
It is an exterior vent, self-contained unit, known for its outstanding performance, quiet operation, advanced electronic thermostat, and adjustable humidity control. It also includes a reusable aluminum filter, which can be removed easily for cleaning purposes.
Other features of the CellarPro VSX wine cooling unit:
Can be configured to operate in extreme temperature conditions (-20 to 115F)
Exterior hood
Oversized coated condenser coils
Variable speed fans for ultra-quiet operation
Digital LED display
Energy-saver mode
Quick-chill mode
Auto-defrost cycle
Maintenance-needed indicator
ETL tested and certified (UL Standards)
Exterior-grade power cord
We trust CellarPro refrigeration systems in creating the perfect environment for California residential wine cellars.
Planning for a Wine Cellar Garage Conversion Project? Contact a Master Builder.
This recent Orange County, California wine cellar installation project can be an inspiration to those who are worried about finding a larger space for their growing wine collection.
At Coastal Custom Wine Cellars, we can transform any unused space in your home into your dream wine cellar. Call us today at (949) 355-4376!