Custom Wine Cellars Newport Coast Beach California Offshore Project
In June 2013 we met with Karen Johnson, the interior designer for the 6 Offshore custom wine cellars Newport Coast Beach California remodeling project.  After several design revisions and site visits, the master wine cellar builders proceeded with the demo and wall preparations in July, and finished the project in September 2013.
The client wanted to convert a spacious storage room adjacent to a formal dining room area into a unique and stunning custom wine cellar design.  In order to create an 11′ x 8′ x 9.5′ wine cellar space, a large portion of the interior storage room wall shared by the dining area was torn down by Coastal's master wine cellar builders.
Key Custom Wine Cellar Design Features of the 6 Offshore Project
Mahogany with Rustic Stain and Lacquer Finish
1692 Bottle Capacity Wine Cellar Design
Wine Cellar Cooling Unit – Arctic Aire Split System (concealed by operable louvered grill cover)
Seamless Glass Wall and Entry
Napa Valley Reclaimed Oak Barrel Flooring – Barrel Staves
Brick Veneer Walls and Ceiling
Since the client wanted to make the brick veneer walls more noticeable, we constructed half diamond bins and diamond cubes that were open to the back wall (which was situated right across from the entry).  The wine room also features a tabletop area that lends visibility to the herringbone masonry brick design we created.
A seamless glass wall and entry presented a spectacular glimpse into this custom wine cellars Newport Coast Beach California project.  To create an unobstructed view of the storage space, we installed a half-inch, clear glass Herculite door.
Herculite Wine Cellar Door and Wine Rack Styles
Herculite entrance door systems are comprised of frameless glass with varying thicknesses, ranging from 1/2′ to 1′ thick.  They are made from thick and heavy glass that can withstand impact.  A Herculite door provides an open style wine cellar entryway, which, in this custom wine cellar, put the striking brick veneer interior on display.
We installed a combination of wine rack styles that not only provided an excellent management design element, but also allowed for a tasteful way of showcasing the wine collection.  Single bottle storage racks with a high reveal display row ran the entire length of the wine room.  All bottle openings are 3 3/4′ x 3 3/4′, and can accommodate 750ml wine bottles.  LED lighting illuminated the wine bottles on the display row.
Diamond bin components were incorporated into the custom wine cellar design, to allow for bulk storage and optimum visibility of the brick veneer back wall, while label forward displays placed near the glass walls enhanced the aesthetic quality of the custom wine room exterior.  Two additional rectangular openings were also provided to accommodate large format bottles (such as magnums).
Efficient and Reliable Wine Cellar Cooling Systems
The evaporator unit, which is placed inside the wine cellar, is concealed by a custom designed operable, louvered grill cover.  This was made from the same wood material and finished like the wine racking.  The louvered panel cover is hinged to allow flexibility for future service or maintenance.
Napa Valley Reclaimed Oak Wine Barrel Flooring
To bring a distinctive custom wine cellar design to this project, we used beautiful oak wine barrel flooring, carefully cut from reclaimed Napa Valley wine barrels.This type of product adds a very distinctive look as well as a natural aroma of wine from the original wine stored in the barrels to the wine cellar room.
Instead of using them as planters or selling them as firewood, the retired wine barrels were given a new lease on life when we turned them into high quality groove and tongue wine cellar flooring.
Barrel staves are the strips of wood that make up the sides of the barrel.  They are available in different widths and lengths.
Stave wine barrel flooring features the unique markings left by the metal hoops that once held the barrel together.
Take a video tour of the project to see more of the wine cellar, before and after completion.
Custom Wine Cellars Newport Coast Beach California Offshore Project
Custom Wine Cellar Design and Construction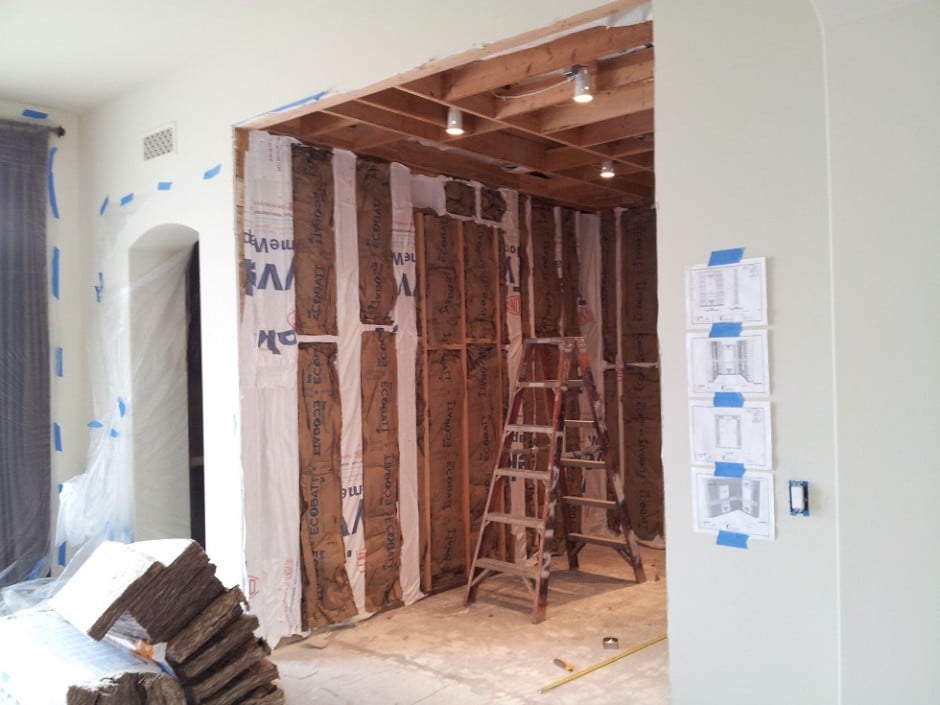 Starting work, insulation and vapor barrier first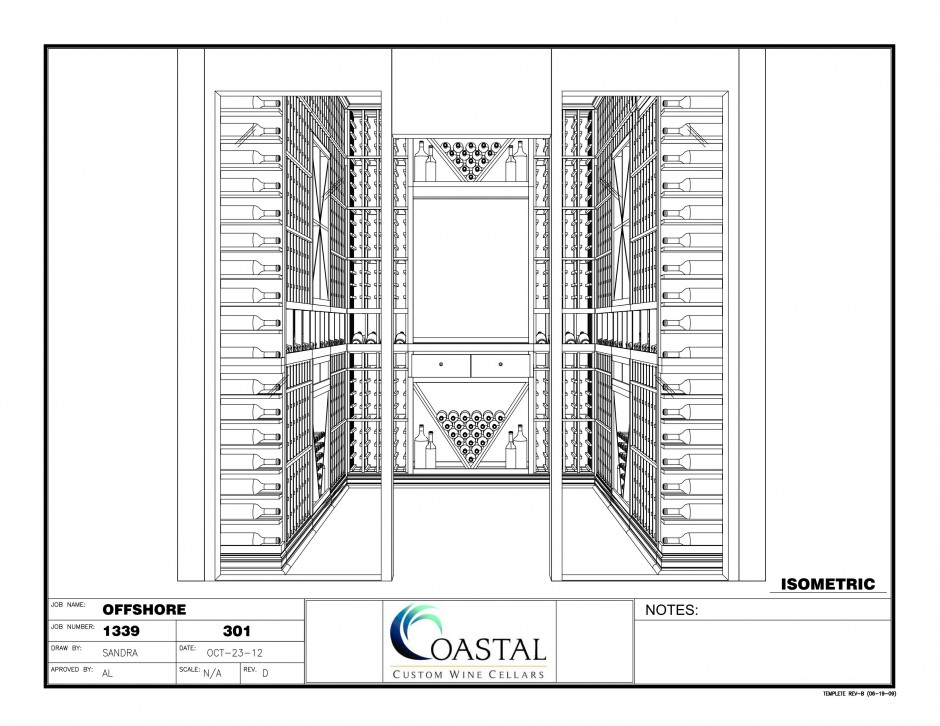 The 3D Wine Cellar Design Essential for all Projects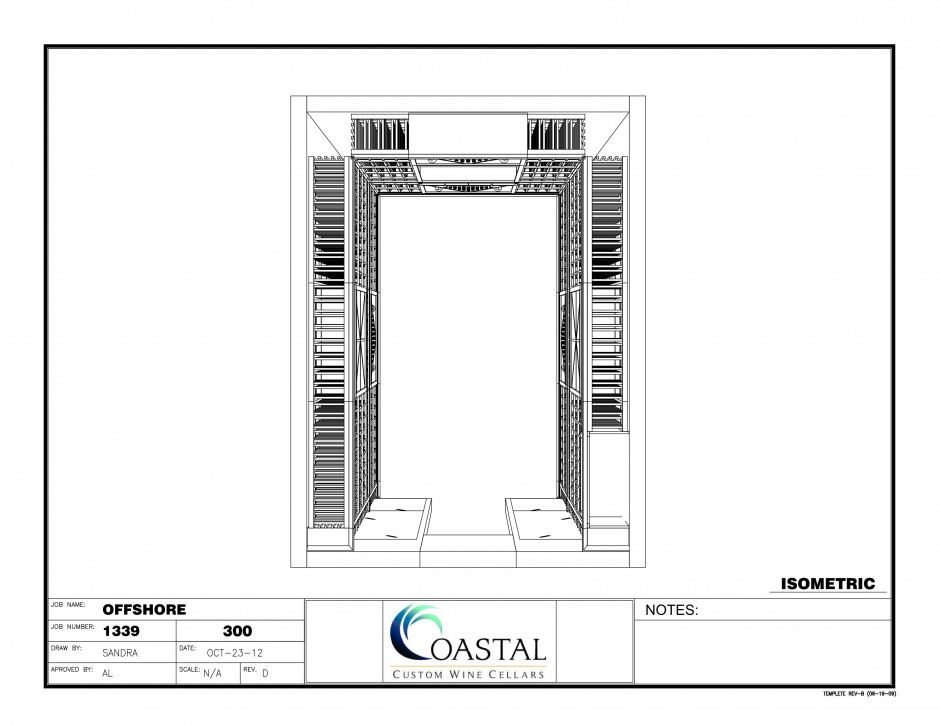 Multiple Views 3D Design Plan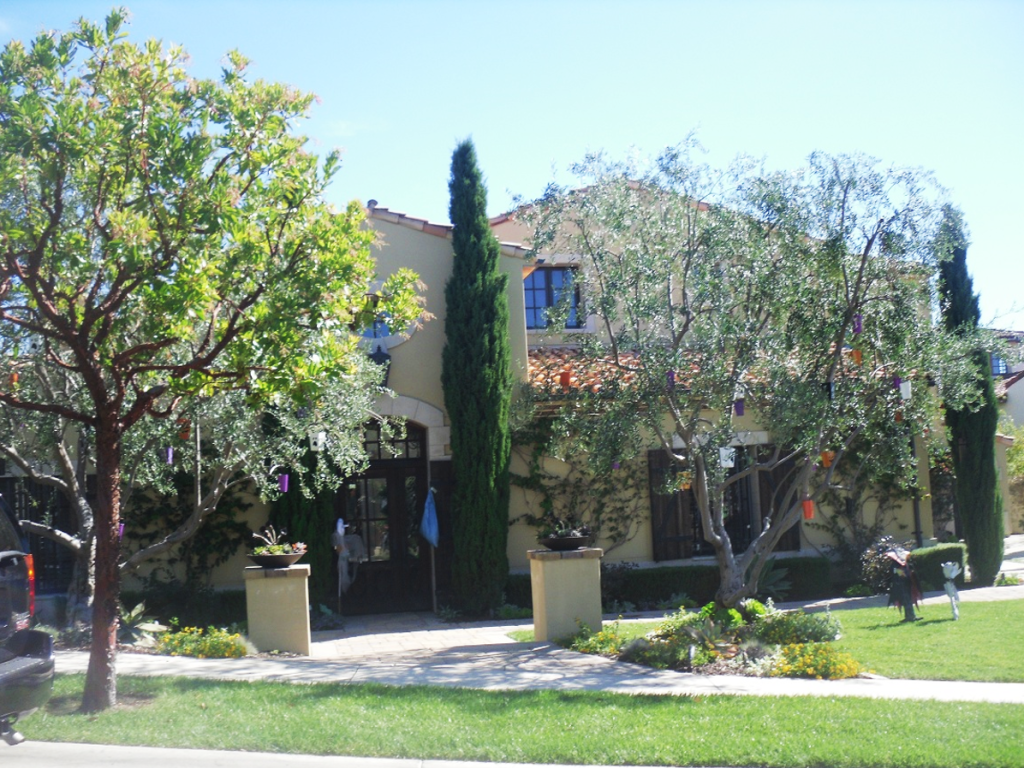 California Home Wine Cellar Design Offshore Project