Custom Wine Cellar Construction – Using Premium and or All-Heart Redwood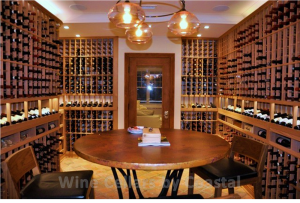 For the construction of Custom Wine Cellars, Wine Cellar Builders recommend certain types of wood species. The most commonly used are Pine, Mahogany and Redwood. Some wood species such a cedar are inherently unsuitable due to their strong aromatic nature. Others, while workable, are less than optimal in a wine cellar due to the need for longevity and stability in a refrigerated wine room.
Your wine collection is likely to include some exceptional sought-after wines which are also highly collectable. In the wine cellars of many of our clients, the wines cumulatively often represent investments in the tens or even hundreds of thousands of dollars. Long term exposure to the wrong wood species in the relatively small, closed environment of a residential wine storage cellar room can be disastrous.
Click this link for a general overview of wood species used in custom wine cellars.
In this article we are going to talk about Redwood specifically and why this is a favorite for wine cellar construction by Coastal Custom Wine Cellars and experienced wine cellar builders generally.
All-Heart Redwood, a favorite for Wine Cellar Construction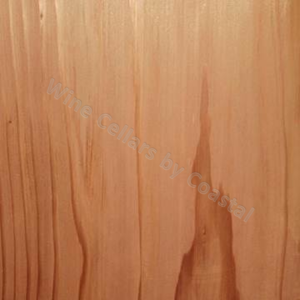 All-Heart Redwood (AHR) has a natural resistance to moisture caused decay.  Wine cellars are usually climate controlled at about 57 degrees Fahrenheit and should have the humidity level controlled.  As cooler air holds less water than warmer air, excess moisture is systemic to any environment where the air is cooled.  While there are a number of things that can and should be done to manage this moisture, using a wood that is not well behaved in damp environments should be avoided.
All-Heart Redwood has a natural beauty; its grain is both distinctive and multi-hued in rich pinkish to orange-red earthy tones.  The wood itself comes from the center of the tree and it is this that causes All-Heart's unique and rich color variations.  These colors tend to be stable over time, decades in fact, possibly deepening in tones if anything.  While the wood can be enhanced with lacquer finishes, a lacquer in not a requirement as the wood is stable in its natural unfinished state.  Many of our custom wine racks come in natural unfinished All-Heart Redwood for this reason.  A lot of our custom wine cellar clients complete their entire wine room with this product keeping it in its natural state.
While All-Heart Redwood is softwood, it is structurally stable and not prone to excessive warping.  In wine rack construction, due to the nature of the many thin wood strips that are used to construct the wine bottle storage structure, warping is to be avoided at all costs.  Warping will cause the structure, under the weight of many wine bottles, to become unstable not to mention looking unsightly.
All-Heart Redwood is a porous wood; this means that if used for a table top where wines are poured and presented, a lacquer finish will stop spills from leaving nasty rings.  As the wood has a natural tonal quality, a good grain, and it will acquire a rich warm color as it ages, we recommend leaving it unstained however, a lacquer finish can show off the grain dramatically.
Premium Redwood is also a favorite for Wine Cellar Construction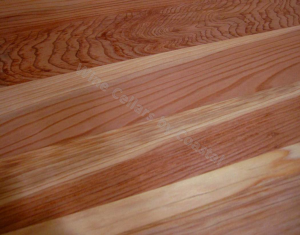 Premium Redwood is also suitable for wine cellar construction, the main difference being that it is taken from the outer rings of the tree.  Its natural colors are lighter and often more tonal and contrasting and will likely be more "blond" overall with pinkish tonal qualities mixed in.
Premium Redwood has the same decay resistance and structural qualities as All-Heart Redwood.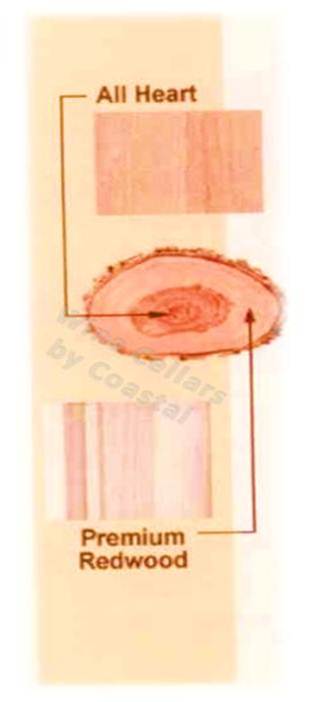 Both Types of Redwood are a favorite for Wine Cellar Construction
Both types of Redwood come from the same tree, All-Heart the middle and Premium the outer area and as such, both are ideal and cost effective solutions for your wine cellar. The redwoods are only taken from sustainable forests; this is guaranteed by leading Californian certification programs.
As quality wine cellar builders, we at Coastal have a strong opinion regarding the right wood to use for the construction of our custom wine cellars.  This is because we provide a lifetime warranty for the materials in our wine racking solutions.
In addition, we understand the unique environment of a wine cellar and how to ensure that the wines in it will be given the best environment to age properly.  We want our clients to be trouble free and to enjoy their wine cellar for many years to come.  Click the following link for related articles and examples of completed custom wine cellars Coastal has constructed for our clients.