This Stunning Custom Wine Cellar was part of a much Larger Renovation Project to a Home in San Diego, California
One part of this wine cellar project in San Diego included fully finishing the client's basement.  What better way than to do that than adding a wet bar and a beautiful feature climate controlled wine cellar!
When designing your own wine cellar one important factor to keep in mind is your budget. In our efforts to help our client to stay inside her budget window, we utilized a combination of our 6ft series semi-custom or kit racking products along with some more custom wine cellar features. By using this combination we were able to give our client a unique 'custom' look to their wine cellar at a 'kit wine rack' price.
Custom Wine Cellars San Diego California, Renovation Project
Where to Start, Custom Wine Cellar Design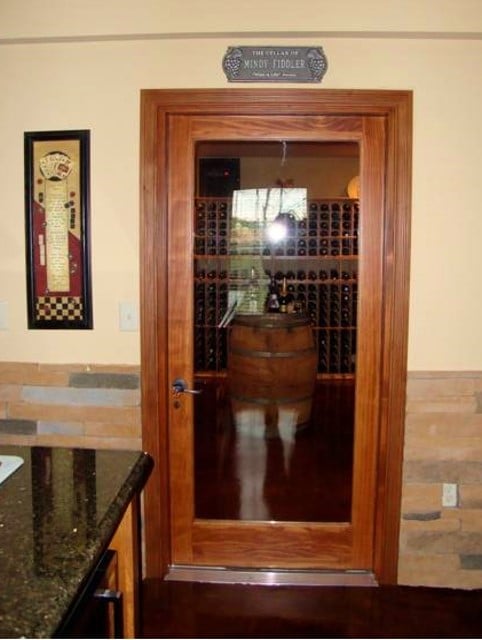 The whole project started by selecting a corner of the basement that would become the actual wine cellar room, including a small area behind the cellar that the wine cellar cooling unit would vent into.
After framing was completed, the whole cellar including the floor was sealed and insulated
Next, a waterproof drywall along with half a wall in the front that was to have rock attached
The whole thing was then painted to match the bar area just outside the wine room
It is very important that your wine cellar is sealed and insulated properly, especially if you are going to install a wine cellar refrigeration system and make the room climate controlled. Mold and mildew can form very quickly when subjected to the cool damp conditions inherently found in custom wine cellars.
By insulating and adding a sealing vapor barrier, all the cool moist air is kept in the wine cellar room instead of it leaking into the house and causing irreparable damage.
Semi-Custom Wine Racks (Kits) & Custom Combo Mahogany with a Natural Finish
Single bottle storage racks were chosen for this project and they included a 15 degree pitch, label forward, high reveal display row.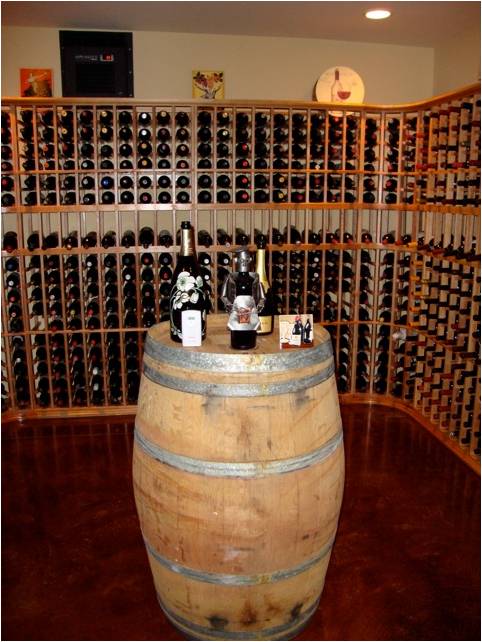 The display row is a great management tool as you can store like wines above and below the displayed label and it adds to the character of the wine room. In addition, you can show off those expensive collector wines which really add to the ambiance of your cellar.
The custom part of this wine cellar was the solid Redwood table top chosen by this client with lattice diamond bin storage underneath, this allows a work surface for pouring your wine or room to take note of all your vintages.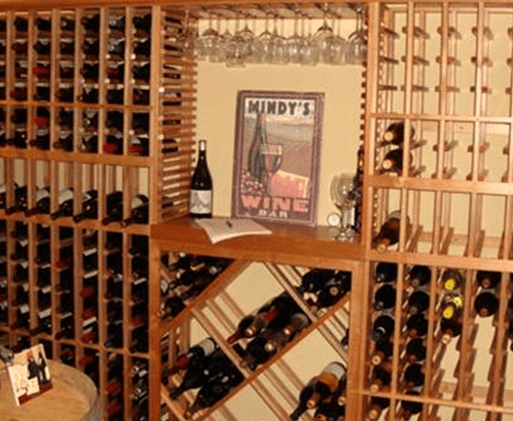 Because the table top is solid redwood it is recommended that you get a clear lacquer finish applied as it is a forest wood and will stain quite easily, you can either get the factory to do it before it ships or you can do it yourself.
The opening above the tabletop incorporates a stem rack for storing wine glasses.
The diamond bins centered below the table top is another custom component created using a lattice style configuration for even and efficient airflow over the wine bottles.
Using a lattice style rather than solid diamond bin storage is also a way to keep the cost down as 1″ x 12″ solid redwood is a bit pricier.
It did not take long for these clients to stock their new wine cellar with an extensive collection of their favorite wine as you can plainly see in the following image!
There is a window that you can see in the left wall of the wine room itself. This window gives you a view into the hall from the cellar and gives a fantastic view into the cellar from the hall. It is important to note that the window is made from dual pane glass in order to minimize condensation and to help keep the cool air in the cellar itself.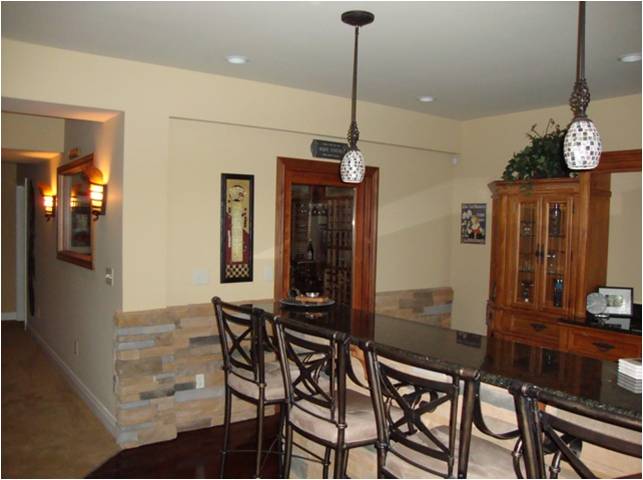 You will also notice with the wine racks that the transition from one wall to another is created by using true radius curved corner wine racks which also holds a lot of bottles.
The curved corners on these racks are true radius with no segmented appearance at all. It is small details such as this that help give even our kit wine racks a 'custom wine rack' appearance.
The custom wine cellar door used for this project is our pre-fit Barolo style door with a dual pane glass center panel. The wine cellar door also included weather stripping and an automatic door sweep to ensure a tight seal around the door.
All three of these features are what makes our wine cellar doors unique. They are constructed in such a way as to prevent warping, the dual pane glass stops condensation, the weather stripping stops cool air leaking out of the cellar, and the door sweep seals the bottom of the door without scratching your floor.
In the following image you can clearly see the overall shape and size of this 1,003 capacity residential wine room.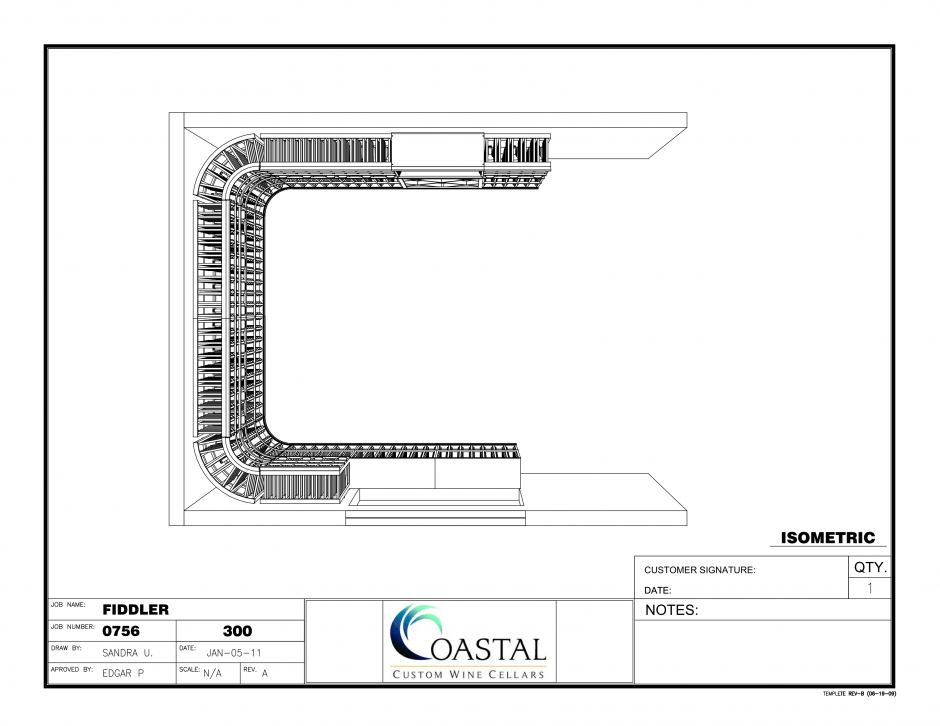 The Wine Cellar Cooling System
The cooling unit is a self-contained through the wall placement which exhausts the warm air and noise into the adjoining area. This particular unit was provided by the customer but is should be noted that we can supply any type of wine cellar cooling unit required.
The design of the wine racks for this cellar began in January 2012 and all the wine racks were completely installed by March 2012. This particular wine cellar can now store 1003 bottles in the racks with room above the racks for cases of wine.  Our client then added a wine barrel and other accents to the wine cellar to enhance the appearance and ambiance.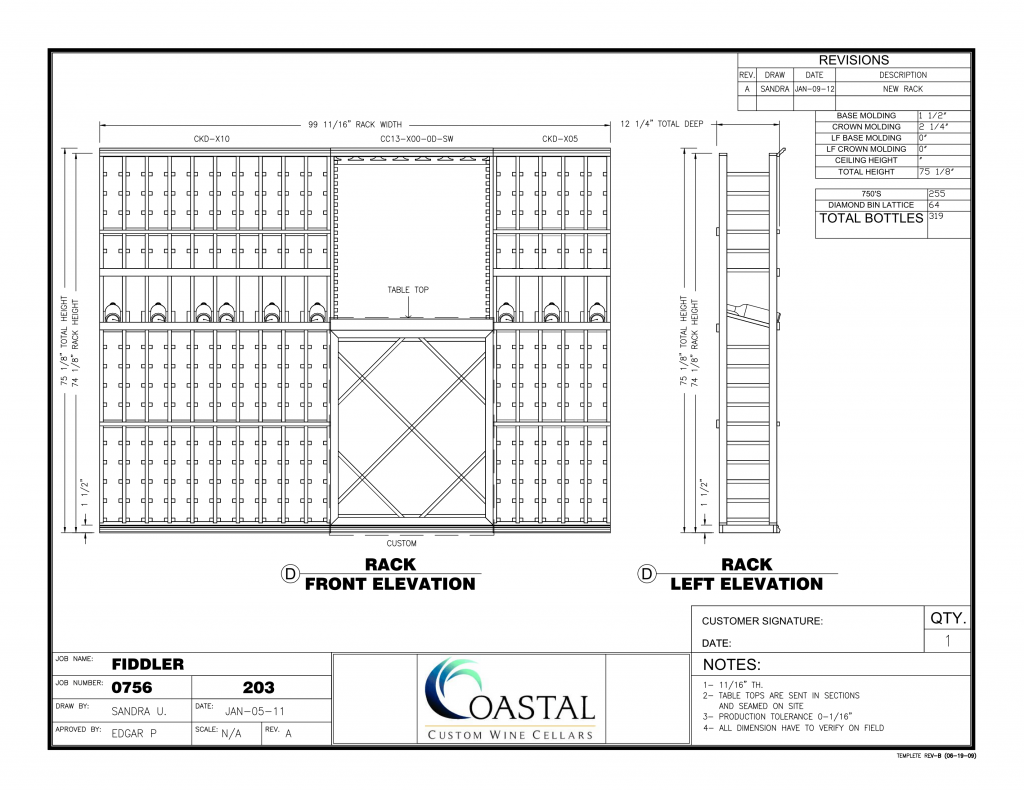 Custom Wine Cellars Construction San Diego California, Renovation Project Before Construction Design Drawing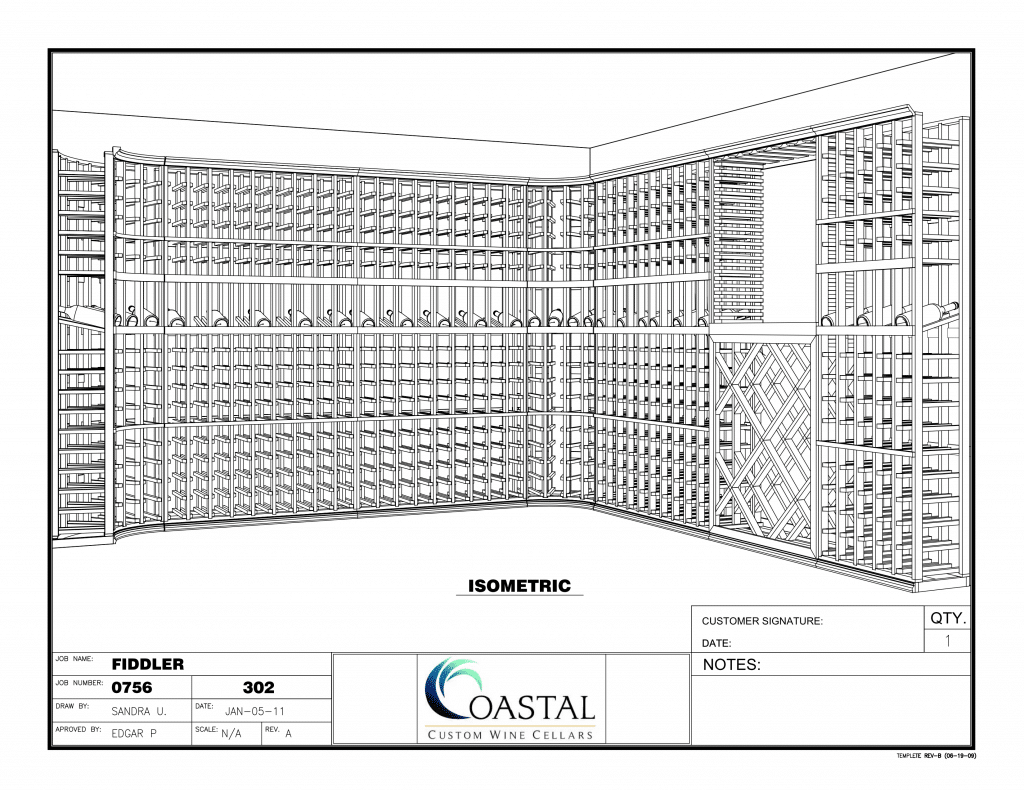 Wine Room Builders San Diego California, Renovation Project Before Construction 3D Design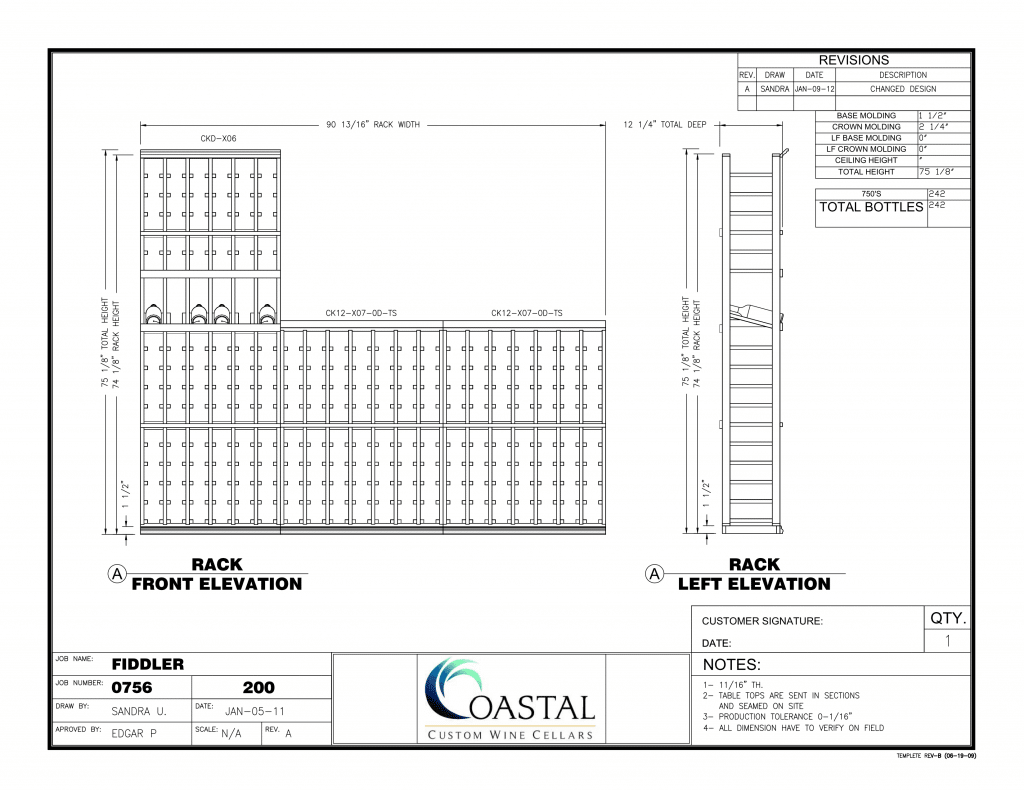 Custom Wine Cellar Designs San Diego California, Renovation Project Before Construction Custom Racks Drawing
Save