California Home Wine Cellar Conversion Project Story
Converting a cluttered California home living space into a beautiful climate controlled wine cellar requires careful design.  To ensure that optimal storage conditions are achieved, the installation process is also critical.
Follow Coastal Custom Wine Cellar Builders through the design and installation of this wine cellar conversion project.
This recently completed residential wine room in Laguna Beach, California was originally a junky storage room, located adjacent to the garage area.  Sitting around the room were three refrigerated wine cabinets and several boxes.  These were all removed before the actual construction took place.
Coastal Custom Wine Cellar Builders took down the wall covering and applied a vapor barrier, insulation, and moisture proof drywall.  These are the essential elements that help maintain an ideal climate condition for wine storage.
Wine Cellar Designs by Coastal California Project
Single Bottle Custom Wine Racks and a Quarter Round Wine Display Rack
Various custom wine rack styles were installed to accommodate the client's different selections of wine bottles, as well as his collection of wood cases.
These wine racks were designed and manufactured by Coastal Custom Wine Cellar Builders.
Starting off on the left side wall is a beautiful quarter round wine display rack, which the client used to display his collection of double magnums (or 3-liter bottles).
Aside from storing large format bottles, a quarter round wine display rack is also a great place for displaying decorative pieces, such as decanters.
Single bottle custom wine racks dominate the Laguna Beach residential wine room.  Individual bottle slots have universal openings that measure 3 3/4 inches x 3 3/4 inches.
They are called universal openings because they can accommodate most standard size wine bottles into the cubbyhole, including California Blue Chips, Oregon Pinots, and standard champagne.
Custom Wine Racking with a High Reveal Display Row
Just below the individual bottle racking is a high reveal display row that stores wine bottles at a 15 degree angle, which allows the client to highlight some of his favorite wine bottles.
It provides eye-level display of wine labels, providing ease of identification and selection.  Custom designed wood case openings are provided at the very bottom, to house the client's wood case collection.
Moving towards the back of the Laguna Beach California home wine cellar, the wall is entirely made up of single bottle custom wine racks, with a high reveal display row.  The Coastal wine cellar installation team did an excellent job of following the odd contours of the wall, which ensured a smooth continuity in the arrangement of the wine racking system.
Stylish Arch, Tabletop and Diamond Bins
The right interior wall of the residential wine room features a standard arch with a solid tabletop.  The arch comes with a whittle board effect that brings a unique character to the home wine cellar.
Puck lighting is installed overhead, to illuminate the area.  The tabletop is constructed from solid wood, and provides an area for serving and decanting wines.
The arch is flanked by single bottle custom wine racks with a high reveal display row.  Below the display area on this particular wall are horizontal label forward display bins, for large format bottles like magnums and double magnums.
The opening can accommodate several vintages, depending on the size of wine bottles.  For instance, a total of 6 Bordeaux style bottles can fit into the display bin.
Lattice style diamond bins are installed just below the horizontal label forward racking.  Diamond bins are ideal for storing wines in bulk.
They are excellent management tools for wine collectors who prefer to buy in 6 packs or 12 lots.  The lattice style feature allows better air circulation in and around the wine bottles.
A horizontal opening above the arch provides additional label forward storage for large format bottles, and below the solid tabletop is more storage for individual bottles.
The various custom wine rack styles in the Laguna Beach California home wine cellar achieved a total storage capacity of 837 wine bottles.  All wine storage and display racks are constructed from unfinished premium redwood.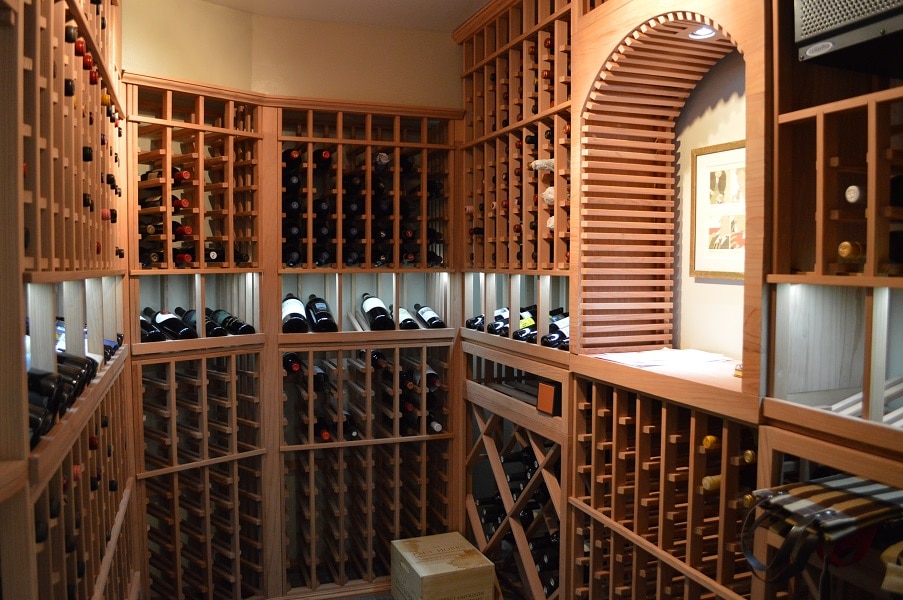 Premium Redwood Wine Racks
Premium Redwood is a very good choice of wood specie for wine rack construction because of its durability, attractive wood color, and compatibility with the climate conditions inside the cellar.  Thiswood specie can be stained or left unfinished.
Home Wine Cellar Climate Conditions, Lighting and Flooring
Most modern California home wine cellars are actively cooled, which means they need to have proper insulation and refrigeration system to help maintain the ideal temperature and humidity levels.
Ideal climate conditions in the California residential wine room are maintained by a CellarPro Model 3200 Vsi, which is a self-contained cooling system.
This type of climate control system is the easiest to install, and does not require professional installation.  The unit is mounted to an opening in the racking frame on the right interior wall, and exhausts warm air to the garage area.
LED lighting along the display row not only illuminates the various wine bottles that are on display, but also brings a subtle ambiance.  The lighting fixture on the ceiling is a directional, low profile track lighting, which was supplied by the client.
The lighting system can be rotated to accentuate or highlight any area of the home wine cellar.
Aside from the light fixture, the client also provided wood flooring and a paint color.  For the wine cellar entry door, the installers fitted a Barolo glass door.  It includes dual pane glass, weather stripping, casement molding, a door jamb, and automatic door sweeps, as well as stain and finish.
All in all, it was a beautifully designed California residential wine cellar project.  Although the room had limited space, the Coastal Custom Wine Cellar Builders managed to put together custom wine racking that allowed for maximum storage capacity, as well as efficient presentation of client's wine collection.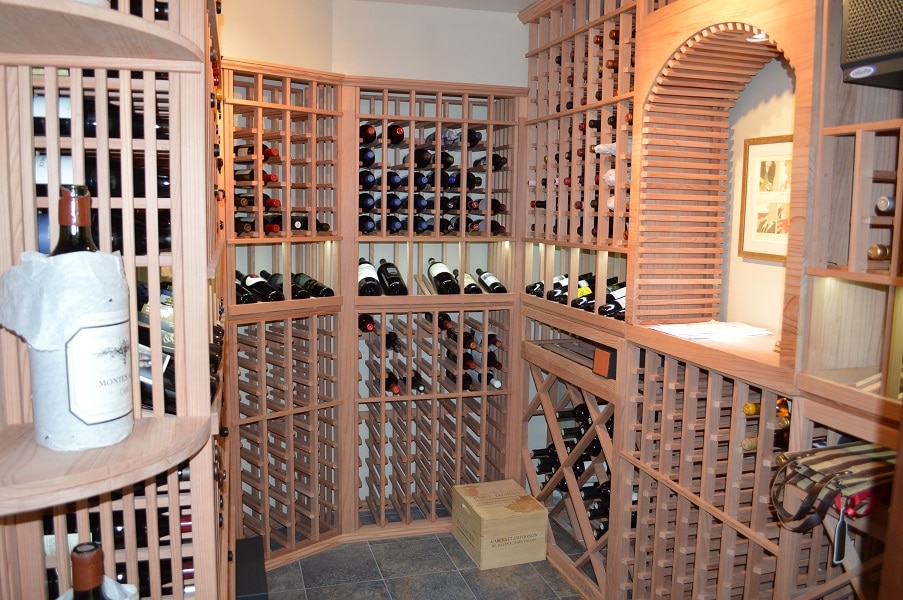 Puck Wine Cellar Lighting
If you want to start your own California home wine cellar project, don't hesitate to contact Coastal Custom Wine Cellar Builders.  We offer consultation services and 3D wine cellar design for your project, and it's free!
Coastal Custom Wine Cellars has been in the wine cellar business for more than a decade now, and continues to serve wine lovers and wine collectors, and to assist them in their wine storage needs.
Visit our website now for more information about the products and services that we offer. Click here Coastal Custom Wine Cellars.
Take a video tour of this California residential wine cellar project!
California Residential Wine Room Design and Construction – Laguna Beach Project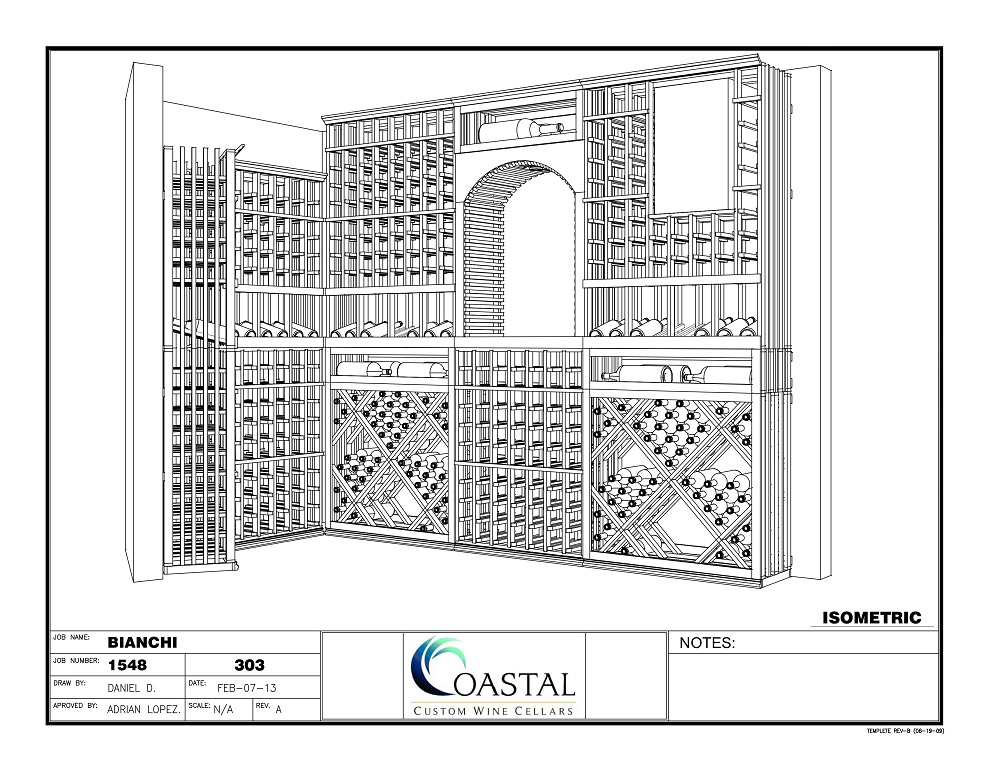 3D Wine Cellar Design by Coastal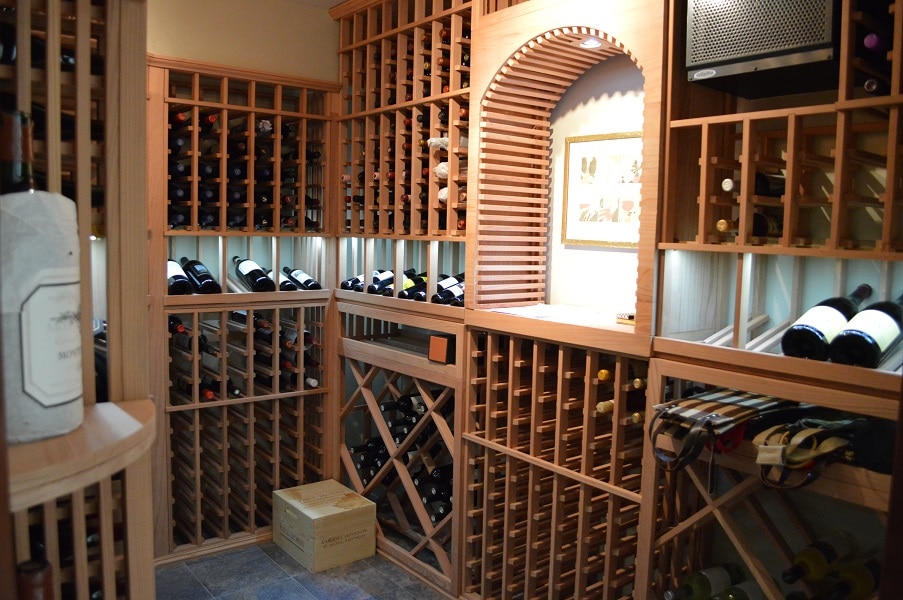 California Home Wine Cellar Finished Project – Laguna Beach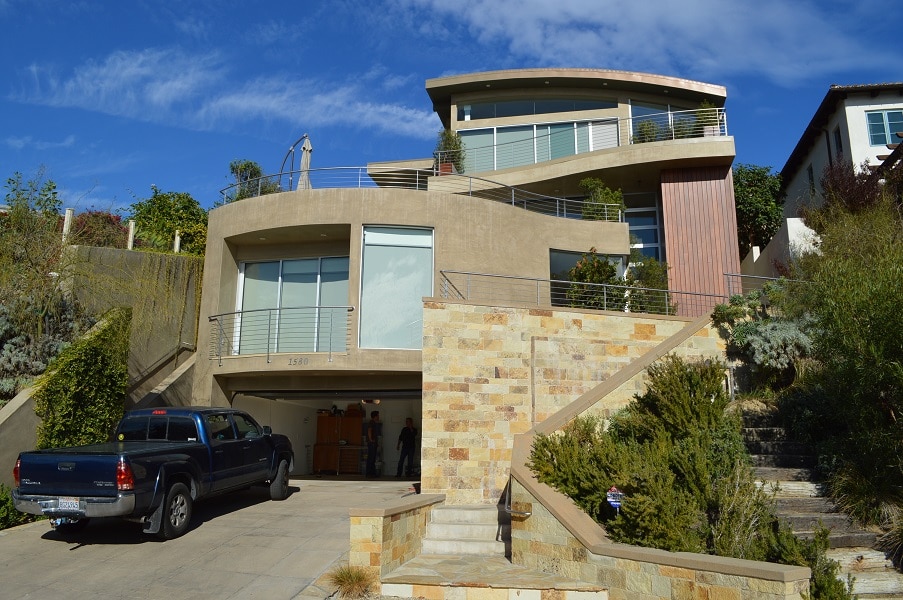 The Client's Beautiful Home in Laguna Beach, California
Would you like to see more projects like this? Need more design ideas?
Check out the Wine Cellars in Homes Custom Construction Contractor Project