This page has been discontinued
Discontinued Page – Click the links below to visit updated information for:
Wine Cellar Cooling and Why You Need It
Wine cellar cooling systems are the heart of every wine cellar with a respectable collection of wine. Without it, there's simply no way for your wine collection to mature properly. A good wine cellar refrigeration system stabilizes the precise wine cellar temperature and humidity needed to preserve the wine. Wine experts agree that a wine cellar temperature of 57 degrees Fahrenheit and humidity levels between 50% – 60% is ideal for wine cellar refrigeration systems to be most effective.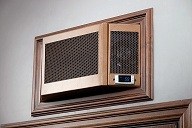 Here at Coastal, we specialize in designing and building custom wine cellar rooms. We also offer a wide array of practical wine cellar cooling systems that will surely fit your wine refrigeration requirements.
WhisperKOOL XLT & Slimline 2500

WhisperKool Self-Contained Cooling Unit
The XLT and Slimline 2500 are an economical solution for wine cellar cooling systems. Intended for simple through-the-wall installation, the WhisperKOOL XLT unit fits between standard wall studs and the rear flange eliminates the need for a support shelf. The Slimline 2500 installs above the wine cellar door.
All XLT models and the Slimline 2500 come with a standard Condensate Evaporator which dissipates excess moisture that collects during normal operation. As with all WhisperKOOL wine cellar refrigeration systems, the XLT and Slimline is equipped with a Liquid Measuring Thermostat to precisely preserve wine cellar temperature. Both have a 30°F temperature differential. In order to keep your wine cellar temperature at 55°F, the area the unit is exhausting into should not exceed 85°F. This makes the XLT ideal for interior installation.
WhisperKOOL XLT also includes optional accessories. One option is the PDT Digital Display which will show you the actual temperature reading from a bottle probe through a digital interface. A Small Exhaust Duct Kit for the 1600, 3000, 4200 models is also available. This duct kit allows you to duct the warm exhaust air into another room. You can view a Ducting Kit Installation Guide from the WhisperKOOL website if this option is ideal for your wine cellar cooling systems.
With the XLT series and the new Slimline 2500, experience WhisperKOOL quality and performance at an affordable price.
Other Details
Cellar Size: 300 – 2000 cu. ft.
Dimensions: 14.25″W x 15.75″H x 17″D. Slimline = 22″W x 10.25″H x 19″D
Installation: Through-the-Wall
Temp. Delta: 30°F temperature differential
Thermostat: PDT Jr. standard, optional PDT with LED display
Outside Venting: Not recommended unless exhaust environment will not exceed 85°F
Ducting Options: Only the exhaust side can be ducted using the optional ducting kit
CellarPro Wine Cellar Cooling Systems – Quiet and Affordable

CellarPro Wine Cellar Cooling Systems are easy to install
Control the climate in your custom wine cellar with one of the quietest and most affordable cooling systems on the market.
Fully self contained and backed by a 5 year parts and labor warranty, the CellarPro is an excellent choice for the budget conscious wine collector. This unit will safely keep your wines at the optimum temperature and humidity so important to serious wine collectors. Available in a variety of sizes, the CellarPro can handle areas a small as a wine cabinet as well as larger wine cellars up to 2,250 cubic feet. In fact, the CellarPro is an ideal replacement for Breezaire and Wine Mate cabinet models found in most wine cabinets already in the market.
The CellarPro is recognized to be one of the quietest cooling units in the industry. Solid data analysis along with our customer feedback suggests that not only is it quiet but that it enjoys a trouble free installation and operation. In fact CellarPro wine cooling units were designed from the ground up to outperform the competition in every performance category. With prices starting at $950, CellarPro cooling units are a very good solution for most wine cellars.
Call us today and we will be happy to help you decide on the best system for your wine cellar.
Product Specifications:
Cellar Size: 200 – 2,250 cubic feet
Dimensions: 14.1″ W x 25″ D x 19.6″ H
Installation: Through the wall
Temp. Delta: 50F degree temperature differential for most models
Thermostat: Air temperature monitor with LED display
Humidity: Adjustable humidity control
Venting: Rear or top venting option.
Ducting: Optional rear ducting system with in line fan to funnel exhaust air up to 100′
Warranty: 5 years parts and labor
See the chart below to gain an appreciation of how quiet the CellarPro Wine Cellar Cooling System is.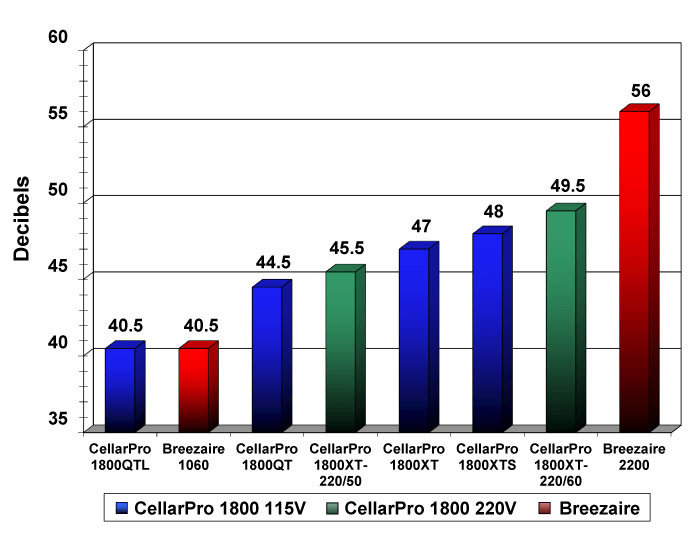 Chart for the decibels for various CellarPro 1800 Series and Breezaire WKC series cooling units
CellarMate – Ducted Air Handlers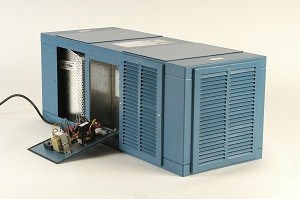 CellarMate
The CellarMate wine cooling unit is a ducted self contained air handler. There is no need for professional HVAC installation as the units are self contained and charged up upon delivery. Why would you want a ducted wine cellar refrigeration system? The fact that it is ducted means there is no visible equipment present in the wine cellar. A feature many collectors seek. Also, it allows for additional storage space. Each CellarMate self-contained wine cooling unit is engineered to sustain 55-57 degrees Fahrenheit and relative humidity of 50-60 % under recommended wine cellar construction. CellarMate self-contained systems can be outfitted with humidification, low ambient kit and heater for harsher environmental conditions.
Cellarmate Options:
Humidification – Allows you to control humidity. Requires 1/2″ water and drain lines.
Heater Coil – For applications where room temperatures drop below 45F. No additional power source needed.
Water Cooled – For applications where ambient temperatures in mounting area exceed 90F.
Low-Ambient – For applications where temperatures in mounting area are 40F/lower. Uses low pressure switch and compressor crankcase heater.
CellarMate Sizing
| CM Model | Maximum Cubic Footage |
| --- | --- |
| CM025 | 800 |
| CM050 | 1,500 |
| CM088 | 3,000 |
| CM200 | 5500 |
Split System Cooling – Ductless
Split System Cooling units are utilized for residential and commercial wine cellar refrigeration systems and come in a variety of models and sizes depending on the measurements and insulation properties of your wine cellar. The cooling unit is "split" into two components. The condensing unit can be placed indoors or outdoors. Ideal indoor locations could be in a garage, a basement, the mechanical / furnace room or attic space. The 2nd component, the fan coil, is placed inside the wine cellar. Professional Installation required.
Wall and ceiling mount options are available. They can be clad in wood housings to match your wine cellar racks and conceal the mechanical aspects of the coil(s).
Other Available Options:
Water cooled condensing units available for all sizes.
Extreme High or Low Ambient precautions available.
You can select from 3 types of Split System Cooling units:
Cabinet Cooler (CC) Series

CC Series
The Cabinet Cooler Series offers the most efficient "Cooling vs. Space Requirement" ratio. The CC Series is designed to control the flow of refrigerated air in small to medium spaces such as wine cabinets or wine closets.
Standard CC Series systems use premium air cooled condensing units and operate on R134a refrigerant. Size range is 1,800 to 4,600 BTU (British Thermal Unit) of cooling per hour.
The CC Cooler Series features:
Hard-tempered aluminum fins
High grade seamless copper tubing
Aluminum casing textured for easy cleaning
Louvered panels which are easily removed for maintenance and allow on site servicing
Factory installed Thermal Expansion Valve
Factory installed Pump-down Solenoid Valve that protects the compressor
No extra control wiring required for thermostat
UL and NSF listed
Rack Cooler (RM) Series

RM Series
The Rack Cooler Series is amazingly versatile and is one of the most popular wine cellar cooling systems around. It is ideal for wine cellars that make storage capacity a priority. This wine cellar cooling system is engineered for medium to high wine cellar temperature spaces. It mounts horizontally with several detachable access panels to redirect air flow.
The coil can be mounted within the racking and be hidden from view by a louvered grill or in a soffit. Standard RM Series systems use premium air cooled condensing units and operate on R134a refrigerant. Size range is 1,800 to 6,600 BTU of cooling per hour.
The RM Cooler Series features:
High performance staggered coils with copper tubing mechanically expanded into aluminum fins
Insulated rust-proof aluminum housing
Thermally protected motor which is permanently lubricated
Factory installed Automatic Expansion Valve that guarantees stable coil temperature to promote "Humidity Balance"
Factory installed Pump-down Solenoid Valve that protects the compressor
Factory installed valves that eliminate additional control wiring to thermostat
ETL certified
Wall Cooler (WM) Series

WM Series
The Wall Cooler Series is a uniquely designed wine cellar climate control system. The WM Series mounts vertically between standard wall studs. It's a wall mounted unit with a thermostat and wine cellar temperature sensors installed. Installation is generally simple and tidy since it requires NO exhaust and only projects 1″ into a room.
Standard WM Series systems use premium air cooled condensing units and operate on R134a refrigerant. Size range is 1,800 to 4,600 BTU of cooling per hour. As additional options, we can add 1-2 additional coils to increase wine refrigeration capacity. Its standard aluminum housing can be "polished" upon request and stainless steel housing for highly corrosive environments is also available.
The WM Cooler Series features:
Insulated rust-proof aluminum housing
Thermally protected motor which is permanently lubricated
Factory installed Automatic Expansion Valve that ensures constant coil temperature to promote "Humidity Balance"
Factory installed Pump-down Solenoid Valve (standard) to protect the compressor unit
Factory installed pre-programmed digital thermostat and temperature sensor
ETL certified
All Split System Cooling Units are pressure tested by the manufacturer to ensure quality and factory wired for simple field installation.
Wine Cellar Cooling Units As Installed in Custom Wine Cellars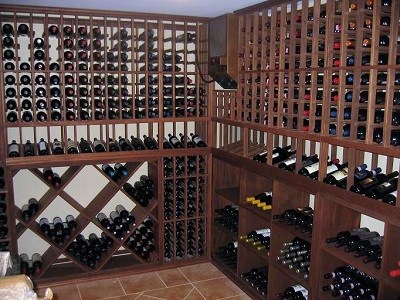 WhisperKOOL Wine Cellar Cooling Unit Connecticut
WhisperKOOL Connecticut: We installed this WhisperKOOL XLT model in a Connecticut custom wine cellar and as you can see the cooling unit is mounted on an interior wall and exhausts to an unfinished mechanical room. Also take a look at how well the WhisperKOOL's color blends with the stained Mahogany custom wine racks.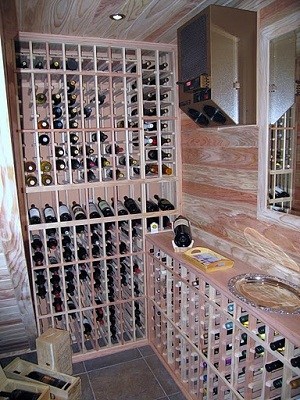 WhisperKOOL Wine Racks Cooling Unit Rhode Island
WhisperKOOL Rhode Island: This WhisperKOOL XLT unit is installed in a Rhode Island residence. As the custom wine racks are situated under the stairwell, we were able make sure the cooling unit vented to an adjoining unfinished part of the basement. The color of the WhisperKOOL's mainframe also blends well with the redwood ceiling and walls panels.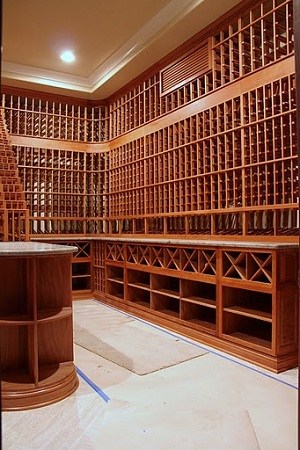 Rack Cooler RM ductless split system Los Angeles Philosophe
Rack Cooler (RM) ductless split system Los Angeles: This Rack Cooler ductless split system in a home in Los Angeles is a wall mounted wine cellar cooling system and is concealed by a wooden louvered grill cover. The condenser is placed remotely up to 75 linear feet away from the wine room this means it will likely be the quietest wine cellar cooling unit you've ever heard!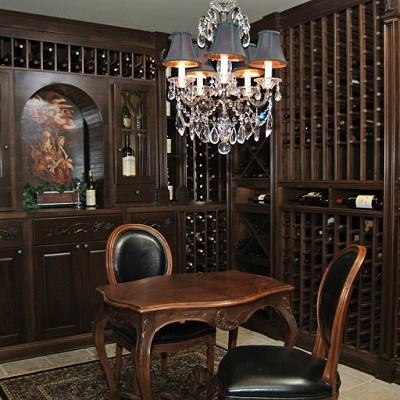 CellarMate Self Contained Air Handler Washington State
Non-Visible Self Contained Air Handler Washington State: To cool the custom wine cellar to 55-60F degrees a self contained air handler by CellarMate was used and as you can see from the picture, there is no visible or concealed equipment in the wine room.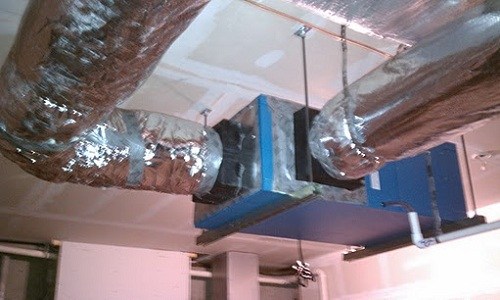 Cellarmate Wine Cellar Cooler Mechanical Room Washington State
Self Contained Air Handler Washington State In Mechanical Room: In this image you can see an example of a CellarMate as installed in an adjoining mechanical room less than 25′ from the custom wine cellar.
Wine Cellar Cooling Question Can A Wine Cellars Climate Control System Be Added After Construction