A Client Recommends Coastal Custom Wine Cellars for a Job Well Done
Timing, quality and budget – these are the things that our client from California is very particular about and he's just so happy that Coastal Custom Wine Cellars was able to deliver all these and even exceeded his expectations.
Here's what the client said on his email to Jerry Wilson, owner and founder of Coastal Custom Wine Cellars: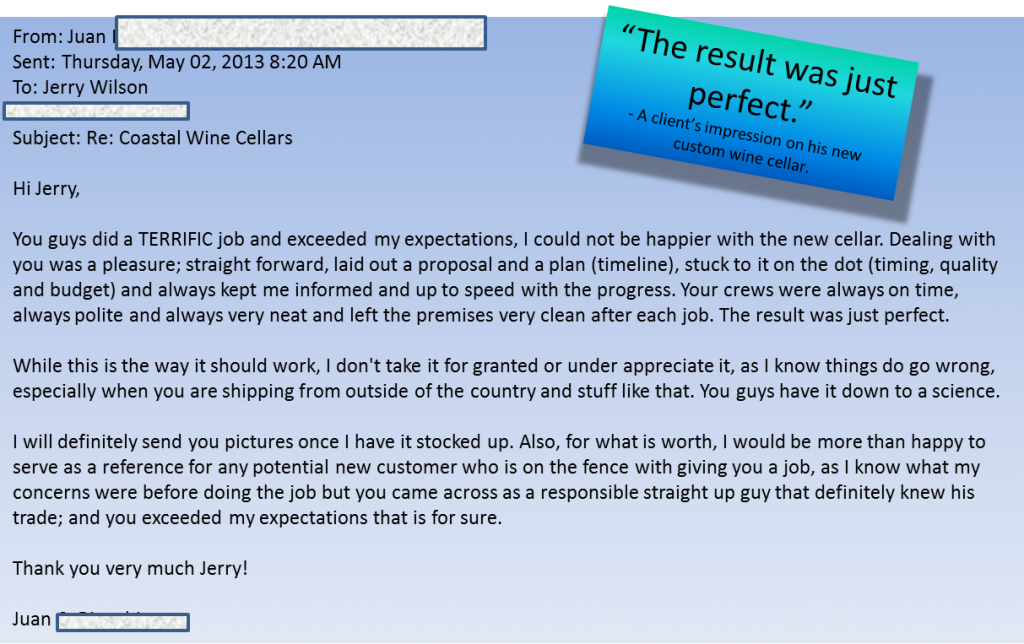 "You guys did a TERRIFIC job and exceeded my expectations, I could not be happier with the new cellar. Dealing with you was a pleasure; straight forward, laid out a proposal and a plan (timeline), stuck to it on the dot (timing, quality and budget) and always kept me informed and up to speed with the progress. Your crews were always on time, always polite and always very neat and left the premises very clean after each job. The result was just perfect.
While this is the way it should work, I don't take it for granted or under appreciate it, as I know things do go wrong, especially when you are shipping from outside of the country and stuff like that. You guys have it down to a science.
I will definitely send you pictures once I have it stocked up. Also, for what is worth, I would be more than happy to serve as a reference for any potential new customer who is on the fence with giving you a job, as I know what my concerns were before doing the job but you came across as a responsible straight up guy that definitely knew his trade; and you exceeded my expectations that is for sure.
Thank you very much Jerry!"
This stylish custom wine cellar project is located in Laguna Beach California.  To give you a preview, here are some of the details for this custom wine cellar project:
Custom designed wine racks made of All Heart Redwood
Climate controlled wine cellar using a self-contained wine cellar cooling unit, specifically a CellarPro 3200 cooling unit
Dual-paned glass door called the Barolo style wine cellar door
Storage capacity of 837 wine bottles