The Client Described Them as Awesome Wine Racks – A Testimonial
Coastal Custom Wine Cellars has done another incredible wine cellar job for a client in Newport Beach California.  Ed was extremely satisfied with the services we rendered; he can now store more wine bottles than what he already has in his collection.
The wine cellar project was actually a custom wine closet with VintageView wine racks.  These wine racks are metal wine racks with label forward displays to easily find a specific wine, and they come with LED lighting for a more appealing look.  To create a climate controlled environment inside the wine closet, we installed WhisperKOOL Platinum Mini Split wine cellar refrigeration system.
Here's what Ed said on his two emails to Jerry, the owner of Coastal Custom Wine Cellars: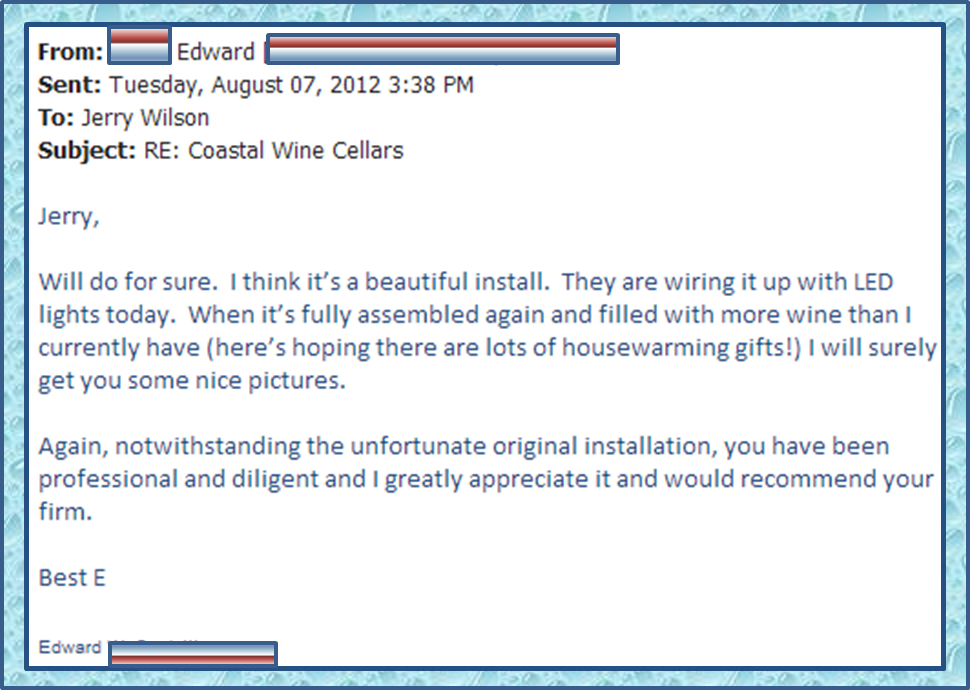 Jerry,
Will do for sure.  I think it's a beautiful install.  They are wiring it up with LED lights today.  When it's fully assembled again and filled with more wine than I currently have (here's hoping there are lots of housewarming gifts!) I will surely get you some nice pictures.
Again, notwithstanding the unfortunate original installation, you have been professional and diligent and I greatly appreciate it and would recommend your firm. Best E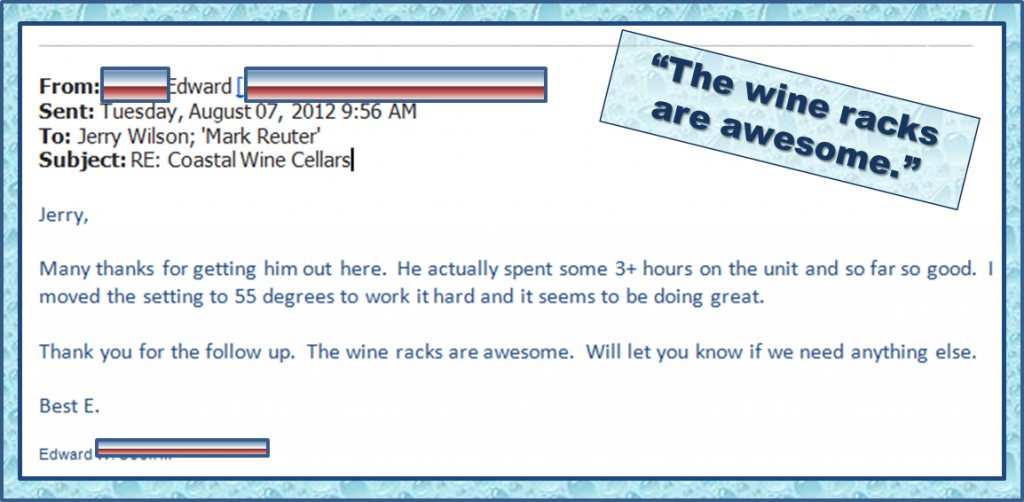 Jerry,
Many thanks for getting him out here.  He actually spent some 3+ hours on the unit and so far so good.  I moved the setting to 55 degrees to work it hard and it seems to be doing great.  
Thank you for the follow up.  The wine racks are awesome.  Will let you know if we need anything else.
Best E. 
Visit our designer gallery for inspiration for your wine cellar