How to build a Wine Cellar with Zero Visibility Wine Cellar Cooling
We recently received a telephone inquiry from a client in San Diego California. He wanted to know how we could go about creating a temperature controlled wine cellar with no visible equipment taking up valuable wall or racking space.
This is a challenge that often comes up for California wine cellar builders. Even more so in the warmer parts of North America, particularly Southern California as with this San Diego based client. We thought therefore we would take some time to discuss the various options that are available in the wine cellar construction industry.
The only really effective method of wine cellar temperature control, that will allow your cellar to be completely free of cooling equipment such as evaporators and fan coils, is to utilize a something called a ducted air handler. Ducted air handlers, when used for wine cellar refrigeration purposes, are essentially, purpose built small central air conditioning systems which are designed to operate effectively and efficiently specifically at 55-60F degrees. With these units, the cold and return air supply is ducted to and from the room.
There are two main manufacturers we use and recommend for the actual cooling equipment, these are Wine Guardian and CellarPro.  Both companies offer self-contained ducted air handlers and split ducted air handlers.  Although these units are installed remote from the wine cellar, the air handler still needs to be relatively close to the wine storage room.
Self Contained Ducted Air Handler vs. Ducted Split Air Handler Wine Cellar Cooling Systems
Of the two, ducted split air handlers are the lesser used wine cellar refrigeration solution.  With these systems the condenser is placed outdoors with the air handler needing to be located much closer to the wine cellar itself. Installation costs are therefore somewhat higher with this option.  These are typically used when space or location limitations make it difficult to install a self-contained system.
In our experience the self-contained ducted air handler is the ideal solution for both cost effectiveness and least disruption in the home.  With this solution, only a single self-contained unit needs to be installed with straightforward ducting to and from the wine cellar.
CellarPro Offers Two Self-contained Ducted Air Handler Wine Cellar Cooling Models
The larger of the two CellarPro options will handle a wine cellar up to 2500 cubic feet with both horizontal and vertical mounting options.
Horizontal CellarPro Air Handler Evaporator Option: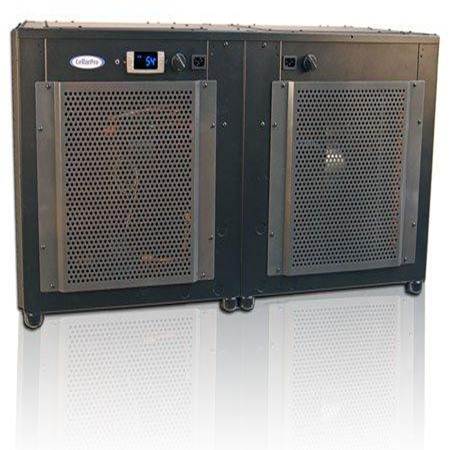 Vertical CellarPro Air Handler Evaporator Option: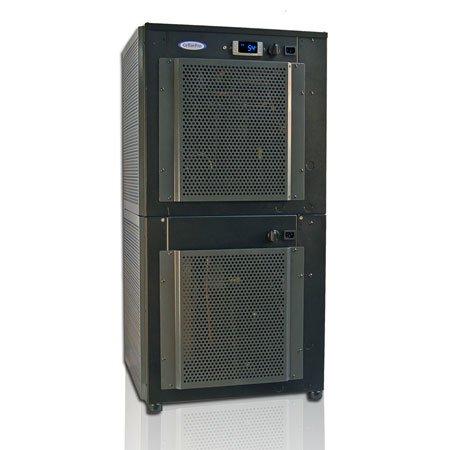 These wine cellar cooling units from CellarPro come in different sizes, (power levels) to meet the demands of different size rooms.  In addition they use variable-speed centrifugal fans.  This allows the units to be set for maximum performance when or as needed or for super-quiet operation when preferred.
Wine Guardian Cooling Systems for Very Large Wine Cellars
For larger custom wine cellars, we have found the Wine Guardian systems to be excellent choices. These wine cellar refrigeration systems provide the power needed for cooling larger wine rooms anywhere from 800-8500 cubic ft.
Installing Self-contained Ducted Air Handler Wine Cellar Cooling Systems
All these self-contained ducted air handler wine cellar cooling systems are installed indoors, near to the cellar to minimize the length of the duct run.  Each unit is provided with one return air inlet and three possible supply air outlets for the evaporator and condenser sections.  The maximum cumulative length for both supply and return ducts is 50 feet.  In order to ensure good maintenance access to the unit, a 3 foot clearance space should be left around the air handler unit.
——————————————————————-
Coastal Custom Wine Cellars are authorized dealers for both Wine Guardian and CellarPro product lines.  Should you have a question or would like help to select the right wine cellar refrigeration system for your wine room project call:
California Office:

+1 (949) 355-4376
Connecticut Office:

+1 (203) 424-8663