Every Wine Cellar has a "Custom" Personality
When considering the viability of a custom wine cellar in your home there will be a number of practical considerations to take into account, such as whether it is necessary to install a wine cellar refrigeration system, the ability to properly insulate the room, the local climate, the size of your wine collection, the type of wine you collect and how secure you want it to be.
While all these things will have to be designed into the room, none will have more design impact than your wine personality. By "wine personality" we mean how you are likely to use your personal wine cellar.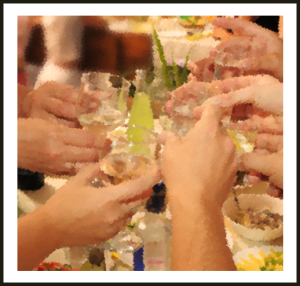 Many people who contemplate the idea of installing custom wine cellars are extravagant entertainers. Some regularly holding corporate dinners, retiring to the wine cellar late in the evening. Some are social animals with a love of wine tasting parties bringing together their social network for a themed evening to share their latest batch of wine from their favorite vineyard.  Others will have a more intimate style, preferring to share a bottle of wine they have been aging for years with a close friend.
Consider, little in your home will reflect your personality, speak more about who you are as a individual more than your personal wine cellar. When we build residential custom wine cellars, wine cellars in people's homes, at every level we generally observe a strong desire to make a personal statement.
Wine cellar design is therefore both an art and a science, balancing the practical with the "personality". When creating a wine cellar, factors beyond the engineering such as the need for bulk storage for the extravagant entertainer, glowing displays, with unusual features such a waterfall cascading racking, possibly glass walls, feature wine tasting tables with dramatic lighting for born entertainers or racking designed for the ability to manage and organize a complex wine collection. These "personality" factors are carefully planned into the design based upon the behavior characteristics of the individual.
Wine collections can sometimes run into an investment in the tens of thousands of dollars, even in the smaller wine rooms. The security of the wine room can also be a major design consideration. It's therefore not unusual for us to design a custom wine cellar more akin to a vault
It's also not uncommon for us to find that an owner of a new custom wine cellar has spent an entire month simply placing and organizing their collection in their new cellar. Whether you decide to create a wine room in your home that is primarily orientated to safely store as much wine as possible in a limited space or really want a room designed to impress and or entertain these factors need to be carefully designed into the cellar at the outset.
You will therefore not be sorry if you engage with professional wine cellar builders to create a design that is practical, engineered for the long haul as well as one that is created taking into account your "wine personality profile".
If you are at all considering building a custom wine cellar in your home, then start by getting your own fully engineered 3D wine cellar design package.